"Look!  See the bald eagles overhead?"  he asked us.
All eyes on board watched as Captain John threw frozen fish into the water and eagles swooping down to grab the fish. It was like a picture out of the movies, the beautiful creatures of the sky being fed by human hands.
The picturesque scene ended with the voice of Captain John booming. "Did you know that eagles mate in mid-air?  That's why we have the expressions 'the Mile-High club' and 'I don't give a flying f*** ' and the term 'quickie'."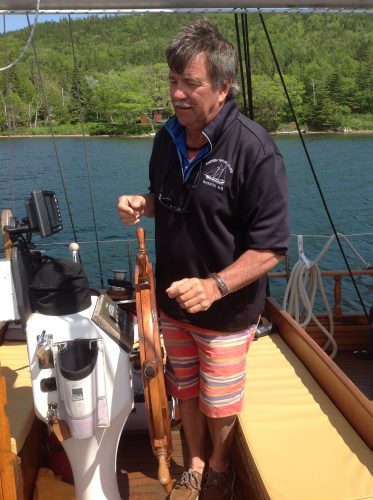 The sun was shimmering on the waters as our boat slowly moved along the bay. Captain John kept us entertained with his jokes and anecdotes. For him, life is good. His attachment to his schooner, the care-free life atop the waters and his true love of Baddeck gave the passengers a feeling of comfort and ease.
One of the passengers asked, "What type of people do you take sailing every day?"  He did not hesitate. "Oh!  I take all types of groups. Wedding parties, birthday and anniversary celebrants, school groups, and any other organizations you can think of. But my best groups are always those who are here to celebrate divorce. There's usually only one person missing."
Still laughing from John's jokes, we cruised by and caught glimpses of Alexander Graham Bell's summer mansion Beinn Breaugh that sits atop a forested hill. Dotted along the same hills are the homesteads of Bell's descendants. I reflected on this great inventor's legacy and how he added to the way of life of the modern age and also how he changed the course of Baddeck's history. Bell loved the scenery around Baddeck which inspired his great works. Baddeck felt like home to Bell and reminded him of the Scottish Highlands from which he hailed. He lived, loved and created in this ethereal setting.
Past the Bell remains, Captain John gently turned the schooner around and we were on our way back. The rolling waves gently caressed the schooner. The air combined with the drops of water off the sea gave me a feeling of calmness.  The sloping green hills added beauty to our small schooner atop the water, making the scene a picture postcard of beauty.
Captain John, still entertaining us, asked if we wanted to have a look at new reading material that he claimed he "couldn't put down."
"Sure!" we all said. He pulled out a large paperback and displayed it promptly. "Sailing for Dummies is my new bedtime reading!"  Even the comedy added to my relaxed state.
Continued on next page