I'm standing very still in a gray duck blind and peering through a small rectangle hole. Three feet in front of me, four small Puffins hop about on the rocks. Overhead, I hear the pitter-patter of tiny Puffin feet as they dance on the roof, unaware of the delighted visitors inside.
The birds have no idea how mesmerizing they are, but they're the reason my husband, Benjamin, and I have traveled to Machias Seal Island. This uninhabited isle in the lower Bay of Fundy between New Brunswick and Maine is a paradise for avid birders.
Though we're not birders, we're still enthralled. Some 8,000 pairs of puffins, 1,800 pairs of razorbill auks, and 500 pairs of common murres come here during the mating season. 
Access to Machias Seal Island is strictly controlled and co-managed by the Canadians and Americans. Only 15 Canadians are allowed to visit each day with Sea Watch Tours out of Grand Manan Island and 15 Americans with Bold Coast Charter from Cutler, Maine.
Visitors spend one hour in an observation blind on the island. Bookings fill up quickly when they open in January.
"The puffins arrive in mid-April," says Durlan Ingersoll, with Sea Watch Tours. "They mass on the water around the island, then one night, they all land on the island to set up breeding. They leave around the first of August and go back to sea. They won't come back to land until next April."
Safely hidden in our duck blind, we watch thousands of birds fill the skies, and ooh and aah as others prance in front of us. The low growling calls of male puffins fill the air, a sound that almost sounds like mooing cattle.
All too soon, our time here is over and our boat heads back to Grand Manan Island. It's just one of the unique experiences we've had here on the Bay of Fundy.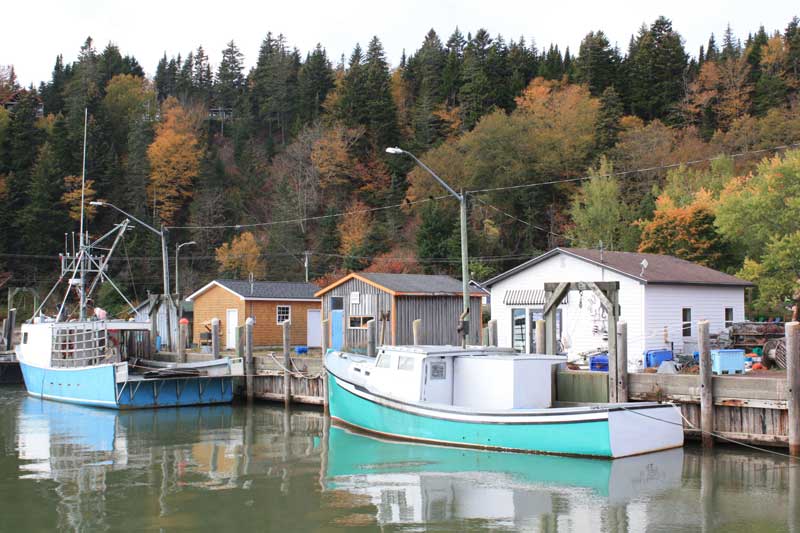 A Road Trip Along the Bay of Fundy
One of the best ways to explore the seafaring communities and picturesque locations along the Bay of Fundy is a road trip in New Brunswick. This Maritime Canadian province hugs the coastline and offers plenty of untamed nature to discover. (Read 15 Things You Didn't Know About New Brunswick)
More than 35 million Americans live within a 10-hour drive of New Brunswick. Those who venture to this beautiful coastal region find quiet lobster villages, Acadian seaside towns, historic hotels, welcoming people and uncrowded spaces.
Many come to see the Bay of Fundy, one of the 7 Wonders of North America. Part of the Atlantic Ocean, the Bay of Fundy lies between New Brunswick and Nova Scotia, Canada, as well as a small portion of Maine. Due to its unique shape, the Bay of Fundy has the highest tides on earth reaching up to 56 feet (16m).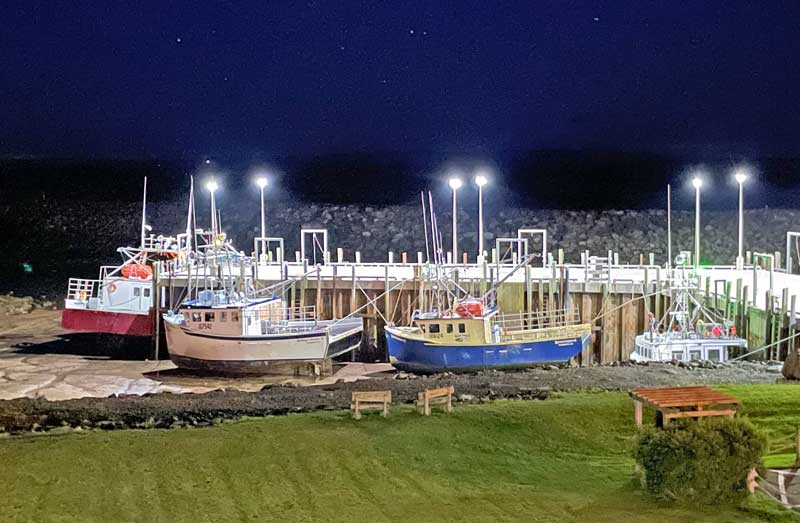 People of the Tides
The communities along the Bay of Fundy have been called the People of the Tides for good reason. Life here revolves around the twice-daily tides. Visiting towns along the Bay of Fundy brings a new understanding of the power of the sea.
It's a place where you can look out your window and see lobster boats sitting up on blocks on the dry ocean floor, and then a few hours later, watch them sailing out to sea. It's a place where you can spend the morning hiking on a fossil-filled seabed and then kayak over the same location that afternoon.
It's a place we were eager to explore.
Lobster Capital of the World: Shediac, New Brunswick
We had started our Bay of Fundy road trip by flying into Moncton, New Brunswick's hip capital city. We rented a car and headed to our first stop in Shediac, a small Acadian community on the sea.
New Brunswick is Canada's only bi-lingual province, and Shediac has deep Acadian roots. After dropping our things at the newly constructed Hôtel Shediac, we took a stroll through town. The sounds of French and English swirled around us, and I listened in awe as locals switched back and forth with ease.

Our first stop was the town's Giant Lobster, a massive steel and concrete creation that honors the town's role as the "Lobster Capital of the World." Local families go back generations as lobster fishermen and it's a time-honored profession in this part of Canada.
Our boat excursion with Croisières Shediac Bay Cruises showed us that firsthand. 
Captain Ron Cormier was a professional lobsterman for more than 25 years, and he shares that knowledge and love of the sea with visitors. He taught us all about lobster and gave us a lesson on how to properly eat one.
Then, we enjoyed a freshly cooked lobster dinner accompanied by his jokes and anecdotes.
Later, we sampled more fresh lobster at Bistro le Moque-Tortue, a whimsical restaurant themed after Alice in Wonderland.
Owner/chef Sebastian Désprés has created an establishment that is not only known for good food, but for the fun experiences it offers. Housed in a historic home, the restaurant's walls are lined with shelves filled with more than 2,300 games for guests to enjoy.
Many of its dishes reflect Sebastian's Acadian heritage. The diverse menu has lobster dishes, oysters, soups, homemade desserts and more.
Who Are the Acadians?
More than 25,000 Acadians live in New Brunswick and Acadian culture is an important part of life here. In 1604, early settlers arrived from France. They developed their own culture and customs and called themselves Acadians, distinguishing them from newer French settlers to North America. 
But in 1755, the British ordered all Acadians deported. More than 10,000 people were sent away. Many settled in the American colonies – they became the Cajuns and many settled in Louisiana – while others were sent to the Caribbean, France or England.
Eventually, some Acadians returned to what is now New Brunswick, Nova Scotia and other parts of Canada. More than four centuries since their arrival, Acadian culture, language and customs endure in Atlantic Canada.
"We speak a language that's far from standard French," Sebastian told us. "We developed and kept the old language from the 1600s. To someone from Quebec or France, our words might sound like they're borrowed from English, but that's not the case. They're just very old French words."
Every August, New Brunswickers have a weekend of celebrations leading up to National Acadian Day on August 15, with parades, food festivals and performances.
Grand Manan Island
From Shediac, we continued our road trip to Sussex, spending the night at the Amsterdam Inn. We got up early the following day for the 90-minute drive through fogbound dips and curves to Blacks Harbour. We caught the ferry to Grand Manan Island, where we stayed at the lovely Compass Rose Inn.
Grand Manan Island, which is just 9 miles (14km) long and 6 miles (10k) wide, draws painters, photographers, artists, hikers, and adventurers. It's home to 2,365 people, including many fishermen and dulse farmers. Dulse is a red seaweed that is harvested in a deep harbor on the island.
We had come to Grand Manan for the puffin experience, and it was even better than I had envisioned. But there was more to explore on Grand Manan Island.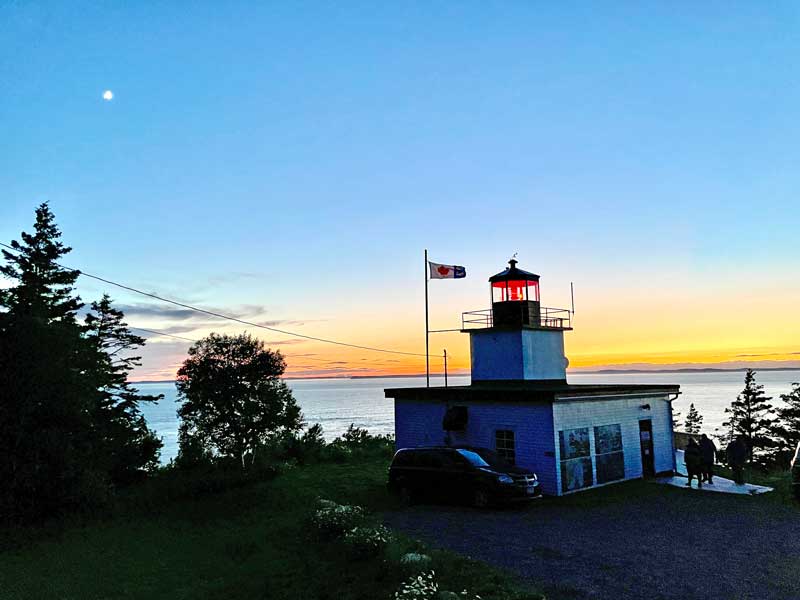 Lighthouses and Hiking Trails
We hiked along the west side of the Grand Manan Island overlooking the volcanic cliffs, a scene that reminded me of Ireland. Then we visited the historic Swallowtail Lighthouse and Southwest Head Lighthouse, which have been beautifully restored.
As the day waned, we drove to Long Eddy Lighthouse, where we met Ken Ingersoll. He and his late wife, Laurie Murison, worked tirelessly to preserve lighthouses on the island. She was a passionate whale researcher whose work resulted in shipping lanes being relocated to protect North Atlantic right whales.
Ken often comes down to the lighthouse often to watch the sunset on the deck – Laurie's Deck – that was built in her honor. He continues to work on the island's lighthouses. "They seem to be in good condition," he said, "but the work is never done."

We stood with him and several others who had come to watch the sunset. We didn't need any words as the orange rays spread across the horizon and then slowly disappeared.
St. Andrews by-the-Sea
The next day, we drove to St. Andrews, a charming little town on the water. We stayed at the Algonquin Resort, a New Brunswick icon and one of Canada's top seaside resorts. The Algonquin Resort has been welcoming guests, including heads of state, royalty and everyday travelers, since 1889. It received a luxury remodel in 2014. 
St. Andrew is worth visiting all on its own. Its delightful main street is filled with small shops and seaside restaurants.
Whale Watching Tour in St. Andrews
The Bay of Fundy is home to a diverse whale population, so we joined a whale-watching tour with Fundy Tide Runners in St. Andrews. Zipping across the sea on a 24-foot rigid hulled Zodiac Hurricane™, we spotted Minke whales, seals, porpoises and more. We passed one stunning historic lighthouse, its white tower pointing to the sky. It was so pretty against the blue sea that it almost looked like a postcard.  
St Martins, New Brunswick
One of the highlights at our next stop was our stay at the lovely Beach Street Inn in the small village of St. Martins. Housed in a large historic home, the boutique hotel has 14 rooms, many with fireplaces. For dinner, we tried their signature Lobster Dinner and then lingered over a large breakfast the next morning. 
Fundy Trail Parkway
You can't visit the Bay of Fundy without driving New Brunswick's Fundy Trail Parkway, a scenic road that offers amazing views and outdoor adventures along the rugged coastline.
As we drove the Fundy Trail Parkway, we passed five beaches, four waterfalls, and many hiking and cycling trails. We stopped to hike and soak in the views at overlooks. We walked to Walton Glen Gorge, which is more than 525 feet deep and 1,000 feet across.

At the Cookhouse, we picked up lunch. The building was once used for local lumberjacks and has many photos of that history.
Alma, New Brunswick
From the Fundy Trail Parkway, it's a 45-minute drive to the tiny town of Alma, where we stayed at the Parkland Village Inn. Alma is the perfect base for exploring Hopewell Rocks, which is 35 minutes away.
Hopewell Rocks Provincial Park
Hopewell Rocks are famous rock formations at Hopewell Rocks Provincial Park– and they're one of the top attractions in New Brunswick. While the Flowerpot Rocks, as they are also called, are the celebrities of the park, there is much more to see here.

The massive tides of the Bay of Fundy have sculpted this coastline into dramatic cliffs, but the most fascinating aspect is the tides themselves.
In the morning, we explored the sandy shorelines and towering rock formations with park interpreter, Heather Allen. She told us about the park's tides, which reach up to 46 feet. 
"If you get here at low tide," Heather said, "you can walk out almost a mile on the coast. A few hours later, you can go kayaking over the top of these same beaches."
Sure enough, we did just that. While walking with Heather, we strolled through the massive Lover's Arch and other towering sea stack formations. Then in the afternoon, we went kayaking over those same spots.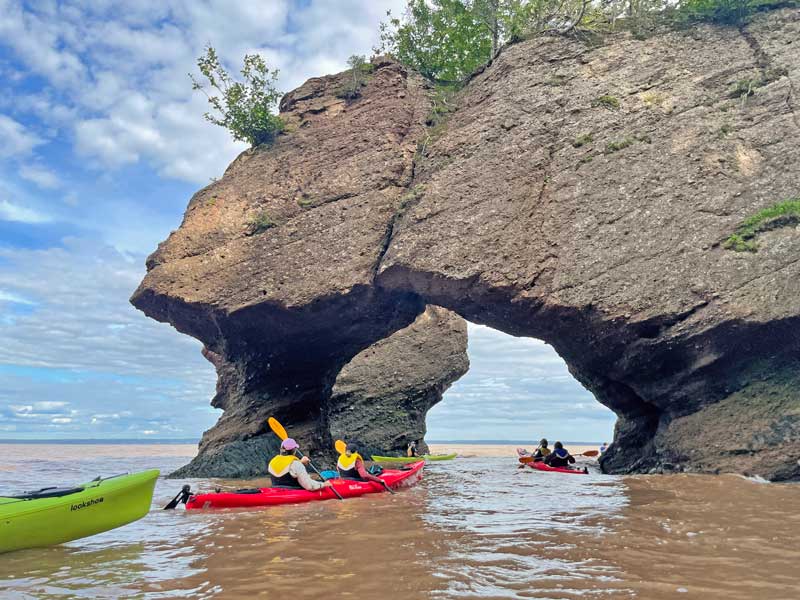 Baymount Outdoor Adventures is the only approved kayaking outfitter in the park (no private kayaks are allowed). After a quick lesson on ocean kayaking, Benjamin and I each grabbed a kayak and headed onto the water. Our guides were knowledgeable and fun, tossing around corny jokes and jabs.

As we paddled, we learn more about the Bay of Fundy, which was designated a UNESCO Biosphere Reserve. It's hard not to be in awe when you're faced with the grandeur and power of Mother Nature.

It was the perfect way to end our adventures in New Brunswick – on the water, in the company of fun people, and paddling along this great land shaped by the sea. 
If You Go to New Brunswick
Learn more about travel in New Brunswick at tourismnewbrunswick.ca