"Even for carry-out, the climb to Bilacus up Bellagio's Salita Serbelloni steps serves two purposes: burn off some calories for the culinary experience and to take in the scenery."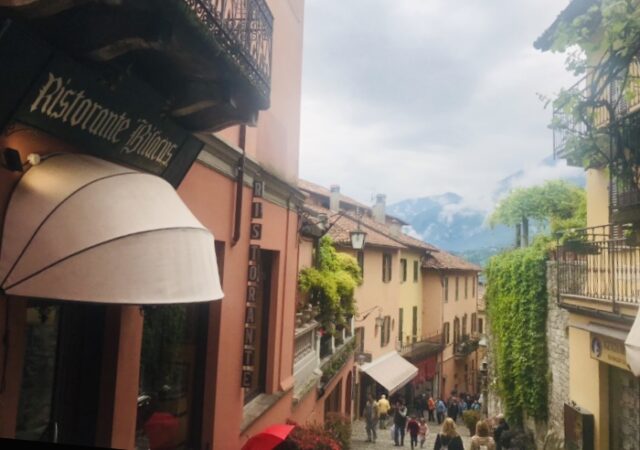 When pop performer Billy Joel sang his song "Scenes from an Italian Restaurant," carry-out food and home delivery were not in the lyrics. But "take-away" is the temporary pandemic reality now for Italy's revered and romantic restaurants, including Ristorante Bilacus in Bellagio overlooking lovely Lake Como, Italy.
"Delivery picks up slowly as there are very little requests from only locals," said Aurelio "Gancio" Gandola, who owns and manages Bilacus. "We are now allowed to have people come to take out our food and bring it home, but it will be a very slow process. Hopefully, with tourists it will get better."
La Famiglia's Fantastic Food
Since 1973, Gandola's family has operated Trattoria San Giacomo near top of the iconic Salita Serbelloni – hillside Bellagio's main steps. Gandola grew up on those scenic steps in the trattoria with his nonna Giuseppina and his father and mother, Eduardo and Margherita, teaching him and his brother Mario the trade. The awning above the little restaurant reads Da Gancia Trattoria San Giacomo.
"'Gancia' was the nickname of my late father," Gandola explained. "When my father was young, he was a troublemaker. He would never do anything right. So, when he was doing something naughty, they called him 'Gancia,' which, translated, means 'hook.' So, the symbol of the trattoria is a hook. Everyone in Bellagio knew my father, and now me, as a "Hook.
But no one could have prepared Gandola for the hook his restaurants would get during Italy's current restrictions. The pandemic, by law, has shuttered the trattoria and all of the additional enterprises he has since created on the Salita Serbelloni including the wine bar Apetivo Et Al; Smooth Operators Gelateria; and Ristorante Bilacus – the praise for which, since he took over as owner and manager in 2014, has gone viral.
"Bilacus is a favorite with our guests because they have a huge variety on the menu," said Andrea Grisdale, whose "Italian Connection Bellagio" tailors custom luxury experiences for discerning travelers' books tables there for travelers with taste. IC Bellagio's restaurant recommendations, accommodation advice and activity access throughout Italy are considered to be the gold standard in the industry. "The value, quality and price on the menu at Bilacus are fantastic. You definitely eat local Italian. They have a magnificent chef who evokes 'Nonna's cooking' with fantastic modern dishes."
The climb to Bilacus up the Salita Serbelloni steps serves two purposes: burn off some calories for the culinary experience and to take in the scenery, according to Grisdale.
"Bilacus has a beautiful outdoor terrace which gives a great view of the steps and the flowers on a summer evening or in the fall. It's a great place for people watching."
Bringing the World to Bellagio
Though he was raised in the village of Bellagio and now is fully invested there, Gandola is worldly. He speaks five languages and spent nine years gathering experience abroad.
"I worked in Demark for four years in bars and restaurants and ran a salumeria shop in Copenhagen serving salami, wine, cheeses and pasta and saved up money for more travel," said Gandola, who said he also worked on a kibbutz in Israel to learn the culture and experience working with people from around the world. "Then I went to New Zealand and Australia and picked fruits."
Gandola returned to Lake Como to use those cultural experiences, along with his brother Mario, to expand the family food footprint in Bellagio. The apple doesn't fall far from the tree: Gandola's mother Margherita, though in her 80's, still works across and a little above the Salita Serbelloni in the original Trattoria San Giocomo daily.
"She is known for her amazing chocolate cake. It's the best in the world," said Grisdale.
Rita Annunziata, a local resident who guides IC Bellagio clients around Lake Como, also craves Mama Margherita's cake.
"It's real, poured chocolate. It will melt in your mouth. It's dark and beautiful…it's love!" she exclaimed.
Bilacus on BBC
Trattoria San Giocomo also serves very traditional pasta dishes and has outdoor seating right in the heart of Bellagio at the top of the steps.
Only steps from the top of the steps is the Chiesa San Giocomo – a Romanesque-style limestone and granite basilica housing sumptuous artwork and nine centuries of prayers, all of which may be needed for Bilacus and the other Gandola restaurant operations to eventually re-open successfully.
"It won't be easy to re-open," Gandola told BBC radio during an interview in very late April. "With social distancing, especially in a small trattoria, I will lose half of my tables, so I won't be able to employ everyone I did before. It's too many people for a small space."
Gandola said he typically employs 30 people.
"At the moment I employ three," he revealed, noting that his furloughed employees were receiving financial assistance from the Italian government. "But it won't last too long because they cannot give away money without the income."
Gandola told BBC he suspects 50,000 restaurants and small businesses in Italy will shut down as a result of the pandemic.
"Cash flow is our need. We need to be able to pay the bills. Some things, the rent, can't be postponed," he explained. "The government has now given us the right to do takeaway and delivery, which we normally cannot do."
Viva Italia
Italian culture, cuisine and craftsmanship are craved and cherished throughout the world. During the pandemic Ferrari, the Italian sports car company, was more valuable than General Motors and Ford, while Turin-based Fiat owns Chrysler – the third automaker of the American "Big Three.")
Lake Como, in the North of Italy, is known for more than just "Clooney." George Clooney, the American actor who famously owns a villa there and frequents establishments such as Grand Hotel Tremezzo, the glamour palace across the slender center of the lake from Bellagio where the immaculately dressed Silvio Vettorello serves as general manager.
"To Italians growing up in Italy means a lot to us. We want to show where Italy is special," he explained. "That means not only fashions like Gucci and Dolce and Gabbana because even little villages and towns like Como, with more than 11 silk producers that make scarves, have artisan stores all across Italy. To me, that is the real Italy."
Sylvia Bianchi, for instance, worked 18 years for fashion giant Giorgio Armani before marrying Michele Saraceno, who sells high end Italian-made ties, scarves and handbags in his shops Bellagio village shops. "Silvia brought her skills to the business adding the clothes, jewelry and accessories they now sell," said Grisdale, who shops for gifts that become "Ambassadors of Bellagio" at Saraceno.
Rolando, a boutique shop halfway down the Salita Serbelloni steps from Bilacus, sells original shoes, handbags and belts created by three generations of Italian family craftsmen.
"And here in the north we're surrounded by great vineyards in the Valtellina region producing strong red wines only an hour from Lake Como," added Vettorello, many of them offered on the voluminous wine list at Bilacus using the Coravin pouring system which allows the restaurant to serve wines by the glass without pulling the cork. Valgella "Sol" Valtellina Superiore 2015, to speak locally, sits atop the list's special wines by the glass, but guests can go as deep as they like into glasses or bottles from Toscano, Sicilia, Veneto, Piemonte, Sardegna, Calabria, Puglia and even Israel, because Gandola embraces the joy of experimenting.
"Aurelio is fantastic – he is like the master of ceremonies," said Vettorello, who enjoys the friendly service and cozy view that comes with a great glass of wine there with the Northern Italian cuisine.
"Bilacus has amazing wines and excellent food," Annunziata agreed. "Tenuta Castello (risotto and friend perch) is the typical plate of Lake Como. Bilacus serves local food such as this and Mediterranean food for an average price of 35-40 Euros per-person," she estimated. (And fear not, as Annunziata has shown many tourists, visitors can also enter the steps from the street at the top and take just a few steps down to the three Gandola restaurants.)
The Menu – Mangia!
Lake and sea fish, fresh pasta made every day, low-temperature cooked meat, are examples of the classic cuisine coming out of the creative cucina at Bilacus…with a special attention paid to Italian ingredients. The seafood served under photos of the celebrities who have visited to order and enjoy it is wild-caught and meat is taken from local butchers and sourced from free-range farms.
Ask for Insalata di Mare di Calamari e Polipoand you'll get the squid and octopus salad. Or for the antipasto course, try a Bilacus Beef Carpaccio with rocket and cow milk cheese from Bellagio or the Mixed Lake Fishentry: marinated trout, fish pate, Bilacus trout, and smoked white fish.
Follow that opening course with Ravioli ai Funghi Porcini: meat ravioli with mushrooms; or Pancia di Maiali con Crema di Patate: pork belly with cream of potatoes.
Vivere Ancora – Live Again
Gandola, Grisdale, Annunziata and Vettorello, in their respective restaurant, hotel, tourism, and guiding industries, are natural ambassadors for Bellagio, Lake Como, and Italy as a whole. They each know that their enthusiasm and presentation are what bring a beautiful place to life and they are each doing what they can – whether its carry-out or online aperitif sessions – to stay virtually connected to their community, clients, and future travelers to Italy. Vettorello, for instance posts videos of his chef at Grand Hotel Tremezzo teaching how to make risotto.
"Ironically, before the current health situation, families in Italy were starting to reconnect and have the big lunches on Sundays and talk together and play cards. I think that is the real perception of Italy," said Vettorello. "We like to have parties and stay with our families. It is part of the culture to have a barbeque somewhere or chill out by the lake with the little boats and a good bottle of red wine."
Read more on Michael Patrick Shiels' travel blog, The Travel Tattler. Contact Travel Writer Michael Patrick Shiels at [email protected]