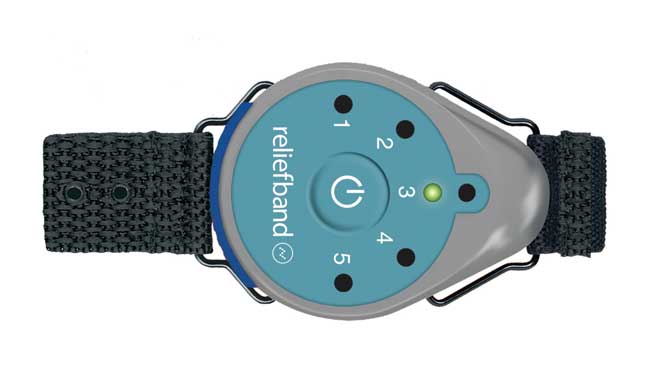 I've always been someone who loves fast roller coasters and sailing on open waters. But as I've gotten older, I've struggled to do some of these very things. Though I never had motion sickness as a teen or young adult, it creeps up now, just when the fun is getting started. I struggled through it this year sailing along the Napali Coast in Hawaii, one of my favorite sailing trips.  It was frustrating to have the fun marred by the dreaded nausea that comes with motion sickness.
Evidently, I'm not alone. Some 60 million Americans suffer from motion sickness each year. That's a whole lot of fun adventure ruined by this annoying malady.
A new wearable device called Reliefband takes a new approach to stopping motion sickness. Worn on the wrist, the drug-free treatment uses a technique called neuromodulation, which uses the body's natural neural pathways to block the waves of nausea produced by the stomach.
That sounds complicated, but all you do is wear a small band that sends tiny pulses into your wrist. You barely feel the pulses, and you can adjust the pulse intensity.
The pulses use a highly specific waveform, frequency and intensity to stimulate the media nerve on the underside of the wrist. These signals travel to the body's central nervous system and higher emetic center of the brain and the stomach via the vagus nerve, relieving the nausea.
Though I didn't quite understand "how" it worked, I decided to give it a try on a recent cruise with the Disney Wonder. The Disney Wonder, one of Disney Cruise Line's four ships, has stabilizers and is known for its smooth ride. However, sometimes you can't stop Mother Nature. We got into some turbulent weather, and the constant up and down movement of the ship brought that familiar nausea to my stomach. That's when I remembered I had brought along the Reliefband.
Treating Motion Sickness
After applying a bit of gel to my wrist (as directed), I put on the wristband, and turned it up to a level 2. I felt a few quick tiny shocks at first, but then I simply felt small pulses, which were hardly noticeable.
After about 15 minutes, I could go back to enjoying my time on the cruise, which made me happy.
The Reliefband is drug-free, which means that it has none of the usual side effects of motion sickness medication, the most common being drowsiness and dry mouth. The device costs $89.99 and is available online or in fishing stores, boat cruise shops and travel stores.
For more information, see refliefband.com