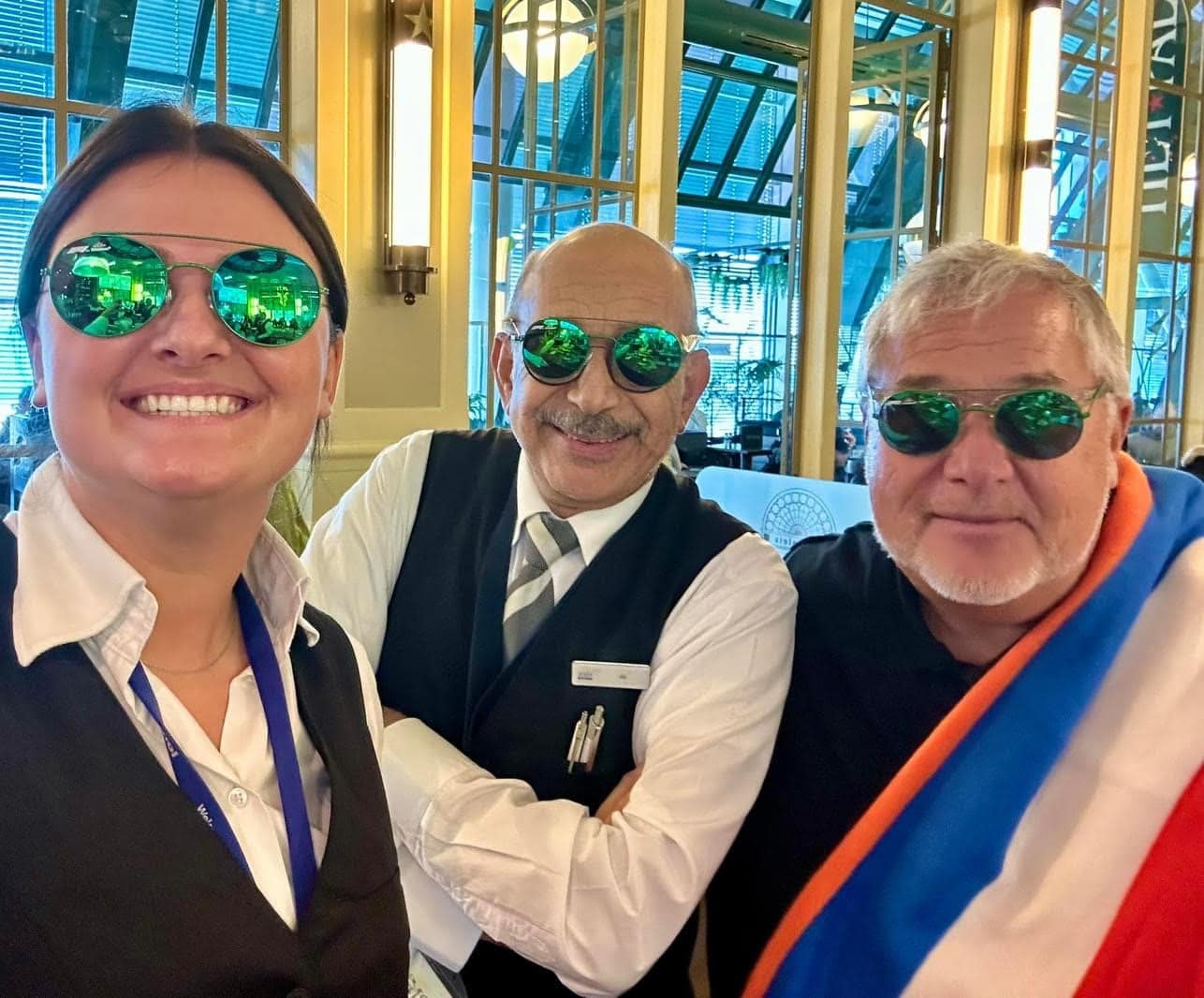 I have, in a series of columns, let my mind and keyboard wander across some of the destinations in which I've experienced some situational sweetness.
It was a less than pleasant morning which became a memorable one thanks to some royal hospitality by a fabulous fellow.
We had flown on a cramped overnighter from Detroit to Amsterdam's Schiphol Airport. From there, after a three-hour layover, we would connect to Nice, in the south of France, on the way to Monaco.
Amsterdam's Schiphol Airport is a big, bright delight of a major hub with plenty of shops and souvenir kiosks, spots to have a croissant plus a casino. There is even a "faux forest" on the second level with artificial trees and the piped-in sounds of birds with couch-like reclining chairs for those who need a "natural" respite.
None of this was enough to satisfy my overtired female traveling companion, who became especially frustrated when we were turned away from the airline executive lounge. Her irritation turned into a spat. (I would hesitate to characterize it as a "lovers quarrel" since she would not long after gain the title of "ex-wife.")
Some space was needed, so I sleepwalked over to the Grand Café Het Paleis, which had just opened at 7 a.m. and slid, alone, onto a barstool.
Grand Café Het Paleis
The Grand Café Het Paleis was a majestic, traditional Dutch cafe with a high ceiling, gleaming glass, polished brass rails and marble features. An unexpected retreat for a bar in the middle of an airport concourse,
I was both feeling down and nerved up, so I ordered a glass of Heineken Extra Cold from the frozen tap as a breakfast beer. It hit the spot as it hit the back of my throat.
When the amiable Egyptian bartender saw how fast I drank down the suds, the sweet man drew another one and served it up…along with some enjoyable banter.
I came to learn he lived in Los Angeles for a spell, was born on the fourth of July, and went by the name "Prince Ali."
Just like that, all became better with the world. By the time I rejoined my companion for the flight, I had a new, carefree attitude and a new friend in Prince Ali.
Visiting and Revisiting
I always try to visit Ali for a beer when I connect through Amsterdam's airport, which is often because I am dedicated to flying Delta Airlines and its' codeshare partners. Sometimes the connection in the giant airport does not route me through the Grand Café's terminal.
If I had a Heineken at Het Paleis and Ali wasn't there, I always left a note or my card for him. It was even more disappointing when the flight connection time made it impossible to stop at all.
I was a little short on time on one occasion for a connection to Paris. Hustling, with my little son Harrison, we hurried to get through the airport's additional passport check, the line for which stretched past Grand Café.
Stuck in the line, I could just see through the opening to Grand Café and spotted Ali behind the bar in the center. Somehow, he looked up, and we waved enthusiastically to each other, which my little boy noticed.
"Dad…you have airport friends?" he commented. "That's weird."
Ali Is an Ambassador
Maybe a prince in his imagination, but Ali, an ambassador for Amsterdam and Schiphol Airport, is undoubtedly a prince of a man. He is always smiling from his stage – the circular bar in the middle of Grand Café Het Paleis.
The windowed watering hole is its own brand of oasis in the middle of the vast collection of corridors and boarding gates teeming with travelers from around the world gliding on moving sidewalks from flight to flight.
I Call Him Your Highness
My most recent visit to Ali was in November of 2022.
"You call him a prince?" Julie, a young bartender at Grand Café het Paleis, asked me as she drew a draft Heineken for me. Julie was behind the bar in the Grand Café on an early afternoon when I passed through Schiphol Airport on my way from Los Angeles to Vienna. Ali was due for duty in only a few minutes.
"Isn't he an Egyptian prince?" I responded.
"If he says so. He's such a sweet man."
We laughed and Julie assured me Ali would be in shortly and in time for me to visit with him and still make my connecting flight.
"Ali mentioned to me he was expecting someone today," Julie said. "He said the person was a writer and was a nice person."
"I messaged him my flight itinerary so perhaps he meant me. But 'nice?' Maybe there is another writer coming…?"
Julie laughed and assured me it was me Ali had been speaking of me.
"Maybe he meant it as a warning to you!" I joked.
"No, no. Ali sometimes arranges his work schedule so he can come in and greet people he's come to know," she explained. "For nice people, anyway."
Then, as if on cue, we heard a voice call from the top of the café's ornate spiral staircase. Ali…had arrived!
Stool to Stool
Ali had come in half an hour early, before his shift, to visit with me. I was honored he would do that and delighted when he, for the first time, sat beside me at the bar instead of standing and serving on the other side. From his stool, Ali drank Turkish coffee while we chatted.
I learned Ali worked at the Grand Café for more than 18 years and lives in Hillegom, about 30 minutes from the airport, between Amsterdam and The Haig. I cannot be certain of my geography in that matter because for all the times I have landed at Schiphol, I have never once left the airport. (There is a Café het Paleis canal-side in the city.)
Ali was excited to tell me his daughter is getting married, and he was nice enough to show me some smartphone photos of his recent family trip back to Egypt. He studied sociology and, based on the many people who visit and embrace him at het Paleis, has put his sincere knowledge to good use as a cheer-spreading bartender.
Tick Tock Time
When Ali saw me sneak a peek at my watch, he asked me for my flight time and gate. I was relieved to learn we had more time to talk before his shift started and my travels resumed.
"One evening we were about to close when there was a flight delay. 700 German football fans came streaming back into the bar," he recalled. "They took losing badly."
Speaking of soccer, Ali brought me a gift. He presented me with a FIFA World Cup blanket in the Holland team's colors and a pair of festive orange sunglasses.
I then learned Grand Café het Paleis, in soccer parlance, was in "extra time."
Ali told me the bars' days were numbered. The airport had a new plan for the place. Something else would take the space.
With a fair amount of ceremony recognizing its loyal staff, the gorgeous palace closed in January and, by May of 2023, was gutted.
I do not know where Prince Ali reigns now, but he will always be a royal friend.
Read more of Michael Patrick's work at The Travel Tattler and contact him at [email protected]

Latest posts by Michael Patrick Shiels
(see all)