It's Day 3 of our adventure down the Pacific Coast Highway and it's time to hit the road again. It's raining, and we quickly realize that it's not an "explore outdoors" kind of day. I'm truly at peace now with the fact that we didn't get a convertible. We leave Astoria, Oregon and our friends the sea lions behind. We're disappointed to find that the Pacific Ocean is not always viewable from the road, but at least it is easily accessible.
For you lighthouse enthusiasts, south of Seaside is Ecola State Park, which stretches along 9 miles of coastline. From Ecola State Park, you can view Tillamook Rock Lighthouse which stands on a large rock 1.3 miles from the coast. It is deactivated and not open to the public. It can also be viewed from Hwy101 south on Cannon Beach.
As we continue the journey, we decide to make a quick stop in Canon Beach, Oregon. This charming town has many shops and restaurants, while the beach is mesmerizing with crashing waves and dramatic rock forms. We take a few quick photos, but it's too cold to hang outside long.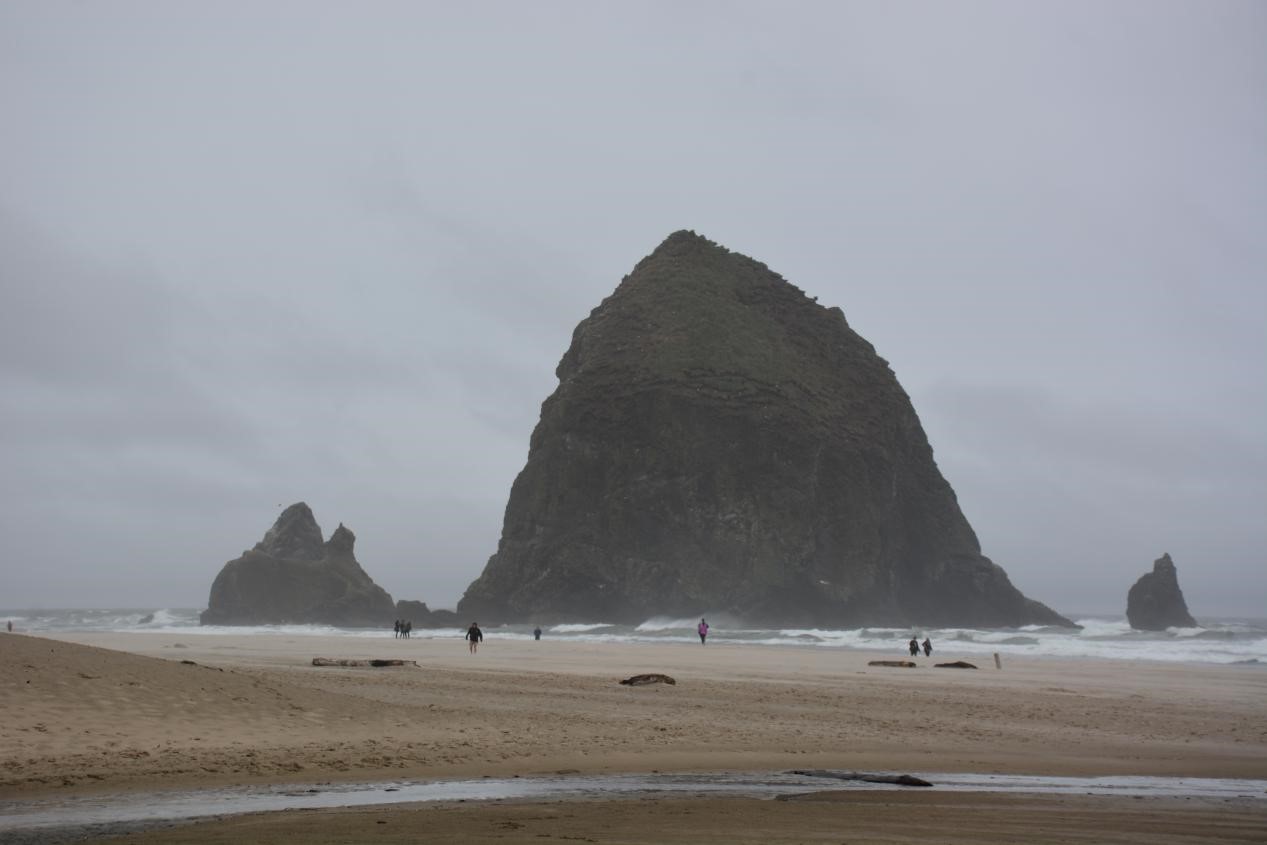 We continue down the road into Tillamook County. Does that name ring a bell? Tillamook Cheese?! Tillamook Ice Cream? Yup, the cheese factory is located right here in Tillamook, Oregon. Of course we have to stop. It appears that everyone else has also decided to stop. The place is crowded, but that doesn't stop me. I know there is ice cream ahead.
We take a self-guided tour of the cheese factory, sample their cheese, (wine samples available as well), and then comes my favorite part – I buy a big fat scoop of Tillamook ice cream on a chocolate dipped waffle cone! That is a pure weakness for me. I am enjoying my ice cream so much I forget to take a picture of it to share with you later. Sorry!
We aren't currently hungry enough to eat lunch. (I am sure it has nothing to do with the fact that I just had a huge ice cream cone.) If we were, there is a cafe that includes grilled Tillamook cheese sandwiches.
If you are a quilter or enjoy quilts, you may want to check out the Tillamook County Quilt Trail, the first of its kind on the west coast. Through this self-guided tour, you will view wooden quilt blocks on historic barns and buildings in Tillamook County.
We back track just a bit to Bay City, Oregon. The rain continues, so we decide to stop for the day. Our lodging for this night is in a tiny home. I am so excited!
Be honest. Who has not thought of what it would be like to live in a tiny home? Sheltered Nook at Tillamook Bay offers tiny homes for nightly rentals. These tiny homes come with a fully equipped kitchen and a bathroom. Each evening, they bring over a basket of breakfast items for the next morning.
They are located 400 feet from Kilchis Point Reserve, which has trails for walking/running and they are 200 yards from Tillamook Bay. Sheltered Nook is dog friendly, so bring your four-legged family member.
It's now Day 4 and we continue our way down the Pacific Coast Highway. The rain has lightened up today, but visibility is pretty low. Today is one of the days you will need to get off the beaten path. So, it's time to get off the Pacific Coast Highway for just a bit.
Take highway 131 toward Netarts and Oceanside. From Oceanside, you can head up to Cape Mears Lighthouse with a spectacular view. In Netarts, we stop at Jacobsen Salt Co. The Jacobsen Salt Co. harvests sea salt from the Netarts Bay. Pick up some sea salt, flavor infused sea salt, candies made with sea salt and honey. Those salty caramels are amazing!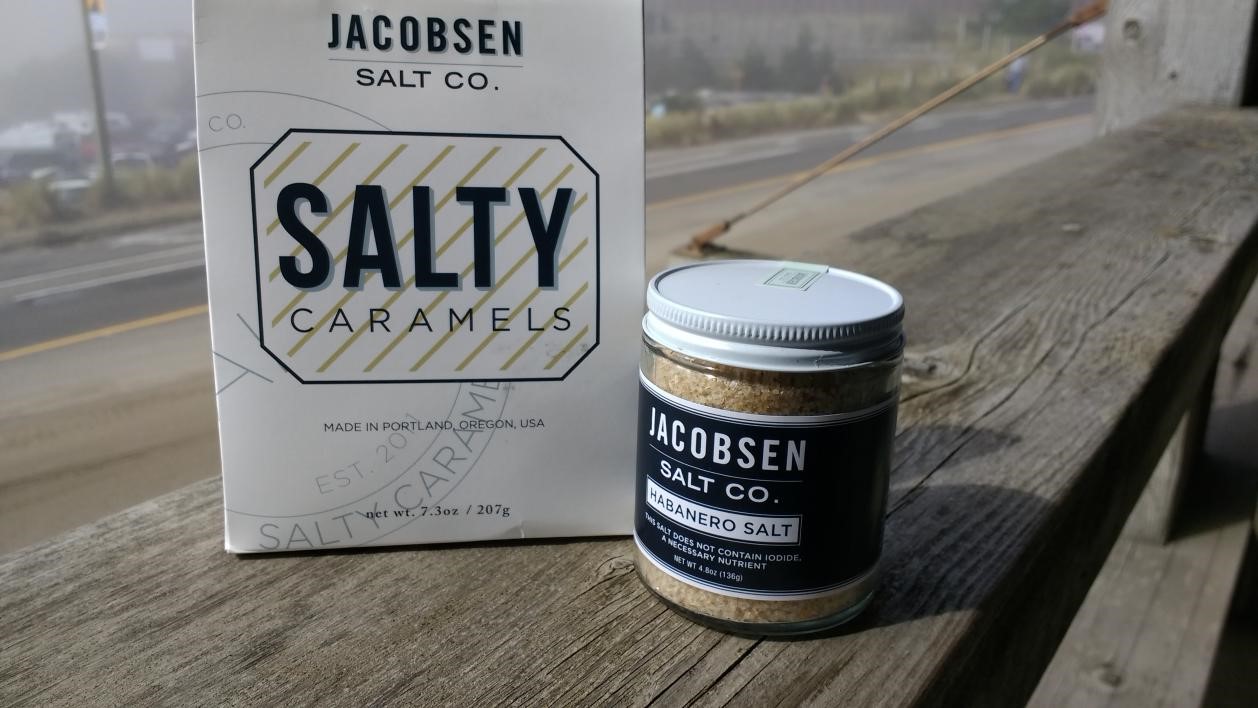 From Netarts Bay, we head down to Pacific City where the Cape Kiwanda Longboard Classic is under way. There are 175 participants. Fighting fog off and on, we can watch the competition a while before heading to our lodging directly across the street at the Inn at Cape Kiwanda.
The balcony provided a view to the beach and when the fog lifted we could see the waves crashing onto the sand. That view does not get old.
We're getting hungry for dinner and sitting on the beach directly across from the hotel is Pelican Brewing Company, Oregon's only ocean front brewery. The locals don't seem to mind the weather and hang outside having a drink. We head inside the restaurant. My husband tries their flight of beers with his favorite meal, a burger.  I try another award-winning clam chowder, delicious.
Despite the weather, it's been several fun days experiencing the northern Oregon coast. We have seen lighthouses, beaches, small coastal towns, a Longboard competition. We have had ice cream, sea salt caramels and tasted micro brews. I am happily tired.
Tips: Bring an umbrella or rain coat for those rainy days. If you visit Jacobsen Salt Company, you might be nervous you are in the wrong place. It is a small building behind a residential home. You can park near the building.
For more information on things to do, places to stay or culinary delights in Tillamook County visit: https://tillamookcoast.com/
This is part four in our continuing series on Traveling the Pacific Coast Highway.