New Culinary Experiences from craft cocktails to cucina cuisine make everyone a winner in Las Vegas.
Donald Contursi is a Nevada Tourism Commissioner who is also the ultimate Las Vegas culinary insider.
"There are lots of new, high-energy openings here in Vegas. Everyone is doing exceptional," Contursi said over a tableside-fired Baked Alaska dessert at Barry's Downtown Prime steakhouse in the recently opened Circa Resort and Casino. The uniquely divine dessert, alongside tasting sizes of bananas foster and cheesecake was grand finale conclusion of the downtown version of one of his wildly popular "Las Vegas Lip Smacking Foodie Tours."
Despite tasting multiple dishes at four different fun restaurants downtown and on the Strip, when guests aren't smacking their lips, the guided, lunch or dinner walking foodie tours are the talk of the town.
Lip Smacking Foodie Tours allows groups large and small to sample lots of chef-driven, cool creations in two fun hours. We were welcomed by chefs and seated instantly at Barry's Downtown Prime; Carson Kitchen; Therapy and the Downtown Cocktail Room…with libations to lubricate each tasting course, too.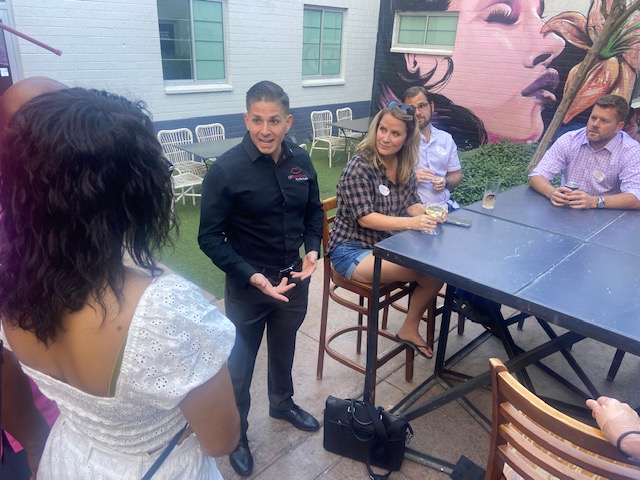 Lip Smacking at Resorts World
While Contursi, who founded the company, led us through the Fremont Street spots one of his colleagues, Tom Svoboda, was guiding a group through Lip Smacking Foodie's "Savors of the Strip Tour" at VIP tables throughout the new Resorts World Casino and hotel complex, which offers 40 food and beverage experiences.
Lip Smacking had been in the restaurant row Resorts World has dubbed "The District" tasting at sushi and sake at Fuhu and was also living the dream of drinking and dining in a high-end, gourmet wine and cheese shop at Wally's Wine and Spirits, modeled after the Southern California original frequented by celebrities and Hollywood types.
Caviar and cheese and charcuterie plates created a grazing feast with 8,000 labels of vino to wash it down with, including the Smokey Robinson Central Coast Chardonnay we sipped with Shropshire Blue, Jake's Gouda; and Roquefort; alongside Pio Tosini Prosciutto di Parma; Charlito's Truffle Salami and Chorizo Iberico de Bellota.
Brezza is Always in Season
Resorts World's "District" indoor restaurant neighborhood includes Brezza, a distinctively Italian culinary champion which prides itself on consciously serving seasonal dishes in a sustainable manner. "Con Amore," and Brezza's logo states: "with love."
Chef Nicole Brisson, a James Beard nominee who ran Mario Batali's desert operations and Eataly among others, is now executive chef at Brezza – which translates to "breeze." Brezza is a fresh zephyr, to be sure, with, for instance, Charred Octopus with Gigante Beans, Limoncello and Radish, for starters. Bucatini All'amatriciana; Osso Bucco with Saffron Orzo, Citrus and Gremolata or Whole Branzino might get your attention with Mascarpone Mashed Potatoes preceding Seasonal Sorbetti.
Sky High
I tried to sway (if not dance) some of the Brezza compiled calories just down the District concourse at the dynamic Zouk Nightclub where Deadmau5 was wowing them in a giant mouse-head costume with electronic dance music, huge floating cartoon cows, fog and strobe lights.
A super escape from the bustle below awaits in a 66th-story penthouse pub atop Resorts World's Conrad Hotel called Alle Lounge on 66. Cozy leather couches in the darkened setting present panoramic views of the lighted Strip or, if you prefer, sports on television. It's as clubby as it gets with Old Fashioned cocktails crafted couch side.
During his residency at The International, Elvis Presley famously had a top-floor pad overlooking Sin City, and you'll feel like a king, too, at Alle 66…which offers an adjacent high (literally) roller gaming room.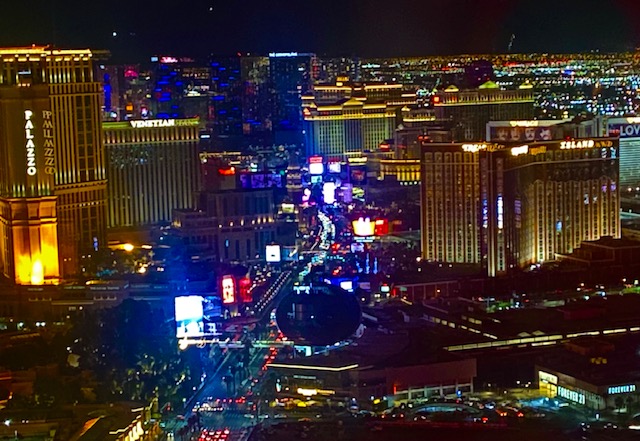 High Balls and More
You'll think I've been drinking (and I have) if I try to describe the Lost Spirits Distillery tour to you. Throw out every notion you've ever had about what a distillery tour is and UBER over to a new, nearby entertainment complex called Area 15. (Meow Wolf, the interactive art savants, have also installed a vexing, creative "Omega Mart" experience there.)
Lost Spirits is a carnival-like immersive dream world that is part Disney ride; part fun house; and part burlesque show. I know, I know…I told you. It's like a booze scavenger hunt, 20,000 Leagues Under the Sea in the Willie Wonka booze factory. Captain Jack Sparrow would relish both the rum samples and the walk-through settings with live entertainment.
It's a cool spot to chill on a hot Nevada afternoon.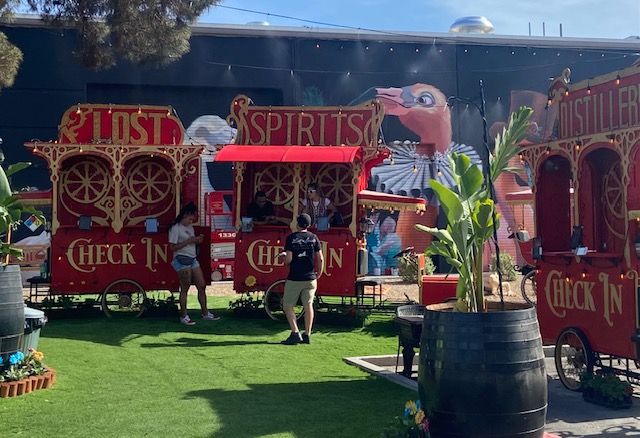 If you prefer to keep your drinking in-house, a young man who goes by the name "J.D." performs entertaining and informative, on-site tasting experiences for "The Whiskey Attic" at events large and small in Las Vegas and beyond. While Scotland is thought to produce the finest whiskey, J.D. has tasted 26,000 whiskeys all over the world – from places as diverse as Tokyo to Traverse City.
"'Traverse City Port Barrel Limited Edition' has a really nice bourbon characteristic with a sweet port finish at the end," revealed J.D., who insisted 'used band-aid' is a common descriptor of scotch tasters. He made it fun to learn – and taste – the differences between scotch, bourbon, rye, Irish whiskey, and moonshine, for that matter.
Delicious Deli Do
Back downtown at Saginaw's Delicatessen at Circa Resort and Casino, founder Paul Saginaw sat in front of sample plates of corned beef, pastrami, Reuben sandwiches and matzo ball soup – a new category for Las Vegas. Saginaw, who co-founded Ann Arbor, Michigan's famed Zingerman's Delicatessen (which has a cult-like, loyal, nationwide following), told me he was happy to now also be part of the Las Vegas food scene.
"At Saginaw's Deli we make everything from scratch, just like Zingerman's. If you're a Jewish-style delicatessen you're going to pretty much have the same food but then you're going to have your twist on it," Saginaw said.
He is proud, for instance, of a Saginaw's menu item – Loco Moco – you won't find in Ann Arbor. "It's a traditional Hawaiian breakfast of rice, a hamburger patty or Spam, with an egg on top and real rich gravy," he explained. "Out here we have a big Hawaiian clientele."
Do You Nobu?
There's never enough Nobu to go around, so Caesar's empire has opened another highly visible version in the Paris Las Vegas casino hotel across the Strip from the mothership where Evel jumped the fountains. Diners are jumping at the opportunity to feast on delicate Japanese dishes with Peruvian influence in a Parisian setting.
Yellowtail Jalapeno; Black Cod Butter Lettuce; the famed Nobu Lobster or Wagyu Tacos; Sea Bass Tempura; and Freshwater Eel Sashimi or Sea Urchin and Sushi are among the delicate, artistic dishes one can eat right in the middle of the desert. What happens in the ocean…doesn't stay in the sea. It comes to Nobu in Las Vegas.
Read more on Michael Patrick Shiels' travel blog, The Travel Tattler. Contact Travel Writer Michael Patrick Shiels at [email protected]