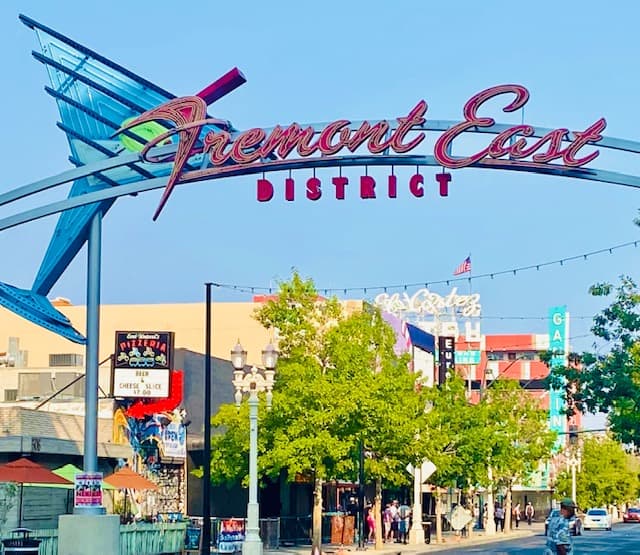 The restaurants are entertainment. Lip Smacking Foodie Tours has curated a VIP experience out of the award-winning offerings so you get a variety of famous experiences and ambiances.
I've got the best advice for a winning Las Vegas trip. A Sin City arrival by air in the morning can leave you in a quandary. McCarran is an exciting airport with all the literal bells and whistles to awaken your senses and it inspires you to make the most of your day by hitting the ground running. But your hotel room is likely not quite ready for check-in and while your heart is pumping, your stomach is also growling. It doesn't help your hunger that airport arrival gates and baggage claim areas are emblazoned with billboards touting restaurants by celebrity chefs David Chang, Wolfgang Puck, Gordon Ramsey, Bobby Flay, Giada De Laurentiis, and others.
You're excited and pulled in so many directions. You want stimulation and satiation!
You can do both, thanks to a lunchtime Lip Smacking Foodie Tours. And what better place to get right into the people-watching Vegas action than downtown?
Dine Downtown For a Fun Experience
Donald Contursi, appointed by Governor Steve Sisolak to the State Commission on Tourism, moved to Nevada from Chicago and founded Lip Smacking Foodie Tours – the operation no one can stop talking about…between bites, that is.
"Why don't you try our downtown lunchtime tour?" Contursi suggested after I perused the offerings on the Lip Smacking Foodie Tour website which included a variety of specialized, 2.5-hour experiences for individuals and groups for as low as $125 per-person.
I thought the only reason people went downtown Las Vegas was to get drunk or married – or both.
"Downtown Las Vegas?" I asked Contursi. "Old Las Vegas? Zany, kooky, Fremont Street?"
"Fremont East. Our tour is at the 'Fremont East' District right next to it," he specified. "It's the hippest, hottest area in town."
I thought, when it came to "dining" downtown, the culinary choices were largely limited to Denny's, White Castle, and the Heart Attack Grill, where people consume outrageous amounts of beef, including a nearly 10,000-calorie burger delivered by servers in nursing costumer, while wearing the hospital gowns they will ostensibly need after assaulting their tickers with the meal. I was, pardon the pun, dead wrong.
Free to Roam in Fremont East
A walk through the three or four blocks of Fremont Street Experience to catch some live music and people-watch the photo buskers and souvenir sellers during the day, or view the overhead light show with a frozen drink at night, is an entertaining way to get some steps in before your Lip Smacking Foodie Tour or walk off lunch or dinner after.
"This area has changed quite a bit and when we showcase this area our guests are always taken aback," Contursi said. "They start telling their friends and families they have to check out the local restaurants we introduce them to. These are operations all independently owned by the chefs themselves. It's a real surprise to people that Vegas does have this community and they get to meet the owners of these venues."
Fremont East is just across Las Vegas Boulevard from the zip line and neon cowboys
"The Fremont East area is full of new restaurants and bars and a speakeasy. It's a whole different side of Las Vegas: there is no gambling in the east area other than the landmark El Cortez – the first casino in Las Vegas. Between restaurant stops we walk our guests through a downtown container park," said Contursi, who led myself and a mother and son from Illinois on the tour. It was the second Lip Smacking Foodie Tour they'd taken on their Las Vegas visit. "We walk from restaurant to restaurant. It's only about five minutes in between. That allows a bit of a break for us to talk about the historic area and the murals.
In between restaurants courses guides provide the tales of the history, architecture, and personalities that made Freemont East what it is. The modern-day story of Fremont East is a tale of Tony Shea, the now late founder of Zappos, who moved his company, and 1,600 staffers to the area and invested $350-million in the interest-free loans and gave birth to the start-up culture that created the local lifestyle amenities for his employees. For instance, a dollar store became a 24-hour nightclub and the courtyard of the former John E. Carson Motel is now surrounded by a hip restaurant, smoothie shop, designer bakery, and cat massage salon.
"Our tour is like dinner and a show or a great introduction to the city," said Contursi. He suggested Lip Smacking Foodie Tours are a good thing to do on the first day in town to get acquainted with Las Vegas. "Maybe you'll even revisit one of the restaurants or meet other people on the tour."
A Lip Smacking Lunch in Fremont East
I don't want to give away too many of the tour's surprises, but we all met initially at Carson Kitchen, founded by the late "rock and roll celebrity chef" Kerry Simon. Simon's brother Scott is now the executive chef and we were immediately served tasting plates of crispy chicken skins with honey; devil's eggs with crispy pancetta and caviar; beet tartare toast with pistachio, mandarin goat cheese; and veal meatballs with sherry foie gras cream.
See? This is definitely not Denny's "Grand Slam Breakfast" or "Moons Over My Hammy."
"We feature three of the top restaurants and, at each restaurant, their three or four signature dishes. There is an optional adult beverage package if you want to have cocktails during the day or evening," Contursi explained.
Can too much drinking lead to therapy? You bet, because the next place we visited was a two-level restaurant called "Therapy" that has been featured on the Travel Channel.
"At night it converts to a nightclub called 'Relapse,'" Contursi revealed. "Get it?"
I got it, alright…and what I also got was an immediately plated tasting lunch of chicken meatballs; gnudi with truffled fig jam and walnut crostini; soft truffled goat cheese and almond stuffed dates wrapped in bacon; and a battered chicken and red velvet waffle slider with vanilla maple syrup.
I washed it all down with Therapy's signature cocktail called The Smash: Four Roses bourbon, blackberries, fresh limes and mint in a rocks glass. The drink was a perfect accompaniment to the atmosphere which can be described as a "party brunch" with dim music and a deejay pumping house music. It was like going to a nightclub during the day – complete with the bachelorette party munching at the next table.
"Vegas never sleeps! Everybody's having bottomless mimosas and it's the perfect place to come after a big night," said Contursi.
I was ready for a poolside nap after our last stop: 7th & Carson, run by an Irishman who, after seeing us walk in after a two-block stroll in the Las Vegas heat, immediately served us the Carson Cooler: Absolut Elyx, blood orange, thyme, cucumber, lemon and honey in a cold copper mug. Feeling much cooler, we toasted to our lunch which was a curry pasty; grilled pear and burrata over arugula and a champagne reduction; and potato gnocchi with braised short rib, kale, mushrooms and shaved parmesan. There was no "saving room" for dessert, but we ate it anyway: a banana banoffee with caramel and house-made whipped cream…and cheesecake.
My Las Vegas visit was definitely off to a splendid start, and while Contursi drove away in his white Audi with "Lipsmkn" as his license plate number, I began walking off lunch…headed for the Strip, where I'd hoped I'd be hungry again by the next day.
Smacking on the Strip
A fraction over three nights is the average length of stay by visitors to Las Vegas. Only cows have four stomachs so how is one possibly going to scratch the savory surface in tasting the sweet treats the Las Vegas culinary scene has to offer? So how to, with limited time, choose between the array of top restaurants…if you can even score a reservation?
Lip Smacking Foodie Tour that will immediately seat you at four different exclusive eateries for twelve or more signature dishes on a four-hour walking tour that, for $199, is the ultimate strolling buffet and an outstanding comparative value.
"The restaurants are entertainment. Each one is different than the next and they all do something very special. We've curated a VIP experience out of the award-winning offerings," said Donald Contursi, Lip Smacking Foodie Tours founder. "You don't have to narrow down where to dine and what to order. With us you get a variety of famous experiences and ambiances."
I was solo for my "Savors of the Strip" tour. The guide I drew, Thomas Svoboda, gathered our small group (large ones are welcome, too) at Aria. Like a superb waiter, he entertained and advised as he walked us to the kitchens and courses. "Between Aria and Cosmopolitan there is a $40-million art collection so our guides will describe and explain the history and meaning behind some of the iconic sights and shops you might not have noticed on your own. It's like a palate-cleaning break between the restaurants," said Contursi.
Lip Smacking's Foodie Tours are different each night (another reason I will go every time I am in Vegas) but my particular gourmet sashay (which would easily have surpassed $199 if ordered on my own) began at Catch, a flower-filled celebrity wonderland, where it was "sit down and sample" jumbo shrimp cocktail, vegetable rolls, and Japanese Miyazaki Wagyu.
Immediate seating was next at Javiar's Finest Foods of Mexico in front of an elaborate, artistic Aztec wood-carved mural where we chewed up shrimp, crab and chicken Enchiladas de Mariscos plus fresh tortilla chips with four types of garden salsa.
Another stroll led to Scarpetta, which was ready to serve us creamy polenta with a fricassee of truffled mushrooms; spaghetti; duck and foie gras ravioli with a marsala reduction; and short rib agnolotti with brown butter, horseradish and toasted bread crumbs.
Like most tours ours ended in a gift shop…but not just any trinket store: it was the high-end Crystals Mall in City Center at Mastro's Ocean Club, next to the Gucci, for the desert course. Again, why choose? Each diner was presented with the chocolate sin cake; New York cheesecake; and the signature warm butter cake with its sweet cream cheese, vanilla bean ice cream, raspberry sauce, orange supremes, sliced strawberries, and house-made whipped cream.
Lip Smacking leads other versions through The Venetian Resort and downtown's Fremont Street – and the tours can end with an optional helicopter ride over the Strip, if desired, for an extra $100. Since I was solo I skipped the romantic chopper cruise, but Contursi gave me a great insider tip: the 23rd floor SkyBar next door at the Waldorf Astoria offers the undisputed best view of the Las Vegas Strip. It was a visual nightcap.
Read more on Michael Patrick Shiels' travel blog, The Travel Tattler. Contact Travel Writer Michael Patrick Shiels at [email protected]