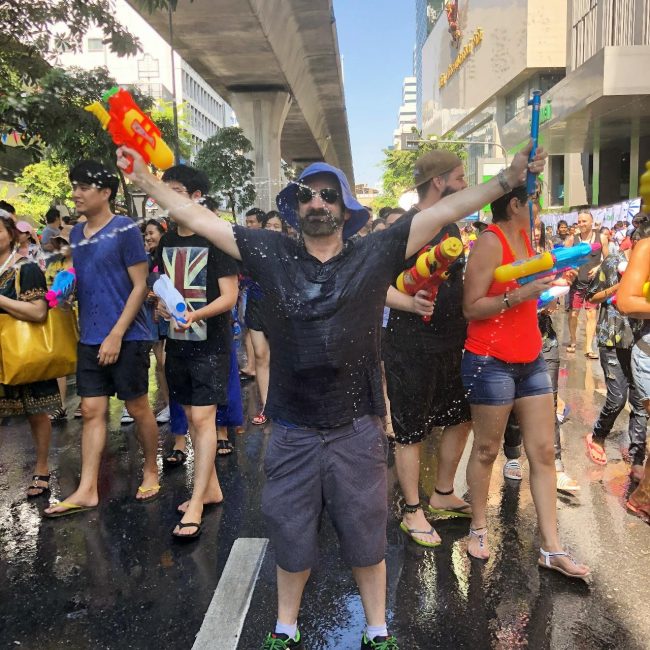 Songkran, the Thai New Year celebration, happens on April 13th. The government has extended it from April 12 through April 16 as a national holiday. In Bangkok and all across the country, a mix of tourists and locals go wild celebrating the New Year, much of it with huge water fights. In Bangkok, the whole city becomes a giant aquatic battlefield, with almost everyone packing brightly colored plastic heat. As you walk down the street, you just might get wetly ambushed by revelers passing by in a tuk tuk. You'll also be squirted from behind only to turn around to see a tiny toddler shooting you with their water gun, aimed with help from a parent. Truth be told, it's a wonderfully fun, wet experience and was a highlight of my recent trip to Bangkok, my first-ever visit to Thailand.
The Battleground
We spent most of the water fight along Silom Road. The area of downtown Bangkok is the primary area for water fighting and several miles of the main road are fenced off (with metal detectors and a good police and security presence). Water to refill your water gun is sold along the route for 10 baht per refill, about $0.30.
If You Go
Although the water fights are fun, the entire city shuts down for the Songkran holiday. Many Thai people leave Bangkok to return to their home towns to spend the holiday with their family. All museums, palaces, temples and other tourist sites are also closed, so plan to spend a few days before or after the festival to really enjoy the city.
Where to Stay
I stayed at the swanky Conrad Bangkok, on Wireless Road. It's in a corporate area, near a lot of embassies, next door to the U.S. embassy. The luxury hotel is only ten minutes from a SkyTrain station and has a shuttle back and forth to it every 20 minutes. Aside from the luxurious rooms and suites, the hotel has several excellent dining options. We had a seriously over-the-top dim sum lunch at Liu, their modern Cantonese restaurant.
The Conrad Bangkok was a great location for Songkran as we were able to walk to Silom Road, via Lumphini Park. The park is spacious, green and beautiful, great for walking and for escaping the crowds of Bangkok. During Songkran, they had a big festival set up in the park with rows and rows of food vendors, along with a performance stage with traditional Thai dancers and musicians.
Getting There
I flew the very, very nice Business Class service of China Eastern Airlines to Bangkok via Shanghai. The SkyTeam alliance carrier has two direct flights a day to PVG from U.S. gateway cities Los Angeles, New York (JFK), Chicago, San Francisco and Honolulu (and Toronto and Vancouver in Canada). They then fly on to almost 200 other destinations around the world, including Bangkok. It was a five hour flight from PVG to BKK.
Read more of Freddy Sherman's take on travel on his Go World Travel Blog. You can also follow more of his adventures at luxuryfred.com, on his luxuryfred Instagram feed and on his YouTube channel.