Kastro is a stone's throw from the incredibly charming neighbourhood of Little Venice, Mykonos. Overlooking popular Mykonos sights like the Windmills, this scenic area is also home to some of the most luxurious villas on the island.
Favoured by hundreds of celebs and A-lists for their proximity to the pulsing heart of Mykonos and its most famous beaches, bars, and clubs, they give visitors a chance to live liberating experiences that combine the vibrant night scene Mykonos is legendary for and the unspeakable beauties of the Cyclades.
Luxury Holiday Houses in Mykonos
Take a look at some of the most exclusive vacation properties at Kastro for both small and larger groups of holidaymakers.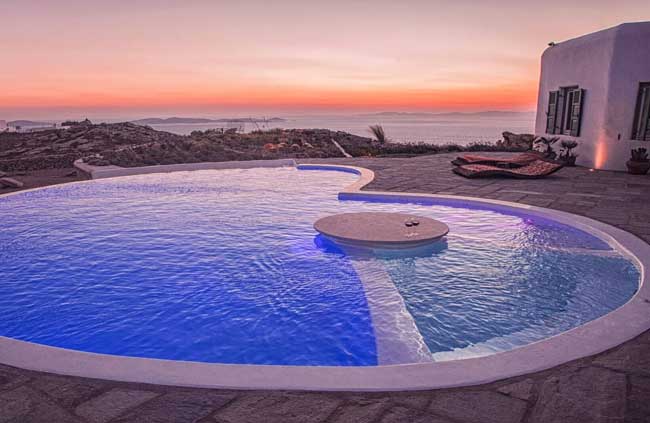 Villa Romantica (up to 10 guests – 5 bedrooms)
A 380m2 villa with impeccable grandeur that lives up to its name and reputation as the ideal romantic retreat. Infused with elements from Cycladic architecture and stylish accents of a more modern era, Villa Romantica can serve the needs of up to 10 guests with 5 spacious master bedrooms (each with its en-suite bathroom) and plenty of comfy and elegant outdoor seating and dining areas.
To ensure guest comfort, the property has been strategically designed as a two-building construction, each defined by well-trimmed gardens, ultra-suave amenities, and prepossessing views of both the Aegean Sea and the countryside.
The presence of a helipad makes the stay of its VIP visitors even more comfortable as they can quickly reach fab destinations like Santorini island or even explore the sights of Mykonos from up above.  Also available are extra services, like VIP concierge, chef, housekeeping, and butler services for a lavish, carefree stay.
Note: The ultimate getaway for a couple that wishes a bit more privacy is La Suita del Presidente, a 220m2, 2-bedroom exclusive villa with unmatched views and all the opulence and grandeur you can afford. No wonder it is a beloved property among honeymooners!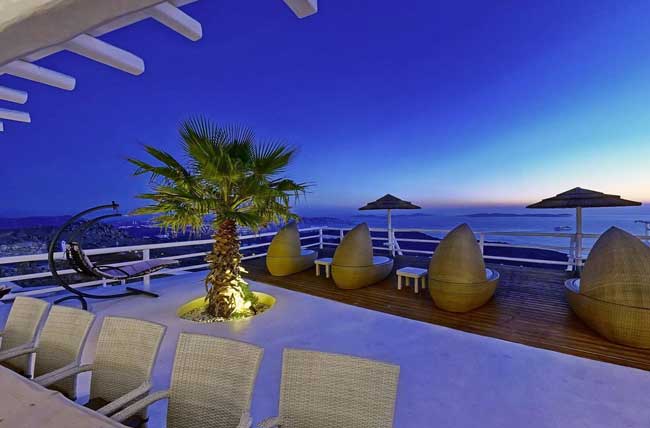 Villa Perla (up to 18 guests – 9 bedrooms)
An elegant, 600m2 three-storey holiday house of superb splendour overlooking the magnificent Aegean Sea. A total of 7 spacious bedrooms with their en-suite bathrooms lie on the first floor, offering heart-stopping seascapes from their private balconies.
You will find all the modern amenities required for a lush stay on the second floor, along with spacious living spaces created with guests' privacy and relaxation in mind. Those that wish to instil some romance into their relationships can choose the 3rd-floor master bedrooms and enjoy sweeping panoramas from the terrace or a delicious cocktail at the bar.
Private dining areas, a massage parlour, hammocks, a 90m2 infinity pool, luxuriant lounging spaces, breakfast nooks, a private BBQ, and a fully furnished kitchen are all contributing to a memorable stay.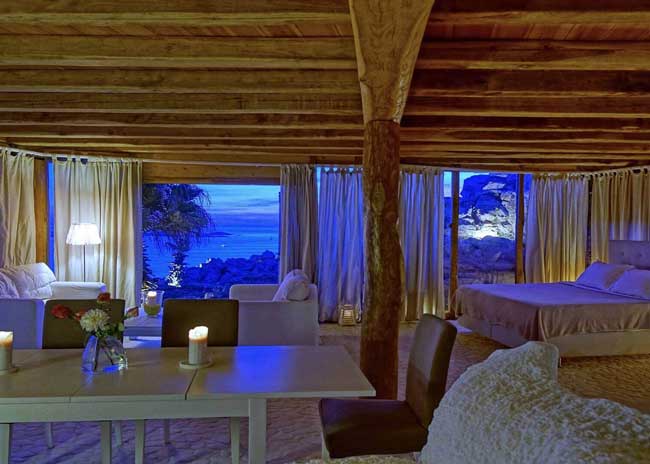 Villa Margherita (up to 12 guests – 5 bedrooms)
A 420m2 exclusive villa cut to provide royal vacations. Everything about Villa Margherita has been well thought through, from the way it appears as if emerging from the rocky natural landscape with distinct stone and wood details masterfully exuding the refinement and sophistication of Cycladic architecture, to the well-appointed décor and stylish furnishings that give a more modern note and, at the same time, a homey sensation.
Massive windows allow for unobstructed views of the shimmering waters of the Aegean and the rocky hills surrounding the villa while features like the BBQ-equipped veranda, the comfy hammocks and loungers ringing the massive infinity pool, and the plush-seating dining areas give you plenty of opportunities to bask in the morning or afternoon sun.
Enjoy your champagne, throw a pool party or just sit back and relax before you decide to rub shoulders with VIP party lovers that rave it up on the dance floors of prestigious nightclubs and beach bars every evening and until the morning hours.
Find more luxury houses for rent with Kinglike here!
Editor's Note: This post was provided by a trusted travel partner.