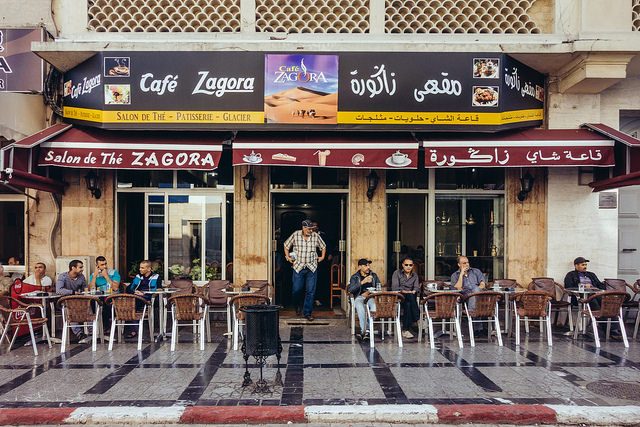 It reminded me of Paris, of the Left Bank café haunts where Hemingway, Picasso and Fitzgerald gathered. Rows of small round tables, with two chairs positioned side by side, faced the street in the open-air. The setting provided a backdrop for people-watching and discreet conversation.
Moroccan gentlemen, dressed in knitted skull caps, soft leather, heelless slippers and long flowing, hooded robes called djellabas filled the seats. The clip-clop of horse-drawn carriages, donkeys pulling carts and Mercedes taxis whizzing by exemplified the paradoxes of time. Scurrying women, wearing brightly colored head scarves or a rare black berka, amid the twisted sounds of Arabic, gave the scene an exotic feel.
Walking along the narrow strip of sidewalk that remained unused, we surveyed many of Marrakesh's busy outdoor cafés, looking for the perfect spot to enjoy our afternoon 'nuss-nuss.' An Arabic phrase which means half and half, nuss-nuss is perhaps the most common idiom in all of Morocco. Throughout the country, one hears the ubiquitous term in every café and every two-table stall in the medinas. Patrons order a shot of espresso topped with warm milk ― nuss-nuss or the national drink, dubbed Moroccan whiskey ― green mint tea, called thé.
These outdoor social establishments line every major street and hug the ancient Kasbah walls on the constricted back alleys, where scooters squeeze through. As we searched for that 'inviting one' among the many, a strange pattern emerged. Practically every seat at one café was occupied, while tables at the next longed for a single client. We learned that café goers migrate with the sun ― looking for shadows in summer and the warmth of the sun's rays in winter. Bundled against the crisp, chilly November wind whipping through the narrow thoroughfares of Marrakesh, we understood why throngs gathered where sunbeams glistened. We took a table graced by waves of heat. I scanned the rows of customers. There was only one woman. Me.
The Moroccan café society is synonymous with masculin pluriel ― for men only. In Marrakesh, Fes and Casablanca, sipping nuss-nuss at an al fresco coffee shop has developed into a cult-like Muslim 'men's club.' The street and all its excitement is strictly a man's domain. Women remain relegated to the privacy of their homes for socialization and for prayer. They plant the crops, tend the fields, take care of the family, gather firewood and buy goods at market, leaving little time to relax at an outdoor café, even if allowed. There's a joke in Morocco: the unemployment rate is so high that you'll find more men in cafés than at work. It seemed more truth than jest. 
Continued on next page