Despite the obvious cliché of "Germany efficiency," Visit Saxony's Wolfgang Gartner, on a during a right itinerary, understood, and tolerated with good humor, my "'borderline obsession.'"
It occurs to me that growing up in the "border town" of Detroit, across the river from Windsor, Canada, may have contributed to my undeniable fascination with boundaries and borders. Otherwise, I cannot explain the fascination!
In a previous column I've explored the apparently formative tales of crossing the Canadian border:
The International Intrigue of Boundaries and Borders…Part One
But let's look across other lines I've crossed, literally and figuratively, around the globe since.
Michigan's 45th Parallel
The 45th Parallel is not a border, but it is a line, imaginary though it may be. You won't see a stripe on the ground if you're driving up or down Interstate 75 near Gaylord in northern Michigan, but you will see a road sign reading: "45th Parallel – Halfway Between the Equator and the North Pole."
It's easier to visualize and grasp the distance between Gaylord Michigan and the equator than it is to think about the distance from there to the North Pole. Many Michiganders have driven down I-75 through Ohio, Kentucky, Tennessee, Georgia and into Florida all the way to Key West, where the interstate ends. Beyond there they may have taken vacations to Jamaica or the Virgin Islands, or even taken a cruise through the Panama Canal. You have to get all the way to Ecuador and the Galapagos Islands to reach the equator.
But to try to imagine an equal number of miles – mainly uninhabited vastness – all the way to the North Pole, is overwhelming. You only have to drive about an hour of that terrain up I-75 north of that parallel to reach another boundary – but this one is visible. The "Mighty Mac," (the scenic Mackinac Bridge), is a five-mile-long suspended crossing over the Straits of Mackinac that serves as the dividing point between Lake Michigan and Lake Huron.
Further, as the freeway descends off the bridge motorists will drive under a "border sign" of sorts reading: "Michigan's Upper Peninsula." (Same state – same nation – but there is a booth to collect a five-dollar toll.)
Abandoned Border
I found, in fact, it is easier (and cheaper) to drive across the Italian border than it is to drive between Michigan's peninsulas.
During my first stay in the South of France, I drove from what was then the Four Seasons Terre Blanche Resort in Provence into the tiny – but big-time glamorous – Principality of Monaco. Best known for its Casino de Monte Carlo and famous Formula One Grand Prix, the Principality of Monaco is small enough that you could walk through it if you really had to. I would not, however, recommend walking over it! The cliffside, switchback roads above it which took the life of Princess Grace Kelly provide sweeping views – but don't take your eyes off the road – of Monaco's geographic position. "The Rock" is defined on the south side by the Mediterranean Sea and surrounded otherwise by France, with whom Monaco's Royal Family and government shares a military protection agreement.
But Monaco also has a little sliver of border touching Italy. At the time I'd never set foot in Italy, so I thought it might be cool to cruise the coastal road across the border and into nearby San Remo for a look and lunch.
The road along the water was pleasant, of course. The only intrigue in crossing the border, due to the European Union's existence, was speeding like an F1 driver right from country to country without stopping. The customs and immigration checkpoint booths there were not needed and left abandoned. But it still strikes me as amazing that once you cross that "border" the culture changes immediately. Road signs switch to Italian, for instance, and people who live within eyesight of each other speak entirely different languages, cook different foods and are represented by different governments or monarchies.
On that day I'd driven across two invisible, ceremonial borders: France and Monaco; and Monaco and Italy.
Saxony's Border Bonanza
I had another two-border day while touring Germany's popular, re-emerging Saxony region. Wolfgang Gartner, the director of international marketing for Saxony Tourism, and his German American counterpart Victoria Larson, had an ambitious schedule of stunning, intriguing sights to show me and other travel writers. Despite the obvious cliché of "Germany efficiency" though, Gartner understood, and tolerated with good humor, my "borderline obsession."
"We Germans are said to be stiff and have no sense of humor, but Germany is lively," he insisted. "Germany is associated with fast cars and technology. But tourism in Germany and here in Saxony has grown a lot."
Visitors find plenty of experiential variety, history, culture, art, cuisine, and fun in Saxony Region cities such as Dresden; Leipzig; the Christmas village of Seiffen, and more.
"Before the war, Saxony was the richest, most densely populated region of Germany. Most of the important events and inventions happened in the Saxony region. It just had the misfortune of falling behind the Iron Curtain and being East Germany until reunification," explained Gartner.
Saxony shares a border with Germany's Bavaria region, but also has borders with other countries, two of which I implored him to take me to cross. Since I'd flown into Berlin, the former "West Germany" home of "Checkpoint Charlie," – the famous Berlin Wall crossing – I could cross three "borders" on one trip! It had been two-hours by car from Berlin into Saxony's Dresden.
"Saxony is in the southeast corner of Germany bordering both Poland and the Czech Republic – each only about an hour away. People like to step into Poland and check if off their list. Visitors to Saxony can make day trips to Prague as it is only 90-minutes from Dresden," Gartner explained. "Saxony is a compact state. The reason for that is simple. We were always good at building great architecture and collecting art and promoting music, but we have always been lousy at war, so Saxony got smaller and smaller."
I had the opportunity to technically stroll across the border into Poland while walking the lush, regal grounds of the Muskau UNESCO World Heritage Site and its ornate, storybook castle. It was like being at Disneyland Castle with nature surrounding it. A stream ran through the acres of forest trails and a footbridge across the water according to a simple red and white-striped post with an eagle and the word "Polska" on it, put me into Poland. The marker on the way back into Germany was striped, black, yellow and red with the colors of the German flag.
Being of some Polish heritage, the crossing felt like a glancing blow, but Gartner took me later to nearby Gorlitz, a beautiful border city of cathedrals, cobblestones and the new Synagogue Cultural Center that has drawn moviemakers to create scenes in films such as "Inglorious Basterds" and "The Grand Budapest Hotel."
As soon as we walked near a bridge crossing the Neisse River, Gartner knew I was marching across it into Poland. I begged to have a beer in Zgorzelec, though I am certain I mispronounced the name of the Polish town that seems, really, as if it is one with Gorlitz were it not for the war. At the time troops blew up all the bridges, and unlike the simple striped post at Muskau, I noticed cameras pointed at the wide bridge we walked across.
"They like to know who is coming and going," Gartner explained.
Next to a riverfront restaurant just over the bridge and to the left the ever-amiable Gartner snapped photos of me in an old-fashioned "Checkpoint Charlie" type red and white-striped border booth. It was emblazoned with a sign reading, in Polish: "Pas drogi granicznej wejscie zabronione." Translation: "Border Strip. Entry is Forbidden!"
The booth was on display on the patio of a conversely welcoming, warm restaurant in which we symbolically swigged a cold Polish Zywiec beer before crossing back over to Gorlitz for dinner at Lucie Schulte – an equally charming, contemporary restaurant that still had the metal-doored "schutzraum" bomb shelters in its passageways below.
That exciting day didn't get Gartner entirely off the hook, though.
On our way to Tradisionshotel Wilder Mann in Annaberg-Buchholz in the Ore Mountains Mining Region, he allowed a small – and very brief – detour to snap photos at – and admittedly inside – the Czech Republic border.
Though the stop and incursion were legally harmless, it still felt forbidden somehow and exciting.
South of the Border Down Mexico Way
I've driven along the border wall in El Paso, Texas, where Juarez, Mexico appears to be a part of El Paso…until one looks closely through that fence at the different infrastructure and architecture.
Further west, in Southern California, I was swimming in one of the pools at the definitely not landlocked Loews Coronado Island Hotel and looking out San Diego Bay beyond the resort's marina.
The vibe of the Loews Coronado Island sets the high-water mark when it comes to aquatic adventure. It's a very active property that has the clean, bright feel of a contemporary yacht club.
Once I'd properly chilled out there and was feeling pacified on the Pacific I decided to set out on a little adventure. I didn't have a boat but for me the lure of a border was like the siren song of a mermaid called to a sea captain. It was too intriguing for me to resist. When driving in the freeway to the hotel from San Diego toward the exit for the southern entrance to Coronado Island, I had noticed that the signage advised motorists the next few exits reached the Mexican border at San Ysidro, California.
A San Diegan in the travel industry I trusted advised, "Don't go, Miguelito. No, gringo."
She, being fluent in Spanish and of Mexican descent, admitted she often drove into "TJ" and back for spa services. But I was a naïve "gringo," and parts of Tijuana had a reputation for being dangerous.
But I decided I simply had to walk across the border into Mexico, so as it got close to happy hour, I took the 10-minute drive down to check out the scene. From the freeway I spotted the heavy traffic heading to the border. Taillights seemed stretched to the sunrise, so I was glad I took the exit before that and planned to walk in.
There were plenty of parking lots at the border – each of them with signs ostensibly offering a better offer than the other than the next and some providing shuttles to the border. I paid $20 for a fenced lot with an attendant and a gate, which seemed safer. The lot was right across the street from a foot bridge that led above and over what seemed like 10 lines of cars inching toward the immigration booths.
I saw plenty of people walking with shopping bags over that footbridge, so I followed them past all the duty- free and dodgy discount shops many border towns (on both sides) often have. Without knowing exactly what to expect I walked with the throngs of others who made their way towards the entranceway to the Mexican border building.
The sidewalk leading up to the building was accented with occasional, artistic metal archways, but the actual entrance to Mexico seemed somehow foreboding. You eventually come to a narrow, open-air walled sidewalk passageway with very high wire fencing.
As I walked, passport in pocket with my hand on my wallet and head on a swivel, I stumbled, tripped and fell. After breaking my fall with my open hands, I quickly reached for my mobile phone, which had slid out of my hand and bounced along the concrete.
A few others turned back and either asked me if I was alright or winced in sympathy.
That's when I noticed blood: I scraped my knee pretty badly. But with the border in sight, I had to improvise. I took off one of my socks to sop up and stop the bleed as best as I could. I was embarrassed and annoyed, but I was reminded of the movie "No Country for Old Men," in which Josh Brolin's character is walking across the border bleeding from being shot. In the film he bought the jacket off a young man passing by to cover his wound. I had just a sock, but my border adventure felt suddenly more rugged.
It was hard not to feel a sense of dread when I reached the metal revolving doors in the wall that, as people passed, clanked as if those passing were going into prison. You could see nothing from the walkway up except the big sign carved in the concrete above the revolving doors that read "Mexico."
After my turn spinning through the gate, I found the building very much like a dark, small airport terminal. At one point I showed my passport and I think I remember going through a metal detector before I was allowed to emerge back into the daylight. A sidewalk ramp, this time not walled, led down into Tijuana where hundreds of trinket tents and kiosks awaited.
Once again, I followed the crowd walking but there wasn't really much to do around the border, and I wasn't keen to get in a cab or Uber for a ride into the more commercial, touristy area. An American woman I encountered on the corner was waiting with her mobile phone for an Uber she said she'd ordered. She didn't invite me to get in the car with her – and I didn't ask to.
I never saw a taxi, but more than once as I walked around, I saw a flat-bed truck full of olive-green camouflaged military "Federales" in helmets and masks with weapons. I decided to make my way back to the States after about 10 minutes. But in keeping with my tradition, I needed my ceremonial Cerveza to make the border crossing "count." I found a small store front on the way back to the U.S. Immigration building willing to give me a Modelo in exchange for two dollars in American currency.
I drank it while sitting on the curb out front and watching people go by. There were locals sitting along the curb too and I was sensitive to the fact they were not going to have my fortunate option to simply vamoose to the States like I was. Or so I thought. It wasn't that simple.
I'd heard there are sometimes long waits – hours long – to get back across the border into America. I was grateful to have a Global Entry card along with my passport, so I reached the border check window with no wait.
"How long were you in Mexico?" I was asked by the American immigration/border official.
"About 15 minutes."
"Why was there such a short time?"
"I just went to see what it was like," I explained.
"Oh yeah? What was it like?"
I looked at the officer for a second and answered, "You know what it's like."
He then sent me on my way.
On my way out beside the door I noticed a sinister sign offering "Recompensa" (rewards of up to "$20 milliones") to those giving information to the DEA leading to the capture of seven men whose smiling or grimacing pictures, names and nicknames graced the board: "Pancho Limon, Mayito Flaco, Chapitos-Ivan, Aquiles, Chapitos Alfredo, Mayo and Rafa.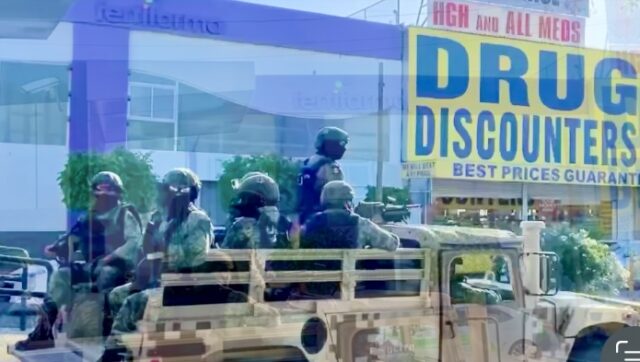 Northern Ireland is Not Ireland
Northern Ireland is misnamed. It's not, politically, "Ireland…nor is it, by geography, the northernmost part of the Emerald Isle.
The British control the six counties of Northern Ireland while the rest of the island is the Republic of Ireland and part of the European Union. Part of the Republic, Donegal, is geographically farther north than "Northern Ireland."
Due to long-negotiated peace accords, there is no longer a hard border between Northern Ireland and the Republic of Ireland, but there are still noticeable differences, including the use of the Euro in Ireland but the British Pound Sterling in Northern Ireland. You'll also see the Union Jack flying over Northern Ireland, but you won't see border booths or customs and immigration checks on the little Irish roads that cross back and forth. At most you will see a small stone marker and notice, in the Republic, that road signs may be also written in "the Irish" language.
Interestingly, "borders" are more evident in Northern Ireland cities like Belfast and Derry, where walls divide Catholic neighborhoods from Protestant ones. Deadly battles during "The Troubles" have intertwined – or better said, tangled – politics with religion in Northern Ireland. The street curbs in Protestant neighborhoods are intermittently striped, red, white and blue – the colors of the British Union Jack – to designate loyalists living there. You'll notice green, white and orange in the republican/Catholic areas.
Black Cab Taxi tours in Belfast provide tours of both sides of the "border," and walking tours in Derry will lead you atop the medieval wall overlooking it all.
Read more on Michael Patrick Shiels' travel blog, The Travel Tattler. Contact Travel Writer Michael Patrick Shiels at [email protected]