Enjoying our first dinner during a group tour of Sicily, I turned to our guide and told him that the meal was excellent. This being Sicily, the reply was not all that surprising. "You can steal my money but don't touch my food," Alessio remarked. He followed that remark by claiming, "If lunch or dinner doesn't have at least five courses, it's just a snack." I suspect the largesse ahead of us was a paltry morsel.
So yes, food plays an important role in the lifestyle of Italians. Very important. Portions often approach gargantuan in size. And growing, harvesting, cooking and eating hold a place of near reverence in their daily lives. 
Of countless repasts I have enjoyed at home and abroad, several stand out because of what they demonstrate about the locale and the people who live there. The meals range from gourmet spreads set out in a romantic setting to everyday street fare consumed by local inhabitants.   
All linger in my memories, if no longer on my taste buds, because of what they taught me about the lifestyles of those who prepare and share local favorites. 
Of the many meals I experienced in Sicily, from lavish lunches to picnics among Phoenician ruins, one that stands out was billed as A Day in the Life of a Sicilian Family. Because family is the only thing that equals food in importance in Italy.
The up-front instructions from Alessio were clear: relax, cook, set the table, sing, dance, and be open to being part of the family despite the language barrier. A tall order, despite Alessio's efforts to teach us Italian – though admittedly his emphasis on hand gestures ― which cover a multitude of sins ― weren't that effective.
Sampling Local Meals and Customs is One of the Many Benefits of Travel
But considering the emphasis on food by Sicilians throughout the trip, a visit to a farm where they grow and make their own seemed appropriate. We were introduced to the family and their captivating history going back generations ― both of the farm and of themselves ― before trying our hand at preparing our meal from scratch.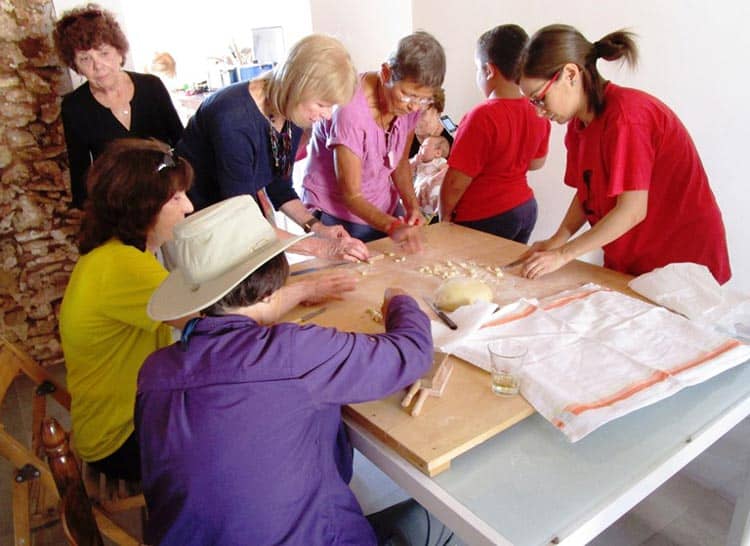 Parents of both the owner, Jean, and his wife plus assorted aunts and cousins all took part in teaching us the finer techniques of kneading bread and rolling pasta, all of which we consumed with gusto. Part of what made the meal even more memorable was the connection with the extended family who helped us create it.  
One heart-warming story told by Jean's mother about her first kiss with her soon-to-be husband below the property's huge Mulberry tree at the age of 12, was one Jean sheepishly claimed he had never heard before. A wow moment ― especially for Jean. It was that kind of day. 
And from Sicilian farmhouse to island inn, a marked change in venue and recipes but no less memorable. I'm not accustomed to trussing up and skewering the night's main course, a practice not for the faint-hearted before it was spit-roasted on an open-air fire pit for eight hours. But so it is with the Wednesday night pig roast at the Hermitage Inn on the tiny Caribbean island of Nevis. A very large head-to-tail pig on a very large spit, to be exact.  
Sitting in the Great Room awaiting its theatrical entrance, I couldn't help but reconnect with the plantation owners and their guests of yore who feasted on our meal that night, a roasted pig and many local traditional dishes over 300 years old: Plantain and rabbit pie, BBQ chicken and curried chickpeas, fish in cream sauce and tomato salad, with a special shout out to the Johnny Cakes, of course. 
From Italy to France, Myanmar to Maine, Opportunities for Meals and Culinary Wonderment Abound
Such elegant fare was replaced by more traditional techniques as we prepared our own meal at the Village Restaurant in Thit Ael Pin, a tiny town inhabited by farmers and fishermen in Myanmar (also known as Burma). It's home to the Danu people, one of 135 distinct ethnic groups that are officially recognized by that country's government, each with its own customs, traditions and food preferences. 
A chef presided over the activity, and we each had our own personal assistant who instructed, and helped us to add the pre-prepared ingredients to the cooking pots. The nine-course luncheon began with vegetable tempura prepared in the local style, went on to steamed fish wrapped in cabbage leaves and tea leaf salad, and titillated our taste buds with a dessert of crispy fried banana with honey. The meal was paired with glasses of Myanmar-produced red and white wine which we found to be surprisingly good.
As immersed in everyday appreciation of all things culinary as are the Italians, nowhere in the world is fine food approached with more reverence than in France. A barge trip along a shallow canal in the Burgundy area of France sponsored by French Country Waterways epitomizes that tradition. All the senses are satiated, but taste and smell predominate, with wine and food the focus of the trip.  
Sure, the tree-lined towpaths, medieval villages, stately chateaux, and rolling fields where magnificent, pure white Charolais cattle graze were also appealing, but we're talking about French food here. Meals of fresh bread and buttery croissants are brought on board each morning, still warm from the village bakery.
Both lunch and dinner, exquisitely prepared and presented from products from the local farmers' markets hurried on board to maintain freshness, are accompanied by a select red and white wine. The de rigueur Plat de Fromage, a selection of three different kinds of cheese, is served up with as much reverence as the wine. 
Each bottle of wine that accompanies the meal is tenderly caressed as its characteristics are lovingly described prior to serving. The table is hushed as it learns of the wine's vintage, heritage, blush, fruity nose, supple taste, sweet aroma, lightness, elegance, finesse, its children, hobbies, indiscretions ― whatever.
Comparable homage is paid to the cheese. There's always your basic cow's, goat's and blue varieties, farm-fresh, five months old, two weeks old, square curd, penicillin rind, pasteurized, unpasteurized, mild and nutty, light and fresh, tangy and robust ― this is a cheese we're talking about. But once I returned home, I found it hard to look at a glass of wine or wedge of cheese without wanting to know its entire history.
A French Country Waterways Barge Cruise Brings a Whole New Dimension to Elegant Dining Around the Clock
The French take their wine and their cheese very seriously. No doubt, if the barge were to sink, the crew would save the wine and the cheese first. Fortunately, this is not a concern in four feet of water. 
Back on land, in a world far away, a famous chef visiting from New York City toils in a Pennsylvania kitchen several days a week. The three meals a day are scrumptiously prepared, visually appealing, enormously filling and, oh yes, so delicious you hear murmurs of appreciation at every sitting. Not unusual for any fine restaurant.
But when the calorie count for all three meals ranges between 1200-1600 calories, if you factor in the two snacks available on a daily basis, the meals ― every one of them ― take on new significance. Welcome to the Deerfield Health Retreat and Spa in East Stroudsburg, PA, where you may come for the exercise ― virtually round-the-clock options ― but you stay for the food. And for the very comfortable homey atmosphere where both the guests and the staff members return year after year. 
Not a Meal, but a Snack in Rangeley, Maine
After gallivanting and gourmet dining around the world, we end with a tiny snack shack in the United States. The Pine Tree Frosty has been serving light bites and ice cream in the tiny western Maine town of Rangeley since 1964. My husband and I have a summer home there and tend to hang out at the modest establishment a lot.
The setting alone ― perched at the edge of a small lake which is the seasonal home for several dozen ducks and an occasional loon ― is worth a visit. But it's what we rate as the best lobster rolls in Maine, where that tasty treat is a time-honored favorite, which keeps calling our names.
For the uninitiated, the dish consists of a New England-style hot dog roll, which is split at the top instead of the side and has flat sides, filled with delectable lobster meat. At the Frosty, the rolls are buttered and toasted, and overflowing with 5 ounces of luscious lobster meat (more than the standard 3-4 ounces) dressed very lightly with a touch of mayonnaise. After gorging ourselves around the world, such a simple repast is especially appetizing.
If You Go
Overseas Adventure Travel Sicily's Ancient Landscapes & Timeless Traditions
Hermitage Inn in Navis, West Indies