The adage "getting there is half the fun" is definitely true in Italy with IC Bellagio.com drivers.
When it comes to life, motivational speakers will tout the value of "the journey" instead of just "the destination." I had the ride of a lifetime, along with some friends, when we ventured out of Florence on a day trip tour into the Tuscan Hills arranged by IC Bellagio, the top Italian tour company.
Logistically, the on-call IC Bellagio guest ambassadors Nicole Bellatti and Marianna Micheli were so on top of things that, the day before the day trip, I got a What's App message from her advising me the annual Florence Marathon would necessitate a different, more convenient pick-up point. Florence's fabulous Hotel Brunelleschi, also recommended and arranged by IC Bellagio, was in the very center of Florence near the iconic Duomo, so in the midst of the excitement of the marathon, the three of us had a nice, morning stretch of the legs through the scenic city, across the Ponte Vecchio, and up to Porta Romana to meet our driver.
Finding Florence
"Mr. Shiels?" I heard my name called.
A tall, wavy-haired, young fellow stood next to a black van under Porta Romana's ancient arch.
"Signior Pitari! Buongiorno," I called back as I walked toward the van. After further friendly introductions, we climbed in and Raffaele Pitari, our IC Bellagio-contracted driver, got behind the wheel.
We talked about the excitement of seeing the Florence Marathon, and Raffaele revealed he'd actually run in the previous year's race. As he drove, we also learned he was, in fact, the regional head driver for IC Bellagio.
"I work for them and am the head driver. I recruit and train other drivers for them, but I don't like to work in the office. I love to be out here driving," explained. "IC Bellagio does a very good job, which is why they are on the top for so many years. The secret of IC Bellagio is they really care for their clients and the experiences they send them on."
I asked how IC Bellagio handles the clients he drives with such golden gloves?
"Their guest ambassadors come here to Florence very often. It's not like they are from Los Angeles and once a year the manager shows up," Raffaele revealed. "IC Bellagio's advisors take the train and go see the hotels and try out the experiences before they recommend them. The company spends money and energy to do that. They have the personal expertise of knowing exactly what is the best for their clients."
A Thoughtful, Soulful Stop to Salute
We learned a lot about Raffaele during that day, because he was a very intriguing, entertaining fellow who didn't seem to mind answering our pestering questions. The dialogue on the drive back to Florence, after we'd tasted an untold number of wines at Casa Emma Winery, was hilarious, but let's not skip ahead. Raffaele had a surprise for us about ten minutes out of town on the ride out to Chianti.
"For a moment now, I am going to take you to America," he said, pulling off the motorway onto the Impruneta exit into a valley. The valley was filled with green trees through which a hanging morning mist was weaved. Once the van passed the trees a vast hillside came into view, fronted by a flagpole on which the stars and stripes had been hoisted at a gate between white stone walls.
"The United States owns this piece of Italy," Raffaele revealed while driving us into the Florence American Cemetery and Memorial. The van fell silent; he steered it solemnly into and through a hillside with rows and rows of white crosses and stars of David marking the graves of Second World War soldiers who gave the ultimate sacrifice.
At the top of the wide, seven-acre hill, was an engraved obelisk in front of a wall of remembrance bearing the thousands of names of the fallen, as well as marble pavilions with information about the brave and the battles.
This stop was not on the itinerary, but it certainly was thoughtful of Raffaele to respectfully take IC Bellagios American clients to this striking setting, which stirred conversation about the history of Italy and America during World War II.
Touring Tuscany
Raffaele pointed out scenic views and famed Tuscan wineries as he drove us through the Chianti region and dropped us at panoramic Casa Emma Winery for a winemaking and cellar tour, cooking class and three-course lunch with plenty of estate-bottled vino to taste as we ate some of the dishes we'd helped prepare.
The cooking portion of the tour was given by Franchesca Ceccherini, who'd written a recipe book about cooking with grape pomace. She also served as translator for the star of the show, Chef Katia Franchesseli, the "Nonna" who taught us to make pasta and tiramisu.
"Nonna" was right out of central casting – the classic, strong Italian grandmother in an apron wielding a rolling pin. We were, at first, intimidated, but Chef Franchesseli's manner, speaking only Italian, became more adorable as the afternoon moved on.
She had us trying to make noodles for a tagliatelle dish. "Chef Nonna" came over and took a look at the results of my "production" and told Ms. Checcherini that my dish, instead of being tagliatelle, would have to be called "maltagliati."
I spoke enough Italian to understand what Nonna said had something to do with a "knife."
"Cosa Maltagliate, per favore?" I asked both Franchesca and Nonna. They looked surprised that I'd spoken in Italian, so they had to confess: Maltagliati translated to mean "badly cut." We laughed our heads off! Of course, I ate every bit of them when later they came, in a dish, to our restaurant table overlooking the valley vineyard.
A few days earlier, IC Bellagio had also sent us to a colorful Tuscan garden and farming tour with lunch at Podere Le Ripi vineyards and winery, founded within the last few years by one of the founders of the Illy Coffee company. Thanks to an outstanding and entertaining guide named Sofia Quercioli, who is a winemaker and vineyards assistant at Podere Le Ripi, it was great fun to see the organic growing experience. We were even shown the majestic Irinia, symphonic sheep and ducks helping to, shall we say, facilitate the organic experience. Podere le Ripi's corkscrew-style wine cellar is a unique architectural feature. The names and labels for the wines are equally eccentric.
The ride back to Florence included a stop in Siena for a visit to the ornate, pink, 13th-century cathedral and the "street course" in the piazza on which the outrageous annual Palio horse race is contested.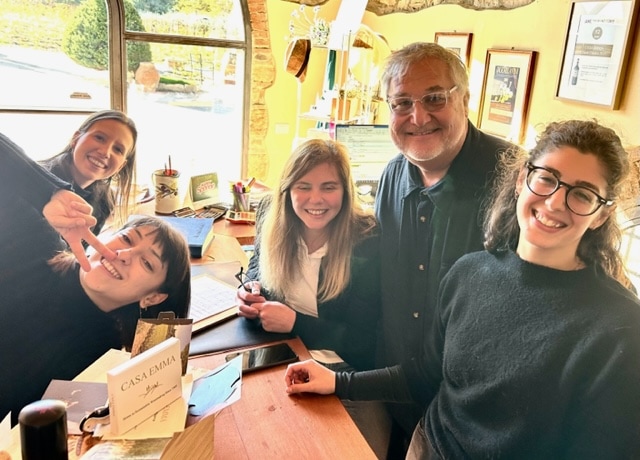 Arrivederci, Casa Emma
Raffaele was patient when our wine lunch, naturally, ran over its scheduled time, and when we tumbled out of Casa Emma in elevated moods, Alessio Benincasa, account manager with the winery whose grandfather was one of the vineyard founders, steered us to the van. Alessio knew Raffaele well, so we had a bit of a chat in the sunshine about travel.
Alessio's vineyard tours are so popular he's been hired to travel to the United States many times to give presentations at dinners and events in the USA in New Jersey, New York, Tennessee and more. He said he loved the opportunity to travel.
"Minneapolis," Alessio said, "was surprisingly the American city I found most to be like Europe."
"In Minnesota," I joked, "a 'one of our 'flyover states!'"
But Alessio said he didn't care for Los Angeles. "L.A. has no city center. Italians like a city center."
Travel is My Drug
On the silly, scenic drive back to Florence, with the snow-capped Apennine Mountains on the horizon, Raffaele spoke of his travel horizons. After working every single day for seven months, he was headed for a big trip to South Africa and considering visits to Costa Rica and Sri Lanka, but figured he'd already experienced 48 countries.
"Travel is my drug," Raffaele admitted.
I deduced his life, his work, and even his relationships are built around it. His partner Nele, whose parents are from Belgium, works with him as a professional driver. Her sister works with Emirates Airlines and lives in Dubai, which, with a 90-percent-off employee flight discount, created the opportunity for him to visit the Middle East.
"We brought her Parmesan Reggiano, which she could not get in Dubai," Raffaele recalled. He regaled us with some of the cultural sensitivities of living and working and drinking and partying in the United Arab Emirates.
Raffaele had been to other complicated destinations such as rural Cuba.
"We went to Cienfuegos in 1999 and it was amazing. A friend of mine was working for British Airways so we were on stand-by status on the way out for a flight home. The flight was full, so we could not board until the next days' midnight flight. We figured it was no problem – we'd just go back into Havana for a night of Salsa dancing. But our credit cards didn't work, and we'd spent the remainder of our Cuban case on cigars and rum thinking we were going to get on the flight."
Raffaele and his friend were stuck sleeping at the Havana Airport with no money – and starving – which caused the savvy traveler to be resourceful.
"I went outside the airport and there was a little truck with a man selling Cuban sandwiches," he explained. "I asked him, 'Do you need something from my luggage?' I opened my luggage like it was a little shop and we traded my bathing suit for a sandwich."
During a visit to Cuba in 1999 Raffaele said he'd assisted a German couple stuck at a train station for four days. He pretended he didn't speak Spanish and listened to the officials at the station until he realized the couple was being scammed and given the runaround. His suggestion to call the police, in Spanish, fixed the situation quickly.
Adventure Travel and the Olympic Games
Raffaele had also enjoyed luxurious locations such as Belize and Mexico, where he's gone under the water free diving, and Miami Beach and Hawai'i, where he tried to stay atop the waves.
"I tried to learn surfing, at age 40, off Maui. I also attempted to learn in Australia at Byrum Bay, a hippie area on the Gold Coast," Raffaele admitted. He also said his girlfriend, who he described as a good skier who is almost as tall as him, has tried to teach him snow skiing.
Raffaele had an excellent winter sports experience when he worked in tourism at the Olympic Games in Torino, Italy in 2006. He assisted with logistics for the Canadian Women's Ice Hockey team.
"After the Olympic games, some of the people stayed around and we spent a month and a half together driving to Rome and through Tuscany. "It was a couple and two women," he recalled. "My family was down in Umbria. It was Sunday and so my mother was going to prepare a big lunch, so I suggested to them that we stop at her home for a meal on the way."
As they drove to her home, Raffaele described the route to his passengers.
"Before you reach my town, there is another town on the way named 'Bastardo.' The man, Paul, asked me, 'What do you call someone from Bastardo? Bastardi?'"
"Correct," I told him!
He said they all laughed, and the man exclaimed, "That will be my favorite town in Italy!'"
Casa Dolce Casa
For all his travels, I asked the amiable Raffaele Pitari how he feels when he returns to Italy – a place many, especially Americans, dream of visiting.
"Sometimes when I go traveling and come back, I say, 'Okay, now I know why I love Italy.' I have marvelous traveling experiences, but then I come home."
Recognizing that Americans often take shorter vacations, or "holidays," than Europeans, I asked Raffaele what kind of Italian spree he would advise for someone traveling to Italy for a week – with transatlantic flights at both ends.
"That's really tough if you come for five days on your first trip. I would say Florence for sure, though, because that also means they can get to Tuscany with a 20-minute drive. That's enough reason," he reasoned. I would make for both a city and countryside experience. "Then it's either Rome or Venice. Venice is the most unique city in the world. Rome is Rome. Rome has Vatican City and art."
He also advised that high-speed trains from Rome and Milan to Florence work very well, and if you go back on the same day, it is very cheap.
IC Bellagio.com, and its network of amazing drivers such as Raffaele, guides and guest ambassadors can "fashion," pardon the pun, any type of Italian visit you've dreamed of.
Raffaele was very sweet. When he dropped us back in Florence, he was on the way to dinner with a friend who'd just returned from a trip to the former Soviet Georgia. But after we'd laughed all afternoon, he said, "I wish I was driving you people for more days!"
'Till we meet again, paisano!
Read more on Michael Patrick Shiels' travel blog, The Travel Tattler. Contact Travel Writer Michael Patrick Shiels at [email protected]
Latest posts by Michael Patrick Shiels
(see all)