Television viewers tune into the Masters Tournament in early April, professional golf's most-watched broadcast each year, dreaming of driving up tree-covered Magnolia Lane and entering Georgia's highly private Augusta National Golf Club. The golf course is on the grounds of a former nursery with the greenest grass growing under the dogwoods and pines all framed by blooming beds of colorful azaleas.
Augusta is about two hours east of Atlanta, but very few people get tickets to the Masters Tournament, and only a fraction ever get to visit the exclusive members club and play golf in its very traditional setting.
Ken Raynor sometimes can't believe it but he's had the opportunity to attend the Masters Tournament and watch part of the network television production fireside in the famed Butler Cabin with CBS Sports anchor Jim Nantz. And it's all because Nantz and Raynor met through a common friend who was a golf fan. That golf fan wasn't a member at Augusta National, nor was he a PGA Tour player, but he did happen to be President of the United States.
Raynor writes about the friendship he shared with the now late former leader of the free world in his recent book I Call Him Mr. President – Stories of Golf, Fishing and Life with My Friend George H.W. Bush.
Friendship with a U.S. President
Though Raynor was not in Bush's rarefied economic, political or business stratosphere, they traveled together extensively as the President enjoyed Raynor's company at home and away. They spent time together in the White House and at Camp David; and aboard boats, helicopters, and sea planes in places as far-flung as Greece, Newfoundland, Labrador near the Arctic Circle, the Gulf of Mexico, and the Atlantic Ocean on fishing expeditions. Maybe their favorite fishing spot was at dawn in a bass tracker on the tiny river that runs beside the Cape Arundel Golf Club in Kennebunkport, Maine, where Raynor served as golf professional through parts of five generations of Bushes who spent their summers in their nearby oceanfront compound on Walker's Point.
"I first came to Kennebunkport in 1974 when I took a job as a grounds worker and then, in 1979, became head professional of the Cape Arundel course," writes Raynor. Cape Arundel, where the 41st President and various family members played golf yearly throughout the summer season, is, unlike Augusta National, open to the public and available for daily play. Visitors and tourists could always find Raynor giving lessons on the practice tee off behind the clubhouse counter selling souvenir shirts or Presidential logo balls – that is when he wasn't summoned to play presidential golf.
"It's been suggested that I've played more golf with Presidents of the United States than any PGA professional in history. Most of those were with President George H.W. Bush over our more than 30 year friendship. Some were with his son, President George W. Bush, and sometimes the two of them at one time. I've also played a few rounds with President Bill Clinton when he came to visit President Bush. So if it's true, it's quite an honor…and has been quite an experience," Raynor admits.
Raynor was with the Commander in Chief at some of golf's great venues including the Ryder Cup Matches at The Country Club near Boston; the World Series of Golf at Firestone Country Club in Akron, Ohio; and the Old Course at St. Andrews in Scotland.
And one day, in a conversation between the former President and his friend Craig Dobbin, Bush turned to Raynor and asked if he'd ever played golf at Augusta National?
Raynor answered that he hadn't.
A Presidential Phone Call
"Not long after that casual conversation I got a phone call from the President's office informing me that a date had been set in early December to go to Augusta National and play golf," writes Raynor in I Call Him Mr. President. "So much tradition was running through my mind: the chance to walk across the Hogan and Sarazen bridges over Rae's Creek. To play shots from the same spots generations of the great golfers had: Sam Snead, Arnold Palmer, Jack Nicklaus, Gary Player, Tom Watson, Ben Crenshaw, Tiger Woods, and plenty of others. I almost forgot I'd be playing with a former President."
President Dwight D. Eisenhower was a member at Augusta and visited 29 times while in office. President Reagan made a shortened visited to Augusta National in 1983 when a man with a gun crashed through one of the gates and held a number of people hostage demanding to see Reagan.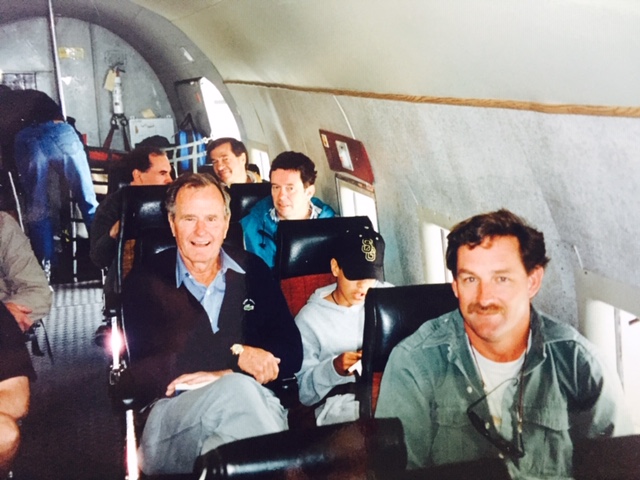 Dobbin, Raynor and Bush, due to the former President's demanding schedule, flew with him aboard Dobbin's jet to appearances in Ft. Lauderdale and Puerto Rico on the way to Augusta.
"Upon landing at Puerto Rico, a motorcade and agents picked up President Bush, and Dobbin and I spent the afternoon enjoying ourselves walking around Old San Juan and doing some Christmas shopping. They we went back to Dobbin's beautiful plane and played a couple of games of cribbage while we waited for the President," Raynor details. It was nearly dark when they finally made it to Augusta National, but that didn't stop the eager travelers from diving right in. "We managed to hurry out and have a little putting contest on the practice green. Just the three of us: a President, a CEO, and a golf professional, putting and playing and laughing at one of the world's most revered golf courses."
Visiting Augusta National Golf Club
Raynor writes the small group lodged, appropriately, in the Eisenhower Cabin, and eventually went into the antique clubhouse for dinner.
"This is where, and when, Augusta National really surprised me. Though the club was exclusive and private, the atmosphere was warm and inviting. The staff was friendly and congenial. There was no pomp and circumstance at all. None of the stuffiness you might expect. It was a wonderful experience. I expected a very formal atmosphere but it was a very casual atmosphere. You were gentlemen and you were ladies, but at Augusta National you were golfers first," Raynor recalls. "The next morning I walked into the clubhouse dining room at about 7:30 in the morning and the waiter somehow knew me by name. Once he'd seated me at a table, he asked, 'What can I get you for breakfast?'
'May I see a menu?' I responded.
'Oh, sir, we don't have menus here. We will get you anything you want.'
Whatever I ordered, I remember it was fabulous food."
Raynor said the trio walked 18 holes after breakfast and played a fun round on the par-three course.
"I was fascinated by how different the course feels from what you see on television each year during the Masters Tournament. The first hole, where the ceremonial opening drives are struck, is difficult, and until you get there you might not realize by watching on television how much of a dogleg the 13th hole really is when the Tour players hit a draw around the corner. Those pine trees on the right are truly looming."
Eating and Drinking at Augusta
The end of a day on the course brought its' rewards, too, according to Raynor.
"Being taken into Augusta National's wine cellar was an especially interesting treat. Augusta National is known for having one of the most extensive wine cellars in the world and they had just received a delivery of French Bordeaux. We were amongst the prized cases of Lafite Rothschild and the Chateau Latour, and all of the highly-rated (and highly priced) wines. I was living the dream of a golfer and as wine lover."
Before leaving the next day the energetic President Bush wanted to squeeze in 18 more holes.
"Our Augusta National caddies have toted the bags for all manner of interesting people from around the world. To be able to caddy in a group with a former U.S. President was probably top of the list for them. Before we left for the airplane, President Bush thoughtfully gave each of the caddies a commemorative Presidential golf ball or tie tack, or cuff links as a memento," said Raynor.
And a lifetime memory for Raynor…among the many he shares in his book I Call Him Mr. President – Stories of Golf, Fishing and Life with my Friend George HW Bush. (Skyhorse Publishing.)
Michael Patrick Shiels co-authored I Call Him Mr. President. Follow his other adventures at GoWorldTravel.com/TravelTattler. You can contact him via [email protected].