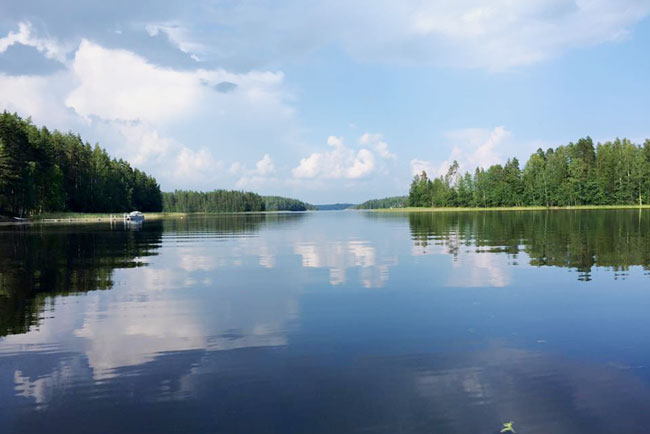 My basket is still empty, so I follow the others along the forest trail, intent on our hunt for blueberries.
My mid-western American eyes aren't quite sure what to look for. After all, foraging in the forest is not something we do back home in Colorado.
But here in Finland, it's a beloved pastime. The Finns believe that everyone has the right to enjoy outdoor pursuits.
Their 'everyman's law' gives public access to the country's vast forests, lakes and rivers, with few restrictions.
That means that we can spend the afternoon picking blueberries on an island in the middle of Lake Saimaa.
Located in eastern Finland, Lake Saimaa is Finland's largest lake and the fourth largest natural freshwater lake in Europe.
To understand how large Saimaa is, it's best to imagine its islands – there are almost 14,000 of them. The lake is home to many communities and thousands of summer cottages.
Lakeland, as this region of Finland is aptly called, calls to the very heart of Finnish identity.
Its islands, forests and bodies of water provide an ample playground for Finns yearning for nature.
Being in nature holds a revered spot in Finnish tradition, a fact that brings some good natured teasing by neighboring Swedes who claim that the "Finns just came out of the forest."
"That might just be true," one local tells me with a chuckle. "We feel energized by being in nature, and we love being in the forest and at the lake."
"We don't go into nature to do something, we go there because it feels good," says Mari Pennanen, who blogs about the benefits of nature in her blog, SaimaaLife.com.
"For us, nature is healing."
It's a good thing then that Finland has more than 188,000 lakes. This week, I'm here to explore Lake Saimaa and its waterside communities – and I'm not the only one.
This region is a popular destination for vacationing Finns as well as travelers from as far away as China.
Finland's Lakeland Region

After flying into Helsinki, several friends and I traveled by train for 2.5 hours to the town of Mikkeli, located between lakes Puula, Kyyvesi and Saimaa.
Many Finns dream of owning a summer cottage in this region, and some 10,500 of them do. During the summer, the sun only sets for a couple of hours, leaving long days of sunlight for play and relaxation.
In the winter, the water turns to ice, providing ample space for skating, hockey and even cross-country skiing.
Mikkeli itself is a popular destination. Kenkävero is one of the region's most visited attractions.
This restored vicarage has impressive gardens and is home to Santa's Summer Hideout, which children delight in visiting.
Tertin Manor is another draw. When we stopped for lunch at this historic family manor, we found a huge buffet spread filled with fresh vegetables from the manor garden.
There are also homemade breads served with honey from the grounds, as well as duck, pheasant and partridge from manor hunts.
This focus on fresh, very local products is a theme found over and over at restaurants and hotels in Finland. Whoever thinks Finnish foods are bland has not visited recently.
Fresh berries, mushrooms, fish and homemade baked goods are a staple of Finnish cuisine.
Many of these fresh berries find their way into Finnish country wines, liqueurs and spirits created at Ollinmäki Winery.
Also located in Mikkeli. Birch sap and spruce buds are other key ingredients. The winery offers wine tastings for EUR 22, and has a restaurant on site.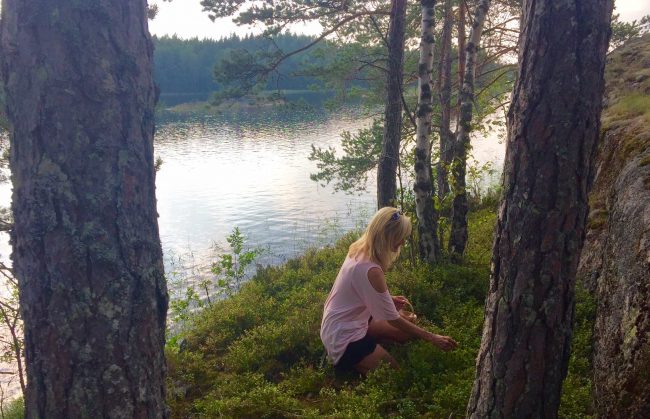 Lake Saimaa

But perhaps the most sought after experience here is simply being on the lake – swimming in it, boating on it, sitting alongside it with a book.
After joining others on a boat, we cruised through many of Lake Saimaa's many waterways and inlets.
The lake's deep waters are clear, surrounded by forested shoreline and dotted with islands.
It's on one of these islands that our hunt for blueberries ensues. Through the thick trees, I hear others exclaim as they find bright blue berries and wild mushrooms, but I'm not having any luck.
"Here," one of my Finnish friends shows me patiently, pulling up a tiny low-lying bush to display plump berries underneath.
The non-assuming plant is a treasure trove, and soon berries line my basket.
"We'll have these for dinner," my friend exclaims. And indeed we do.
That night, at the Anttolanhovi Art & Design Villas, we hold a Finnish BBQ. The main dish is Muikku, a tiny lake fish that is a popular dish in Finland.
After adding fresh herbs and spices to the tiny fish, we grill them over an open fire.
The fish are served with fresh berry drinks, local vegetables, hearty salads and homemade breads.
I'm not sure if it's the fresh air, the gorgeous lakeside location or the chef's skills, but I love everything on the menu.
Finnish Sauna
In Finland, sauna is a revered tradition and a large part of Finnish culture. Any visit to Finland without time in the sauna would be incomplete. So after dinner, we head to the lakeside smoke sauna.
There are many different types of saunas in Finland, including wood stove sauna, steam sauna, ice sauna and tonight's feature sauna – smoke sauna.
Smoke saunas do not have a chimney. Wood is burned in large stove, allowing smoke and heat to fill the room. When the sauna is hot enough, the fire is allowed to die and smoke is ventilated out.
The residual heat warms the sauna for the duration of a visit. And although the walls are often black from smoke, the smell is enticing and the heat warm and comforting.
To the Finns, sauna is a huge part of health and wellness. It's a "must" to be enjoyed at regular intervals. Without it, many Finns feel they are incomplete.
"Sauna makes me feel truly clean," explains one local. "And it's where I relax and unwind," says another. Being invited to enjoy a sauna with a Finn is an honor.
It's a place where you can discuss real life issues and bond with one another. Toddlers here take their first visit to sauna when they are only a few months old and continue throughout their life.
All that time in the sauna means the Finns have a strong tolerance for the heat, something my American friends and I struggle with.
The heat in the smoke sauna hits us like a wave when we enter, but we happily follow the example of our Finnish friends and take a seat on the wooden benches.
Relaxed smiles fill their faces and they breathe in deeply. They look so serene.
As for my friends and me? Not so much.
"I need to get some fresh air!" one of the Americans says, rushing out the door after only a few minutes' time.
Finnish sauna, it seems, takes some practice.
That's when we learn the next step of a Finnish lakeside sauna – simply jump in the lake and cool off.
The cool water startles up as we leap from the pier, but soon we're laughing and enjoying the soothing water. It's already 10:45 pm, but the skies are still light.
The shadows of the forests along the shore grow darker, but the sky has a quiet glow, creating a fairytale-like atmosphere in the waning summer light.
We spend the next hour going back and forth from the sauna to the lake, building up our sauna tolerance. By now, we've begun to understand.
It's not just the heat of the sauna that is appealing – it's being part of Mother Nature and feeling her extremes, hot and cold.
It's being surrounded by the earth's beauty, accompanied by the warmth and laughter of friends.
As my friends splash in the lake, I turn on my back and float back toward the pier. A serene smile fills my face. It's a wonderful night to be in Finland.
If You Go to Finland
Where to Stay on Lake Saimaa
Lake Saimaa has many historic manor homes and luxury resorts. Each of the places below has a strong focus on healthy cuisine made from fresh, local ingredients.
They offer excellent service and comfortable accommodations in a natural, lakeside setting.
Anttolanhovi Wellness Village
Large glass windows provide scenic views of the lake at Anttolanhovi Art & Design villas. The villas are perfect for a family or group, and even have a full kitchen and living room.
The décor is luxury Finnish design with light woods and lots of glass. Many guests come just to eat at Anttolanhovi's restaurant, which features local food.
The resort's waterside location is the quintessential Finnish lakeside experience.
Hotel & Spa Resort Järvisydän
When Tanja Heiskanen married into the Heiskanen family, she knew that part of her life would be dedicated to serving travelers.
Her husband, Markus, is the 11th generation in his family to host travelers at their hotel on the shores of Lake Saimaa. All that experience of the generations has paid off.
Their resort – Hotel & Spa Resort Järvisydän – provides luxury accommodations along with cuisine prepared by top chefs with the freshest ingredients. The room are spacious and well-designed, with comfortable beds and nice views of the lake.
The resort also has their extensive Finnish Sauna World, which offers three different types of saunas, as well as an outdoor hot tub. Best of all, the Heiskanens are fun people.
The highlights of my stay were a morning stand up paddling trip with Tanja (SUP can be rented onsite) and singing Karaoke with Markus and other staff and diners.
Sahanlahti Resort
The terrace at Sahanlahti Resort has been rated as one of the most beautiful terrace views in Finland – and for good reason. The resort, which has an old sawmill milieu, is located on a hill overlooking Lake Saimaa.
Along with comfortable accommodations, it's known for its local and organic food, special craft beers and organic wines.
Hotelli Punkaharju
The historic Hotelli Punkaharju was built in 1845 in the forest lake shore along Lake Saimaa. It's been lovingly restored, and its central theme is a focus on nature.
Dishes in its restaurant are made from local ingredients and wild food. Stop by for lunch or to take a lake cruise on its steamer.
Don't Miss: Opera in a 15th-Century Castle
The small lakeside city of Savonlinna has a beautiful setting along Lake Saimaa and is known for its focus on the arts. Each summer, it hosts the Savonlinna Opera Festival.
(We got to see Othello.) It's quite a memorable experience to see Shakespeare performed in a 15th-century castle. The festival has grown so popular, that it now attracts more than 60,000 a year.
For more information, see www.VisitFinland.com
Author Bio: Janna Graber has covered travel in more than 40 countries. She is the managing editor at Go World Travel Magazine and the editor of three travel anthologies, including A Pink Suitcase: 22 Tales of Women's Travel.