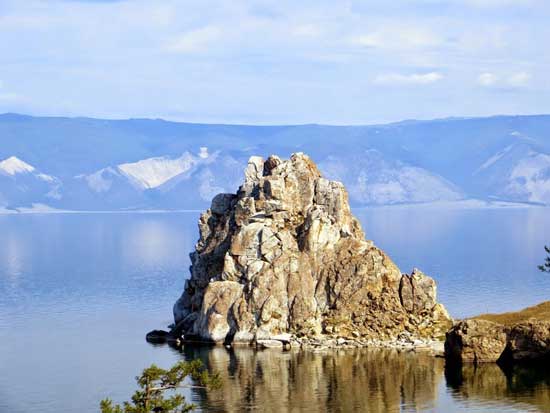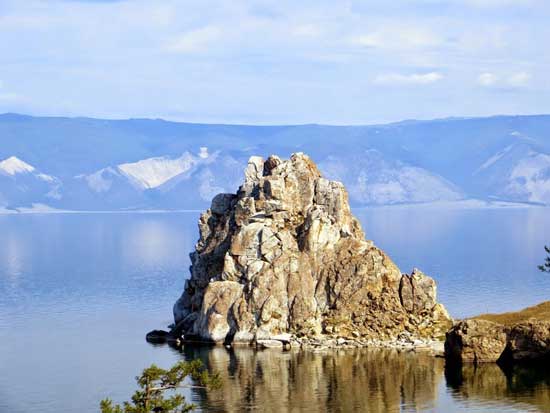 We sit on a shore in Severobaikalsk, Siberia staring at the world's oldest and deepest freshwater lake. Over 25 million years old, and one mile in depth, Lake Baikal contains 20 percent of the earth's thawed freshwater. It could hold all five Great Lakes of North America. Geologically, this will be our planet's next ocean. For now, my wife Mare and I are content to sip a cold beer and reminisce about our railway journey.
After boarding a train on the Baikal-Amur Mainline (BAM), a less traveled Trans-Siberian route, we enjoy the luxury of sharing a sleeper cab for 48 hours with a woman and her dog. We do not understand a word of Russian. Trying not to stare at our bunk mate sitting directly across from us, I recall some "mannerism" advice from a Russian woman back at the MIR Hostel in St. Petersburg. "Don't smile at strangers in small towns…they will think that their face looks funny. Also, it's rude to point with your index finger."
I try not to smile at our new roommate. In "Tarzan" fashion I point to my chest. "Me, Ron." She nods with an expression of indifference and responds, "Meeron." Good enough.
I point to the dog and raise my eyebrows. "Jos," she says. Jos understands more Russian than we do. Most communication is body language, and we're getting better at stumbling our way through Russia with facial expressions and hand gestures. I smile at Jos and realize that I had just pointed and smiled.
Back on the northern shore of Lake Baikal, we're starving. Unable to read the Russian menu, I order food by mimicking sounds of a sheep. Soon, we devour a plate of pork chops. At least we know how to gesture-order beer…too bad we're not vodka enthusiasts, because it's plentiful and easy to pronounce.
Anna, the proprietor of the comfortable Baikal Trail Hostel in Severobaikalsk, appreciates a chance to practice speaking English. We enjoy conversing with someone other than each other for the first time in days. Anna gives us directions for a hike through the Siberian forest to a remote, 300 year-old fishing village called Baikalskoe. She also sets up a dinner date with a Russian family, whose daughter wants to learn English and become a translator.
We get lost at the bus station. While trying to ask for directions, we discover a warm, friendly people beneath a veneer of indifference. They are eager to help, and even smile once we attempt to communicate.
Into the forest we go, where volunteers have taken on a monstrous task to blaze The Great Baikal Trail, a 2,000 mile trial circling the lake. Our trek weaves between a deciduous portion of the Siberian forest, and dramatic shoreline for a mere seven miles to Baikalskoe village. Livestock roam dirt streets that separate ornate, colorfully painted traditional log houses.
Exhausted and hot, we seek the shade of a porch at the general store. A man approaches holding a fresh omul fish (endemic Salmon relative), and a loaf of bread. He speaks Russian of course, and we only understand "vodka." He pulls a bottle of the national drink from his pants. I nod, and finally experience the Russian ritual of drinking vodka. The entire bottle must be consumed prior to anyone leaving.
We tell tales that neither of us understand, communicating with laughter and slaps on the back. One danger of consuming vodka is that it could lead to a belly hair contest…
For our dinner date, Mare sobers me up with a douse in Lake Baikal, where the water was frozen only one month ago.
Back on the dusty road, a young woman flags us down. Her name is also Anna. We go from the freezing water to an extremely hot kitchen, where sweat rolls from our foreheads while slurping delicious Omul soup. Anna practices her English, and grandma serves pastry for desert. Then they walk us to the bus stop and wait until we board.
Back in Severobaikalsk, Anna arranges tickets for us to hop the Hydrofoil for an eight-hour ride down Lake Baikal. We disembark on Olkhon Island, which stretches 44 miles long and 13 miles wide. Inhabited by the Buryat culture for centuries, the island is a shamanist holy site. Obos, which are specific trees, posts and rocks that Shamanists believe spirits reside in, ornate in blue strip prayer cloths, are surrounded by coins, cigarettes and vodka bottles as offerings for safe journeys and good fortune.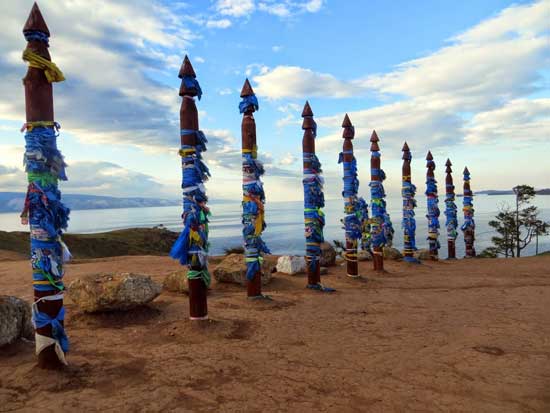 Onto a van that bounces on dirt roads to Nikita's Homestead. We enjoy fried eggs for the first time since leaving the US about one month ago.
Enjoyable day hikes twist around rock formations that represent Shaman deities. This island is one of Asia's nine most sacred places. A growing tourist industry compliments the traditional fishing, agriculture and livestock sustenance, while maintaining respect for Shamanism.
A ferry from Olkhon Island brings us to the Baikaler Hostel in Irkutsk. They have no vacancy. "Don't worry, I will accommodate you," says Jack the proprietor. Jack drives us to his other place, the Baikaler Eco-Hostel in Listvyanka, on the southern shore of Lake Baikal.
Soon, we trek another portion of the Great Baikal Trail. "I get a Siberian tick vaccination," Jack explains. "You should be okay. Tuck your pants into your socks, and we'll do regular tick checks."
Colorful flowers fill gaps between Aspen, Birch and Pine trees in the lush Siberian forest. The trail hugs shoreline cliffs during this 12-mile trek where bays resemble the Caribbean. Later we munch on smoked omul while sitting on a log in Bolshie Koty, another centuries-old fishing village. Smoked fish, pesto cheese and buckwheat become our favorite meal.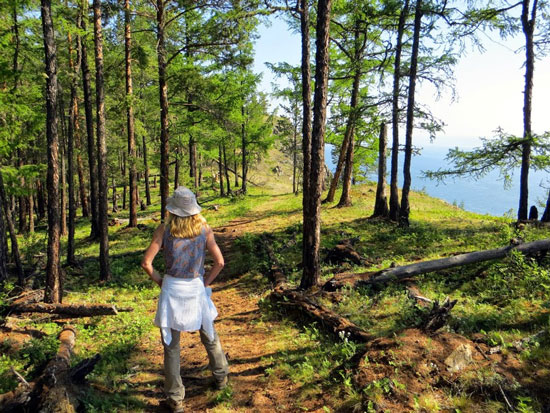 A final ferry excursion takes us to abandoned Port Baikal. Decaying ships and barges leave remnant memories of a once bustling Siberian village. The Trans-Siberian Railway rolled here until a dam on the Angora River submerged much of the Port. Currently, the Circumbaikal Railway comes from Slyudyanka with tourists and dead-ends here.
Lake Baikal leaves us wanting. The opportunity to witness alien ice formations in the winter climbs high onto our bucket list.
If You Go

Outside of major cities, only Russian is spoken and written. If you don't speak Russian, seek help from lodging proprietors for visa support and acquiring train tickets with written directions to give to ticket clerks. We can vouch for the following:
MIR Hostel St. Petersburg: www.mirhostel.com
Baikal Trail Hostel Severobaikalsk: www.baikaltrail.ru/en/hostels/baikaltrailhostel.html
Baikaler Hostel Irkutsk: www.hostelworld.com/hosteldetails.php/Baikaler-Hostel/Irkutsk/7695
Nikita's Homestead Olkhon Island: www.olkhon.info/en/
Baikaler Eco-Hostel Listvyanka: www.hostels.com/hostels/listvyanka/belka-hostel/56568
About the Author
Ron Mitchell is a writer and author (Broken Collar). Visit his website at www.ronaldgmitchell.com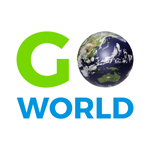 Latest posts by Go World Travel Magazine
(see all)