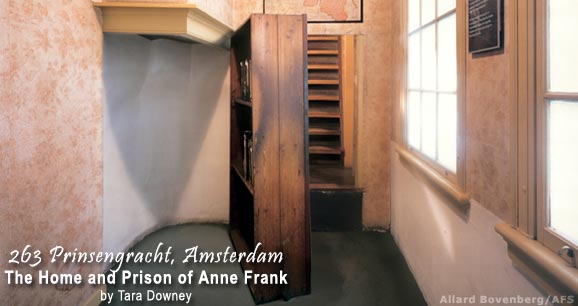 Courage… strength… inspiration… heartbreak…
These are the words that come straight into my mind when I think about Anne Frank and her diary.
German-born Anne is probably the best-known victim of the Jewish Holocaust during World War II. She and her family spent two years hiding from the Nazis in a secret warehouse annex in Amsterdam, protected by non-Jewish friends. Her diary tells the true story of a young Jewish girl whose life dramatically changes within the course of three years.
Anne had received the diary as a present from her father, Otto, for her 13th birthday on June 12, 1942. It traces the lives of her Amsterdam-based family as they are forced into hiding. As Anne grew older, she went beyond mere description and wrote about more abstract and philosophic matters, such as her belief in God and human nature.
In 1933, when Hitler came to power, Anne Frank's father, Otto moved the family to Holland. After the Nazi occupation of Holland on May 15, 1940, the lives of Jewish families like the Franks became severely restricted. When Anne's older sister Margot was called up to go to Germany on July 5, 1942 for relocation to a work camp, the Frank family's lives changed forever.
The family faced arrest if Margot did not comply. But her parents, sensing the impending call-up, had already organized a secret hiding place, an empty section of Otto's office building at 263 Prinsengracht. There was enough room for themselves, as well as Hermann van Pels, Otto's co-worker, his wife and son, Peter, and Fritz Pfeffer, an acquaintance of the Frank family.
I first read the diary when I was in primary school, and again when I was in high school. Ten years later, I knew what it was about, but I couldn't remember the emotions I felt reading it. Perhaps I had been too young.
Before I left Australia for a holiday in Europe, I decided to read the diary again, which is also praised for its literary qualities. I knew I would be visiting the house in Amsterdam, and I wanted that experience to really mean something. I spent my mornings and afternoons on the train to and from work, reading about the life, and death, of Anne Frank. I was once again captivated by her innocence, the terror she experienced and the trauma of her family and her life underground.
I put myself into her place and lived the moments in my mind, imagining what I would do in certain situations. I also allowed myself to feel emotions towards Anne and her family. I got angry at her mother, I admired her father and I loved Peter Van Pels as she did. I wanted the moment that I stepped into her house in Amsterdam to be truly unique. It was.
The house is located next to a canal, just a short walk from the Central Station. Standing outside, I looked around at the street Anne and her sister Margot stared at through closed curtains. I saw the road where Anne had described seeing soldiers patrolling and Jews fleeing, terrified, to escape the war.
Where she saw friends and neighbors taken away by the army, marching towards certain death, I saw people dressed in clothes Anne dreamed of owning, faces as beautiful as the pictures she cut from magazines and posted on her walls, laughter and smiles as friends shared stories and tourists scoured the streets in search of history.
As Anne looked onto these streets during the heartache of World War II, she could never have imagined the happiness the people are blessed with today. The streets were filled with traffic — cars, buses, bikes — taking people to more destinations of enjoyment. On the rare occasions Anne was able to sneak a look outside, the only cars she saw were military; buses were full with Jews on their way to concentration camps; and those on bikes were simply there in a failed attempt to escape.
But looking at the streets outside the house was nothing compared to being inside — as I'm sure was the same for Anne and her companions.
The house is built in two sections and is four stories high, with an attic. The back section of the two top floors became the secret annex, where Anne and her family, the Van Pelses and Fritz Pfeffer spent 25 months of their lives.
They lived there until they were captured in August 1944, when the annex was emptied of its furnishings by order of the German occupier. It was an anonymous telephone call to the authorities which led to their whereabouts. While it will never be known for certain who reported them, two theories have surfaced. One alleged the betrayer was Anton Ahlers, a Nazi and business associate of Otto Frank. The second theory pointed to a Dutch cleaner named Lena Hartog-van Bladeren, who worked in the office in front of the annex. But the true identity of the betrayer will never be known. Those hidden were all deported and sent to extermination camps, where all but one died.
Otto Frank, Anne's father, was the only survivor (Anne died from typhus and deprivation in March 1945 in the northern German concentration camp Bergen-Belsen. She was just 15 years old). Otto was found by the Russian Army at Auschwitz and upon recovery, learned of the death of his wife and children. After the war, Anne's diary was found strewn across the office floor, where it was picked up and hidden away. It resurfaced many years later and was given to her father.
The annex has remained in its authentic state. It was officially opened as a museum in 1960, and in 2004, recorded almost one million visitors.
I was speechless as I walked the same corridors and staircases that Anne and her family had walked. I had tears in my eyes as I stepped through the worn bookcase, which served as a secret door to the annex. And my heart pounded as I made my way into the make-shift bedrooms. Although empty now, I was able to picture what they must have looked like, and I couldn't comprehend how each person survived for 25 months in such extreme conditions. I guess it was nothing compared to life in concentration camps.
Even now as I think of it, I shudder at the image of the small room that Anne shared with Fritz Pfeffer — the pictures she had pasted to the wall to cheer her up, still there, faded and torn. A reflection on a young life — long lost.
Had I walked into the secret annex where Anne Frank and her family lived without reading the book beforehand, I don't think I would have truly understood what it meant to be there.
I would never have felt such despair walking into the rooms that served as the kitchen, bathroom and bedrooms; I wouldn't have cared that there was barely enough space to fit a desk, let alone two or three beds; and I wouldn't have felt my heart pound as I remembered how scared Anne had been as she wrote about the view from the window or listened to the news on the radio.
As I walked through the annex, I thought about how hard it must have been for Otto Frank to pack up his family and hide them from the world for more than two years. To stop his daughters from going out to play — from even looking out the window to feel the sunlight on their faces. I can't imagine how painful it must have been for him to watch as the shine slowly faded from the eyes of those he loved the most, knowing he was unable to help them.
I thought about Peter and Margot, and wondered what might have happened to them had they survived the war. But mostly, I thought about Anne and how she experienced hell first-hand, yet through her diary — and sadly, her death — she has made so many people smile.
She was a young girl who dreamed of becoming a journalist, but she lived and died in an unfortunate time. Her writing has since inspired hundreds and her words have touched even the hardest of hearts.
Through her adversity, the world has learned that life is sometimes cruel. Hopefully, we have also learned that although at times life may be tough, we should appreciate what we have, because there will always be people who live their lives in a secret annex.
Anne Frank's diary was published in 1947 in the Netherlands under the title Het Achterhuis (The Annex). It was translated into more than 50 languages, sold millions of copies and is still in print. It was adapted as a Broadway play in 1955 and a film (1959). In 1997, Natalie Portman starred as Anne in a new version of the play.
If You Go
Anne Frank House
Prinsengracht 267
Amsterdam
The Netherlands
Phone +31 (0)20 – 5567100
Fax +31 (0)20 – 6207999
Museum Opening Hours Info Tape +31 (0)20-5567105
www.annefrank.org
Anne Frank Center New York
www.annefrank.com