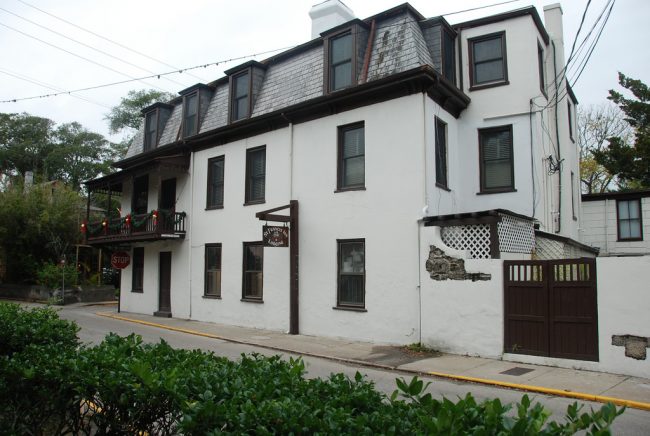 As the legend goes, the nephew of the owner of an inn located in St. Augustine, Florida, fell in love with a servant girl named Lily. The pair conducted their secret affair by sneaking into vacant guest rooms.
When the uncle unexpectedly walked in on the lovers, he fired the servant and ordered the young man never to see her again.
Distraught over that prospect and unwilling to follow his uncle's dictate, the nephew is said to have taken his own life.
In recent years, inn guests and employees have reported seeing apparitions of a young woman dressed in white both in the room where the tryst took place, and wandering the hallways, searching in vain for her lost lover.
St. Augustine, Florida
As much as anything else that I encountered during a visit to St. Augustine, Florida, this story wove together the city's long history, colorful myths and varied list of inviting attractions and activities.
It rewarded my conviction that places to stay around the world can bring to life the story of the destination itself, the local culture and the lifestyle of the people.
St. Augustine, Florida is the oldest city in the United States. The town celebrated its 450th anniversary during 2015, and with such a long history, it's no surprise that the city has its share of ghosts.
Among the disparate places where those who have unyielding belief in the presence of specters claim to have encountered them are the Old Jail, Potter's Wax Museum and Meehan's Irish Pub.
My stay at the St. Francis Inn, the former home and current haunting place of Lily, introduced me to that aspect of local lore and became part of my immersion in much of what St. Augustine offers visitors.
St. Francis Inn in St. Augustine
The St. Francis Inn was constructed in 1791 of native "coquina" limestone, a mixture of compressed sea shells that was used in a number of the city's original buildings.
While the structure has been expanded and modified over the centuries, it continues to cling proudly to vestiges if its Spanish Colonial period heritage.
In terms of architecture, history, touches of culture and — yes — ghosts, the property encompasses and represents much of which St. Augustine is all about.
For example, the building was planned in keeping with the goal of the Spanish king at the time to protect his colony from invasion.
He ordered that buildings be erected so they could "serve as a defense or fortress against those who might attempt to occupy the town."
Thus, the original structure, which was designed by a military officer to serve as his home, has its back turned to the brick-paved street on which it stands so its front entrance is shielded and protected.
Subsequent owners included other military men, a sea captain and the landlord of a plantation.
It was the daughter of an officer who, after her father's death, converted the family home into a public lodging.
The Colorful Past Story of St. Augustine
This colorful past, along with other hints of the story of St. Augustine, are echoed throughout nooks and crannies of the building, and in the tranquil ambiance of its enclosed courtyard.
That walled setting is shaded by banana and oak trees, and a 100-year-old golden rain tree, and decorated with lush floral plantings of colorful native flowers and tropical foliage.
Great attention has been paid to the status of the inn as a St. Augustine icon, and its inclusion on the National Register of Historic Places.
The Oldest House
For example, the water that fills a fountain and pond in the courtyard is drawn from an artesian well located at the nearby "Oldest House" in Florida, which research indicates was built in the 1720s.
Reminders of the inn's unique past also abound within its walls. The original plan was based on a trapezoid with no right angles, and I was able to locate remnants of that quirky layout.
Each of the 17 guest rooms and suites is unique in shape and the antique and reproduction period pieces with which it's furnished.
Every room also contains such throwbacks to the past as the kind of wooden lap desk that was used before the age of typewriters and computers for writing letters, and which today is more likely to support a laptop.
In fulfilling its role as a present day accommodation, the St. Francis Inn also goes out of its way to welcome guests with a wide variety of amenities and services that epitomize southern hospitality.
Several rooms have a fireplace and some include a spacious whirlpool tub. The property has a solar-heated swimming pool and, for guests who prefer a sand beach, the ocean is a short drive away.
The complementary hotel extras are inviting and varied. They range from breakfast featuring hot entrees and other inn specialties to evening wine, beer and tasty treats.
There are also available some tickets to some of St. Augustine's most popular attractions to day passes at a nearby athletic club.
Ghost Hunters
And then there are those resident ghosts. Paranormal investigations by serious "ghost hunters" (an oxymoron?) have indicated that Lily is not alone, and that several other spirits also inhabit the St. Francis Inn.
Fortunately, the entire entourage has been described as friendly, if mischievous.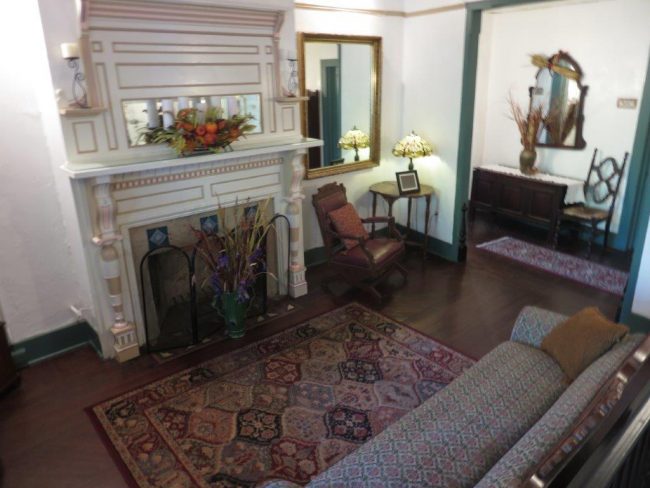 Whether or not you believe in other-worldly spirits, the St. Francis Inn combines a virtual visit to the past, appealing accommodations and an inviting choice of additional features in an authentic historic setting.
Of course, you may have to put up with occasional minor inconveniences like rapping sounds in the middle of the night, lights apparently turning on and off by themselves and pictures on a wall moving on their own.
If You Visit St. Augustine
For more information, call (800) 824-6062 or see stfrancisinn.com.
Author Bio: After gallivanting throughout the United States and to more than 75 other countries around the world, and writing about what he sees, does and learns, Victor Block retains the travel bug. He firmly believes that travel is the best possible education, and claims he still has a lot to learn. He loves to explore new destinations and cultures, and his stories about them have won a number of writing awards.