It's a beautiful day in the one and only New York City. The sun is shining, the streets are bustling with never ending life and you don't know where to get your day started. Instead of going for the same old sights and sounds as every other stereotypical New York City vacation, why not try a new type of day? Here's your guide to a new kind of 24 hours in New York City.
Travel the High Line Park, a New York City Park
Today's adventure is centered on a new feature in New York City, High Line Park. Created from commission railway lines, the High Line provides visitors with a beautiful elevated oasis above the noise of the city. It stretches from 30th and 11th to Gansevoort and 11th. Before you hop on to the High Line, it's a good idea to get some breakfast. It's a few blocks away, but Bagel Boss, on 36th and 37th, is a great place to get a traditional New York City staple before going on your unconventional adventure. Once you've got your bagel in hand, it's time to head to the park. There are many shops and sites both on and off the High Line to fill your day, so let's get started.
Our journey starts on the 30th street end of the High Line at the northernmost entrance. Head up the stairs and you'll find yourself off of the asphalt, surrounded by flora and fauna. Along the High Line you can view special spots dedicated to the history of the railway that used to run down the tracks. If you go during the warmer months you can enjoy a guided tour of the park, or even volunteer to help make the park a clean and enjoyable place for visitors all year round. The park gives a great view of the Hudson River. Over the summer you can view fireworks or star gaze from many points in the park.
Coffee and Art Go Hand in Hand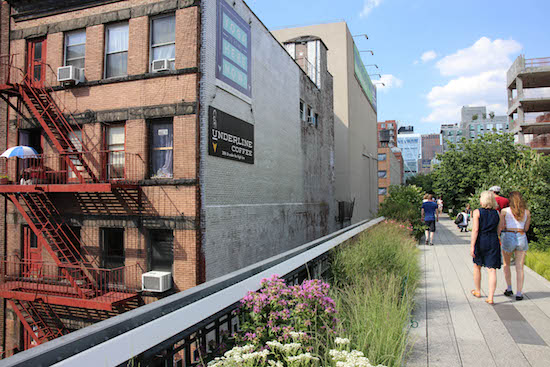 Once you hit 20th street, it's time for our first pit stop. Head down to Underline Coffee to get a nice hot cup of Joe. The coffee shop features Counter Culture Coffee, a great independent roaster that provides delicious, fair trade coffee that will get you buzzing for the rest of your day. You can hang out in the quiet coffee shop or take your caffeine and run to the next spot on our tour, 529 West 20th Street.
When you walk up it may look like just another office building, but 529 West 20th Street is actually a giant art gallery. You can visit any floor and find yourself among three or four art galleries featuring different artists from around New York City and the rest of the world. This entire area is full of art galleries that you could enjoy. In fact, you could easily spend an entire day looking at art, and you're more than welcome to, but if you're like us then after an hour or two you're getting hungry for lunch and it's time to move on.
Lunchtime on the High Line in New York City
Lunchtime in New York City can be a hard enough thing to figure out, with so many excellent restaurants and types of cuisine to choose from. Once you're back on the High Line you're just a few blocks away from the commons area on the south side of the park.
Whenever the weather is nice, vendors line the commons area offering their wares. Whether you want to find a piece of art to buy or a shirt that supports the High Line that you've enjoyed all day, or you just want to get a bite to eat, you'll have plenty to choose from. There are many local restaurants and independent food carts that show up each day, meaning your food options are endless. Once you've finished eating, grab a locally made Popsicle while you enjoy the rest of your walking tour of New York City.
Heading Off the High Line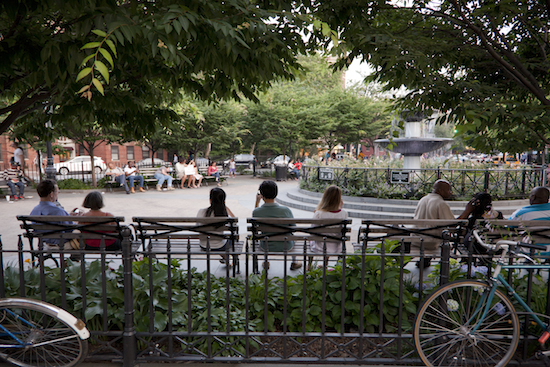 Once you've passed the market, the High Line is almost over, meaning you'll have to hop back into the city to enjoy the rest of your day. Thankfully, you're in New York City, so there are plenty of ways to lose yourself once you're out of the park. The south entrance of the park lets out right near some of the best shopping in New York City — the West Village. You can check out the boutiques or just enjoy the hustle and bustle of the never ending city.
Just a few short blocks away is Washington Square. This is another great New York City Park, but here you can see all kinds of performers and artist create right there in the middle of New York City. On any given day, you could see a man playing a grand piano, dancers entertaining near the fountain or a group of kids creating chalk art on the ground. There is always something happening in Washington Square Park, so be sure to make it a part of your visit to New York City.
Dinner in the West Village
By now you're probably pretty tired from all of the walking that you've done, and who could blame you. A few hours in New York City and you could never see everything that the city has to offer, but you've covered your fair share of ground today. Havana de Alma Cuba is the perfect place to finish up your day with a nice dinner and some delicious cocktails.
Havana de Alma Cuba features a gorgeous backyard patio that feels as far removed from the rest of New York City as the High Line. There's delicious, authentic Cuban food in New York City that you won't find anywhere else in the world.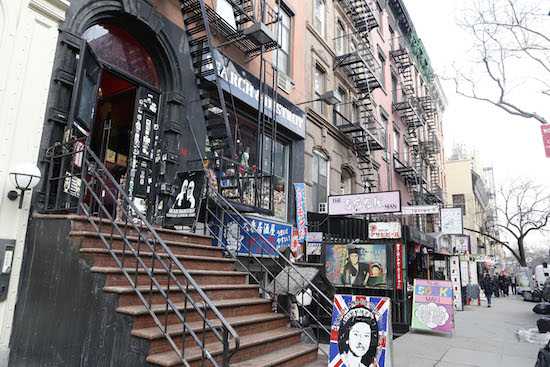 If you're up for another walk once you've finished your food, you can enjoy some ice cream in St. Marks at Van Leeuwen Artisan Ice Cream. Or you could head in for the night and enjoy the walk back to your hotel. Whichever you choose, there's no doubt that you will enjoy the beautiful sites of New York City once the lights are bright and shinning. After all, it's the bright lights of the big apple that brought you there in the first place, so why not enjoy them?
If You Go
New York City Guide: https://www.nycgo.com/
The High Line: https://www.thehighline.org/
Want even more ideas? Manhattan Travel Guide: 48 Hours in NYC
[mappress mapid="886″]