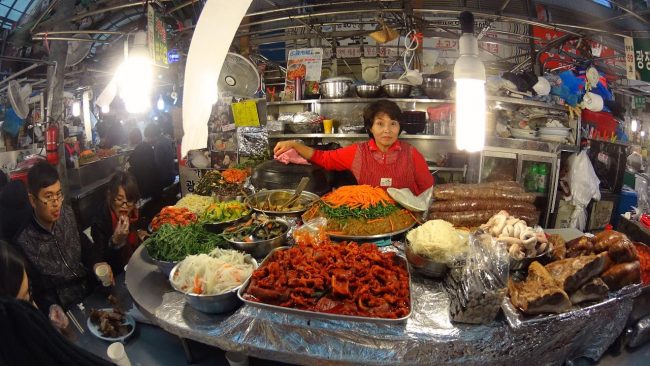 Seoul is truly one of the world's great foodie destinations. With a great international restaurant scene, amazing Korean restaurants and mind-blowing street food, it can become overwhelming. One of the best places to meet local residents, experience almost every type of Korean street food and even drink soju (Korean liquor) is the Gwangjang Market. The market, in central Seoul, sells everything from fresh fruits and vegetables to clothes and shoes. But for foodies, the best part is the section with booth after booth of mainly older ladies selling all kinds of Korean food specialties.
There's a fun, exciting atmosphere and a smile and knowing a few words of Korean (at least "hello") will get you a free sample at most of the booths. Each vendor has low stools around their booth, allowing people to simply sit down and eat. It's counter-service, Korean style. There are a wide variety of foods available, the most popular is tteokbokki, balls of cooked rice cake floating in mildly hot, sweet chili sauce. They also have a lot of bindaetteok, mung bean pancakes fried in oil and gimbap, rice and vegetables rolled in seaweed, like long, thin vegetarian sushi.
The wildest thing I saw was sannakji, cut up, live octopus arms, sprinkled with sesame oil and sesame seeds and still wiggling around. Many of the food booths also serve beer and soju, so you can sit and drink and eat. The market is open from 9 a.m. to 6 p.m. and is in the Jongno-gu area of the city.
Where to Stay
I stayed at the beautiful Four Seasons Seoul in Gwanghwamun. I loved the stylish rooms and suites and also the hidden speakeasy in the basement. I really loved having an indoor screen golf center and driving range inside the hotel. Foodies will love the choice of restaurants and the huge food hall on the hotel's lower level. There's a vast buffet and a gourmet take-away with freshly-made food. There's even a gourmet food shop with all kinds of culinary delights, along with a huge selection of wine and Champagne (including $10,000 magnums of Dom Perignon).
Getting There
I flew Korean Air's very nice Business Class service direct from LAX. The overall experience was quite wonderful, the airline has its own lounge (shared by other SkyTeam alliance carriers) at LAX and flies huge A380 airbus aircraft on the route. The food onboard, both Korean and Western options, was delicious and the wine list was exceptional. I tried bibimbap for the first time, a kind of spicy stew with minced meat, noodles and vegetables.
Read more of Freddy Sherman's take on travel on his Go World Travel Blog. You can also follow more of his adventures at luxuryfred.com, on his luxuryfred Instagram feed and on his YouTube channel.