Sitting in a window seat while on a two-hour flight from LAX to the Islands of Loreto in Mexico, I immediately understood why Jacques Cousteau dubbed the indigo waters of the Sea of Cortez as one of the most beautiful aquariums of the world. The view from above was stunning.
Arriving at the small airport, I boarded an air-conditioned bus for a 20-minute drive to the Villa del Palmar Beach and Spa Resort. Our driver stopped at a viewing spot to point out the area's famous leaping rays.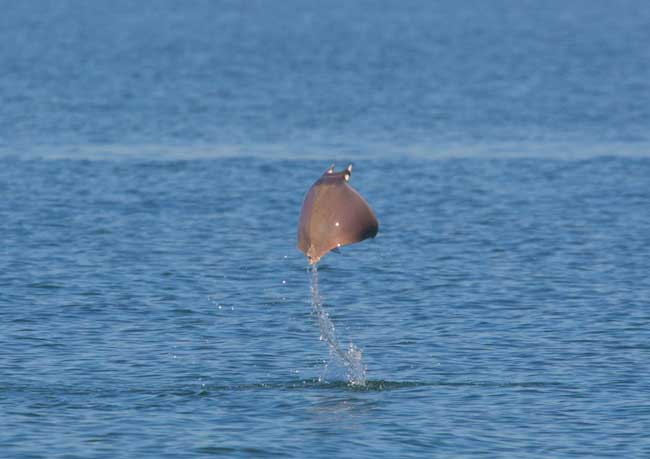 Mobula Rays in the Sea of Cortez
"They are called mobulas in the Sea of Cortez," he said. Watching these flying rays jump so vigorously above the water, I asked why they were jumping.
"They might be attracting fish for feeding or just playing in the water," he told me. It looked like they were jumping six feet out of the water while putting on a magnificent show for us.
Villa del Palmar at The Islands of Loreto
Back in the van, we drove along the Sierra Gigantic Mountains to Danzante Bay. The Villa del Palmar Beach and Spa Resort offers stunning ocean and mountain views, three restaurants, five beautiful, mosaic swimming pools, two tennis courts, a 39,000-square-foot luxury Sabila Spa, a world class 18-hole golf course and complimentary kayaks and paddle boards.

After checking in, I donned my bathing suit and walked down to the beach. Noticing the surface of the water in Danzante Bay was smooth, I requested a paddle board to explore the area and hopefully find some rays, or mobulas.
A staff member who helped me out to the water told me to do the "Stingray Shuffle." While walking out into the shallow water, I learned that rays hide by burying themselves under a thin layer of sand, and the best way to prevent stepping and possibly getting stung by a ray is to slide your feet along the sand. The shuffling sends vibrations that alert the rays, and they will swim away.
Thankfully, I didn't step on any rays before climbing onto my paddle board. Finding my balance and standing tall, I looked down into the crystal-clear water and immediately noticed schools of fish swimming underneath me, while hungry pelicans flew overhead.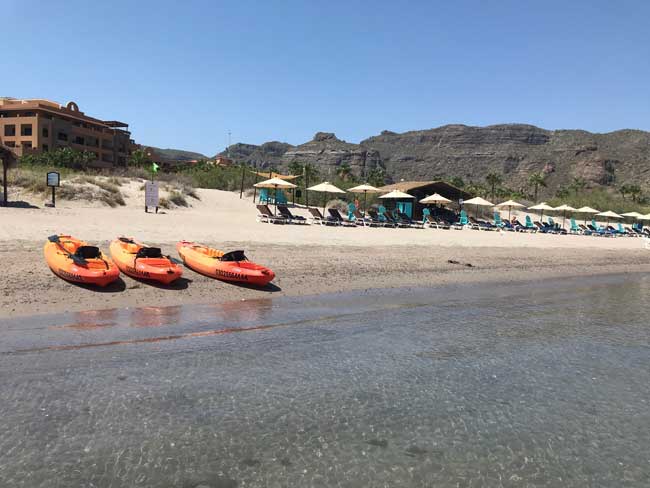 It was peaceful and quiet for a few minutes, then I heard a thunderous sound. About 500 feet away were four rays levitating out of the water. I paddled closer to the rays, then stopped as they soared out of the water again.
Two at a time, they rose above the water, revealing their perfectly designed, flat bodies and wing-like pectoral fins. The shape is ideal for swooping down through the water and soaring up into the air. The rays remained airborne for several seconds, performing astonishing aerobatic maneuvers before belly-flopping back into the sea.
As I paddled closer, they must have sensed my vibrations, because they flapped their wings right under me, giving the appearance of "flying" through the ocean like a bird.
I stood mesmerized, watching this dramatic show. Later, after my adventure, I went back to my room and researched rays in the Sea of Cortez.
Flying Mobula
First I learned that the flying rays belong to a group of fish called elasmobranchs. There are around 200 different stingray species in the world. In the Baja Sur area, these rays are referred to as "devil rays," "flying mobula" or "flying rays," due to their spectacular breaching ability.
They are normally gentle around humans, while swimming through the ocean and undulating their bodies in a wave-like motion. Rays leaping out of the water may be a form of communication with an isolated ray.
By making the flopping sound, they are trying to indicate their location to encourage the solo ray to join the group. Another theory is that rays congregate and jump to seduce their partner. To me, they seem to jump for playful fun, like whales or dolphins.
Fascinated, I went paddle boarding each day to commune with the marine creatures. I started my mornings at sunrise and went for a hike until the paddle board cabana opened at 9 a.m.
Loreto National Marine Peninsula
Taking one of three paths each day, I hiked to the top of a mountain for exquisite views of the surrounding five neighboring islands: Isla Carmen, Isla Coronado, Isla Danzante, Isla Montserrat and Isla Catalina. They are all part of the Loreto National Marine Peninsula.
One morning while taking a paddle board out on the bay, I brought out a snorkel and mask. After paddling for about 20 minutes, I beached my board at a sandy cove and did the "Stingray Shuffle" before swimming in the warm water to view a medley of marine life. The Sea of Cortez is known for 800 species of fish. While swimming along underwater rock formations, I spotted an octopus, a puffer fish and schools of yellow-and-blue stripped fish.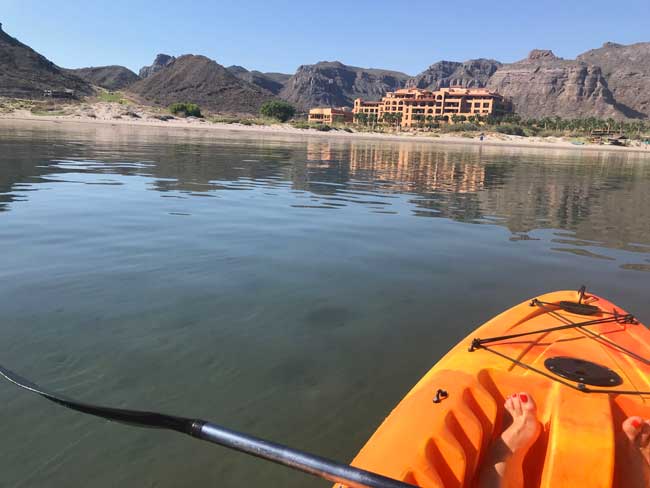 Before getting out of the water, I saw a few rays camouflaged in the sand. As I swam near, they wiggled out of the sand and flapped their wings to get away. Their small, rounded, flat bodies varied in color from light to medium gray with blackish lines and blotchy dark spots. I noticed their snouts were rounded and their tails were smooth.
The waters around Baja Sur are world famous for their concentration of marine species which perform natural acrobatic feats by leaping from the water. Ray-watching is one of the many fascinating activities that guests enjoy at Villa del Palmar.
If You Visit Loreto
Flights on Alaska Airlines from LAX to Islands of Loreto are twice a week – Thursday and Saturday
Author Bio: Jill Weinlein travels the world in search for unique experiences. When not traveling, she resides in Los Angeles and is a restaurant critic for a Los Angeles-based newspaper, West Coast Editor and theatre critic for OnStage Blog.