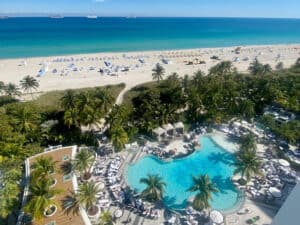 When I told him I was headed across Alligator Alley to Naples in southwest Florida, he playfully proclaimed, "Oh man. Naples is boring!"
Florida is often painted with the broad brush of being the "Sunshine State," but there's more in the air than sea-scented breezes and humidity. A wide-swath of cultures and preferences awaits those who wish upon a star to visit – from Disney-area vacation home rentals to white glove boutique and brand name hotels. Even the bed-and-breakfast experience can be had.
Cuisine comes in all varieties, from the famed key lime pie at historic Joe's Stone Crab at the end of Miami's South Beach to Cuban sandwiches, empanadas and mojitos over on Calle Ocho in Little Havana. Der Dutchman Restaurant in Sarasota offers an Amish cuisine experience…not far from Clasico, where Raff Perna's lively Italian steakhouse on an historic downtown corner makes its own pasta.
Leaving out the Panhandle for this exercise, jump in with me here for a sampler of Sunshine State experiences:
Carlisle Inn Sarasota
Who knew Sarasota was a popular retirement and vacation spot for the Mennonites and Amish of Ohio, Indiana and Pennsylvania? Dutchman Hospitality Group did and so they recently opened the Carlisle Inn and Der Dutchman Restaurant to welcome the Amish and any families or business groups who prefer a clean, quieter, centrally located, peaceful lodging experience where charm is a constant companion.
The hotel feels like a large bed-and-breakfast. It's clean-as-a-whistle with a swimming pool, workout room, and banquet facilities. You won't find a sip of alcohol, but you will hear soothing jazzy faith-based music in the hallways. Those hallways are decorated with intriguing photos by Ohioan Doyle Yoder of rural Amish life, including an impressive community-wide barn building effort with so many local Amish residents pitching in at one time it looks like an ant farm.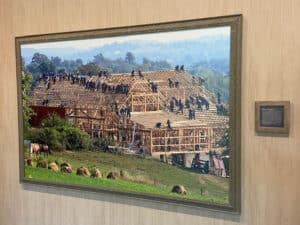 I found a friendly book in my suite, which I presume was in each room, entitled "Our Amish Values," by Lester Beachy (an ironic surname in Sarasota) describing Amish life with brief chapters explaining their philosophies. For Biblical reasons, Amish women do not wear jewelry or make-up and no Amish wear flashy apparel. In fact, "Plain City, Ohio," is one of the other six similar hotels in the Dutchman Hospitality Group's portfolio.
The Amish mother tongue is a German dialect called Pennsylvania Deitsch (they are not Dutch.) There are chapters on dating and marriage, too.
There is a sense of humor about the differences displayed in a comedic dinner show about an Amish woman teaching a quilting class to the uninitiated. It's good, clean fun.
Self-parking at the Carlisle Inn is convenient and you'll meet guests in traditional Amish, plain garb bicycling each day from the centrally located hotel in the Pinecraft area to points of interest and the arts around the Sarasota area including the beach. A three-mile slow walk along the surf on Sarasota's Siesta Key is like steering along a superhighway of silica sand. It's easy to spot the serious souls in sneakers stepping their way to health from the shoeless sunbathers walking in the water.
"Some visitors want peace and comfort and not the excessiveness and noise that can come with resort hotels. The positive response here has been overwhelming," said Carlisle Inn's general manager Craig Sterlace, who also touts the culinary popularity of Amish comfort food served and the included scratch-made breakfast each morning and in the adjacent Der Dutchman Restaurant. Slow-roasted turkey, "Better Yet" chicken breast, liver and onions, and Dutch apple or strawberry rhubarb pies.
Loews Miami Beach Hotel
Very different, intricate meals are served in Bar Collins, an open, casual, dining restaurant above the lobby of Loews Miami Beach Hotel. I wondered how I was going to dine in the din amidst the boisterous mixing and mingling crowd until I was seated in a stand-alone banquette with my back to the bar area and facing a massive television screen showing ESPN. But I had to take my eyes from the screen to study the menu.
"We serve American cuisine fused with Latin with a slight Asian influence and Italian influence," said my server Juan, who said he was originally from Mississauga near Toronto. Juan said, in his youth, he had friends in Detroit who used to come across the Canadian border to take advantage of the legal drinking age of 19. Those young fellows were not consuming the kind of craft cocktails Miami mixologist Julio Cabreba created for Bar Collins. At the suggestion of Juan, who seemed to know every flavor, texture and temperature on the menu, I tried the Zacapa Old Fashioned, with Zacapa rum, sugar, chocolate and angostura bitters. It was a smooth, rich experience and looked so classy in a crystal clear, nice, heavy rocks glass.
My beachfront guestroom at Loews was 10-stories up and looked over the easily accessible Atlantic and before dinner, during my twilight wading in the waves, I was knocked down, bathrobe and all, by the warm surf, so Juan suggested some seafood revenge. Therefore, I selected, as my starter, the Peruvian Satay marinated shrimp skewers with aji amarillo aioli, which sat on the menu above the grilled octopus with citrus crema, blistered tomatoes, house-made hot sauce and crispy prosciutto.
Juan was patient with me as I labored to select, from the many cool choices, the Chermoula-rubbed Chilean sea bass with braised chickpeas, citrus yogurt sauce and cilantro.
The Low Down on Loews
Loews specializes in corporate gatherings and families – it has the most convention space of any Miami Beach hotel, according to the colorful George Neary, a longtime tourism official who gives personalized, customized history, architecture and LGBTQ tours on deco-decked South Beach via GeorgeNeary.com. The Loews location is positively perfect – just at the north tip of the "Deco Drive" area of Ocean Drive and at the foot of the historic and stylish Lincoln Road outdoor boulevard mall – each offering diverse nightlife, dining and shopping.
Loews' expansive pool and bar and luxury cabana area called "Soak" serve the dual purpose of swimming and sunning but also as elegant, exciting event spaces.
Mutlu Kucuk, Lowes' managing director, emigrated from Turkey and started his career working behind the desk at Loews, so it's no surprise his team out front is friendly and welcomes guests like family. Or…send them off. About to jump in my car at the end of my stay a valet named Derek asked me where I was headed. When I told him I was headed across Alligator Alley to Naples in southwest Florida, he playfully proclaimed, "Oh man. Naples is boring!"
Compared to Miami Beach, I didn't disagree.
Palm Beach Pretty
"On the island" is the colloquial phrase used to point out the distinction between mainland West Palm Beach and Palm Beach – the barrier island of moguls and their mansions in Southeast Florida that might aptly be called "Fantasy Island" for most were in not for the luxury hotels that give the rest of us opportunities to live like the locals – or at least among the generations of heiresses – for a spell.
For those who can only window shop Worth Avenue but do pay a passing amount of attention to the location's mystique, there are three old properties on Palm Beach which probably come to mind at its mere mention. One is a lavishly landscaped castle of a hotel probably with a small golf course and a big ocean. One is, for worse or worse, a landmark private club resort which oddly fell into the hands of a former host of the television show "The Apprentice." The third is a pastel kind of place where lots of Lily Pulitzer dresses are sported.
"Yeah, Palm Beach has a lot of pinks and greens, but our owners wanted something that would
stand out and really be iconic," Bernhard Duerrmeier told me. He's managing director of the place I am
suggesting you bet your new money on instead – White Elephant Palm Beach. It's a four-story, 32-key,
chic boutique hotel renovated in a circa-1924 Mizner/Mediterranean-style landmark building by the
Karp family, stewards of a similarly sophisticated property on Nantucket Island.
The Elephant in the Room
"The hotel is like walking into a private art collector's home. When you turn a corner there is an original piece of art to greet you – more than 100 throughout the property," Duerrmeier described.
Before guests even make it up the little hedge-lined walkway of the Sunset Ave. entrance they are welcomed by a 7-foot, moving, metal, white elephant structure designed by Frederick Prescott to welcome, gently, the guests with a nod. "The art is intertwined with the experience itself. Steve Karp flew around the country with Emily Santangelo out of New York and they selected one-of-a-kind pieces they felt would 'pop.'"
Duerrmeier himself, is a one-of-a-kind who wears colorful sneakers, swims with sharks and runs in triathlons, has traveled the world honing his hotel management gift at high-end properties and it is with grace that he applies those principals at White Elephant when encountering guests or inspiring his team. His whimsey empowers the staff and sets the tone for intimate personal touches with each guest. Those who stay at White Elephant can set their own tone in the guestrooms and Gold Key Award-winning suites offer touchpads to set mood lighting such as a theater setting for television watching. Touch the "coffee cup" button and you get a relaxed, sunrise light.
Keep your eyes open for people-watching, too, because you never know who you might run into at the hotel's daily, 4 p.m. wine and cheese gathering. I spotted the former CEO of a major worldwide hotel chain during my visit.)
People in Motion
The neighborhood is equally appealing for a stimulating walk. Palm Beach being Palm Beach, the façade of the Publix grocery store resembles an art institute. And literally around the corner you'll stumble on St. Edwards Catholic Church, where a plaque marks the pew in which President John F. Kennedy kneeled for Mass. (It's in the center right section, on the far right, eight rows from the back – and near the most "inspiring" restroom you will ever see.)
White Elephant offers the use of Priority beach cruiser bicycles to pedal on the scenic trail to see both the waterfront and the luxurious homes or you can take the wheel, for four hours, of one of their BMW vehicles, which can also be used to have a driver drop you at one of the nearby attractions if you prefer.
Latitudinal/Longitudinal Dining
I walked back "on island" from lively Elisabetta's in West Palm Beach – a waterfront restaurant with a bejeweled, Italian carnival atmosphere – over the causeway bridge and back to the hotel one evening. A stretch of the legs will also get you from the White Elephant to Renato's on Via Mizner – a flower-filled, indoor/outdoor, tuxedoed-waiter, piano-player, throwback to the glamor era Italian restaurants.
Lola 41 is the house restaurant for the White Elephant, and it is an experience as varied as the locations on the latitudinal and longitudinal lines it is named for. The menu items represent the regions the 41st parallel – the same one Lola 41 resides on – crosses. That's why you'll eat your way through the likes of Hong Kong chicken lettuce cups; conch fritters; burrata and heirloom tomatoes; Wagyu hot dog; sushi; Portuguese-style grilled octopus; Peking duck; and Korean beef bulgogi over egg noodles (which they will warn you is very spicy.)
You can dine in the outdoor courtyard or…enjoy the youthful mix and mingle setting in Lola 41's snazzy bar with televisions, bumping house music and occasional bumping hips. It has a separate entrance from the hotel and, in terms of nightlife, stands on its own merits.
Read more on Michael Patrick Shiels' travel blog, The Travel Tattler. Contact Travel Writer Michael Patrick Shiels at [email protected]
Latest posts by Michael Patrick Shiels
(see all)