Viewing a high country landscape accentuated by a blanket of yellow, the poet William Wordsworth in 1804 described what he saw as "a host of golden daffodils."
To Alfred, Lord Tennyson, people walking in the same region "by zigzag paths, and juts of pointed rock, came on the shining levels of the lake."
When I arrived in the northwest corner of England, which has prompted poets and other writers to wax so eloquently, it didn't take long to understand why. The name of the area itself, England's Lake District, sets the imagination roaming. Yet images conjured up in the mind often pale in comparison to the reality.
England's Lake District: Mother Nature's Scenic Show
Nestled in the county of Cumbria, England's Lake District is many things to many people. Begin with the magnificent scenery of lakes and rugged mountains, thick forests and rolling fields outlined by meticulously built stone walls and hedge rows, where countless sheep graze contentedly. Lace the setting with river valleys and embellish the picture with a stunning coastline.
Given this inspirational environment, it's little wonder that poets, novelists and other writers who lived in or visited there, many of them world famous, were moved to create some of their best and most famous works.
In a nod to the British fondness for quaint and colorful terms, only one of the 16 major bodies of water in the region – Bassenthwaite, itself a challenging tongue twister – is actually called a lake. The others are known as waters, tarns and meres.  For convenience, I refer to all of them as lakes.
Whatever the designation, they're squeezed between the highest mountains in the country, filling valleys that were carved out by the advance and retreat of glaciers over some two million years. Of interest and appeal to anyone planning to visit England's Lake District is the fact that so much natural beauty is contained in an area only about 35 miles wide and slightly more from north to south.
The Lakes are One Main Attraction
Even in such a compact area, each body of water claims its own unique appeals and attractions.  At 11 miles in length, Windermere is England's longest lake, and the most popular to visit. Its shore is lined by Victorian mansions that were built for wealthy families during the late 18th-early 19th centuries, a number of which now serve as guest houses and small hotels.
Bassenthwaite once was called Bass Lake, and it still provides anglers with good catches of that fish. A more ominous story is told about Wastwater, a deep body of water where bodies have been found deposited in its dark depths.
Steam boats connect tourist villages that overlook Ullswater. Landlubbers may prefer the gentle 6.5-mile foot path which joins the towns.  Another walking trail encircles Grasmere, and during summer a stony beach at its south end is popular with locals. William Wordsworth, who lived in the village of Grasmere for 14 years, described it as "the loveliest spot that man hath ever found."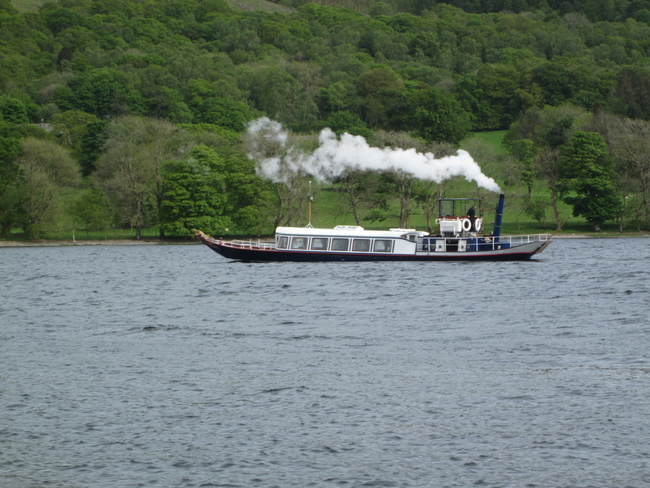 Easy walking and moderate hiking attract many visitors to the Lake District, and tempt those who go there for other reasons. An extensive network of well-marked trails criss-crosses the area, and small wooden "Foot Path" signs are encountered throughout the region.
There are paths suitable for every ability, preference and level of stamina. A common sight is people of all ages wearing hiking clothes, many toting a walking stick and often carrying a knapsack stuffed with a picnic lunch. "Welcome Hikers" signs hang outside some Bed and Breakfast accommodations and small hotels, and stores sell booklets describing walks for people with a specific interest, such as through woodlands, to waterfalls and past pubs.
A welcome, and to me delightfully quaint, system in England called the "Right to Roam" provides public access to both public and private land for recreational purposes. While it applies primarily to uncultivated areas, it also includes some farms.
As a result, some hiking trails lead past farm houses, skirt fields planted with crops and cut across meadows filled with grazing sheep. Here and there, an enterprising farmer has opened a small tea room in his house or barn to earn a few British pounds from hikers seeking a bit of rest and refreshment.
Lake District Villages Vie for Attention
Along with the magnificent countryside, inviting towns that grace the Lake District provide yet another reason to visit there. Whether walking or driving, pausing to stroll through some of those villages becomes another memorable experience. As with the scenery, the choice of hikes and other aspects of the region, variety is the name of the game when exploring its communities.
Although Kendal is largely a manufacturing town, its convenient location has earned it the unofficial title of "Gateway to the Lakes." A warren of narrow fortified alleyways in the oldest neighborhood recalls a period of some 300 years, beginning in the 13th century, when they provided safety for residents from raiding parties which attacked villages in the area.
Many buildings in Kendal were constructed of locally quarried grey limestone, which accounts for its nickname, "Auld grey town."  Other attractions include the ruins of several castles, the newest of which was built in the late 12th century.
The adjoining resort towns of Windermere and Bowness together offer a long list of recreational activities for vacationers. The Bowness waterfront on Lake Windermere is lined by restaurants and shops.
Borrowdale is recognized as one of the most beautiful of England's Lake District communities. It lies in a river valley beneath wooded fells (hills) and Scafell Pike, not exactly a Mount Everest but at a height of 3,210 feet, the tallest in England.
Famous Writers Who Dropped By
Many travelers to the Lake District visit towns associated with the so-called Lake Poets. They were a group of writers who lived there around the turn of the 19th century and, inspired by its beauty, described it in their works.
The three best-known Lake Poets were William Wordsworth, Samuel Taylor Coleridge (who penned "The Rime of the Ancient Mariner") and Robert Southey, whose "Story of the Three Bears" was the precursor to the Goldilocks fairy-tale.
A number of other poets and writers also drew inspiration from the region and their words of admiration and adoration did much to put England's Lake District on the destination map of a growing wave of visitors.
Wordsworth lived in Dove Cottage at the edge of Grasmere from 1799 to 1808, and spent the final 37 years of his life in a rambling old house in the village of Rydal. Both Coleridge and Southey lived for some time in Keswick.
At times when Dove Cottage is closed periodically for renovations, tours will be replaced by films and viewing artifacts and manuscripts.
Alfred, Lord Tennyson, who was Poet Laureate of Great Britain during much of Queen Victoria's reign, worked on several poems while staying at Mirehouse & Gardens near Bassenthwaite Lake. John Ruskin helped to popularize the village of Coniston after he purchased a mansion nearby.
Today, a growing number of travelers follow the footsteps of those creative types to create their own memories about England's Lake District.  They're discovering the reasons why that tiny locale has so entranced those who have visited and lived there for centuries.
If you go – for information about visiting England's Lake District, log onto golakes.co.uk
Authors: Fyllis Hockman and Victor Block are a husband-wife team of experienced travel journalists who have gallivanted throughout the United States, and to nearly 80 countries around the world, and written about what they have seen, done and learned. Their articles have appeared in newspapers across the country and on websites across the Internet, and they each have won numerous writing awards. They love to explore new destinations and cultures and uncover off-the-beaten-path attractions. Read more of their work at The Rambling Writers