I just returned from a wonderful foodie adventure to the German state of Saxony, spending most of my time in the cities of Dresden and Leipzig. This area, part of the former East Germany, is just starting to be discovered by American tourists. 20 years after German reunification and 70 years after almost total destruction during World War II, some of the city's main landmarks have just now been restored and reopened. I found the history, architecture, art and people just wonderful and really had a great experience. One thing that really surprised me was the delicious food, not just one meal, but everywhere I went in the region.
My adventure started off in Dresden, a quick one-hour flight from Frankfurt. While I was familiar with the World War II and Cold War history, it was fascinating to learn about the city's 1,000 years of history before the Third Reich. My first German dinner was in the Alte Meister Cafe, on Dresden's main Theaterplatz square. This upscale cafe and restaurant, located inside the city's Alte Meister (Old Master) art gallery, offers a modern take on German classic dishes. It was also my first taste of Radeberger beer, the internationally famous, locally founded and produced Pilsner.
My first home on this adventure was the stylish Swissotel Dresden am Schloss. Located right across from the city's castle in the core of the historic city center, I found it to be the perfect combination of great service, delicious food, cool accommodations and an ideal location. The food was particularly wonderful, especially the morning breakfast buffet.
After a day in Dresden, I took a day trip to the nearby city of Meissen. We visited the city's cathedral and the iconic porcelain factory. After a porcelain making demonstration and tour of the museum, we enjoyed an amazing three-course dinner in the Meissen factory's elegant private dining room. The dinner was served on Meissen porcelain, with each course served on a style and design from different centuries. As we ate, we were also treated to some beautiful service pieces and table garnitures (some costing upwards of $20,000!), which we were able to pick up and admire in detail. Just the plates we ate from, handmade and handpainted, are almost $2,000 each.
The next day we again ventured out from Dresden and visited a local winery in Pillnitz, just up the Elbe River from Dresden. The Weingut Zimmerling, run by Klaus Zimmerling and his artist wife Malgorzata Chodakoska, is a paradise of vines on gently sloping, south-facing vineyards. Mainly Riesling and white Pinot grapes are grown, producing a variety of Riesling and white Burgundy wines.
There is a very fun steamboat service (called dampfschifffahrt in German) that runs up and down the Elbe River in the area, so after the wine tasting, we cruised back from Pillnitz right back to Dresden.
My Saxony adventure continued and we left Dresden for our new home base of Leipzig. This city also has a long and fascinating history, with a special emphasis on music. Musical icons like Bach, Wagner and Mendelssohn all have long histories there, with museums and concerts celebrating their connection. A culinary highlight of my Leipzig visit was dinner at the vast and historic Auerbachs Keller, first opened as a wine bar in the 16th century. The restaurant is known to literate foodies as the first place Mephistopheles takes Faust in Goethe's play of the same name. Goethe used to drink wine there as did Martin Luther (though over 100 years apart from each other), who also has a long history with Saxony. Both Dresden and Leipzig are stops on the Luther Trail, a tourist route that celebrates the 500th anniversary of the Reformation (2017) and the role Saxony played in it.
For my final meal in Leipzig, I had dinner at Central Germany's highest restaurant, Plate of Art at the top of the 36-story Panorama Tower. After spending some time on the outside viewing platform, admiring the almost 360 views of Leipzig and the surrounding area (including Poland and the Czech Republic) we had a delicious dinner.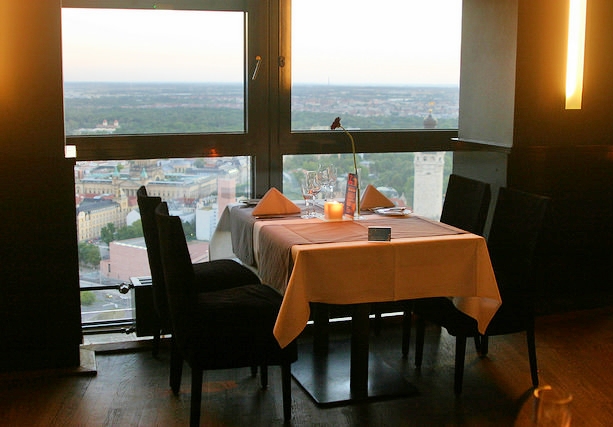 To remember my trip, I was given a Leipziger Lerche or Leipzig lark cake. This historic desert, once made with real larks, is now made with a overwhelmingly awesome amount of butter, marzipan and sugar.
Getting there I flew Lufthansa's cramped but not unbearable Economy Class service from LAX to Frankfurt, then easily connected to Dresden. On the return, I flew out of Leipzig, again connecting through Frankfurt, back to LAX. Although there is certainly not a great deal of room, I found it a bit less cramped than other international carriers. I find Lufthansa has excellent service, even in the back of the plane, along with decent food and complimentary drinks.
Read more of Freddy Sherman's take on travel on his Go World Travel Blog. You can also follow more of his adventures at luxuryfred.com blog and on his YouTube channel.