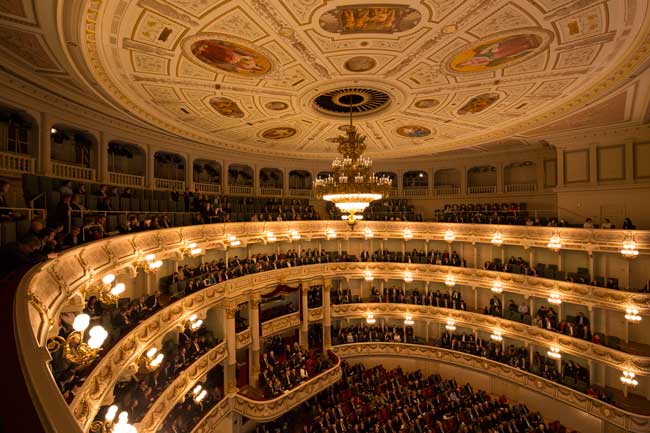 Continued from: Attending the Opera in Munich and Dresden
Tips for Attending the Opera in Germany
Going to the opera in Germany is a little like sampling the food in a different country: it may be hard to read the menu, but if you give it a try, you're sure to find something you like. Here are some of my tips to help demystify the experience for international travelers.
Tickets and Seating
Opera is classical music's equivalent of a rock concert: the premium seats are pricey, and they often sell out months in advance.
Buy tickets in advance online, where you may be able to nab seats just a week or two before the performance. Both the Munich and Dresden opera companies have English-language websites that display seating charts with prices and type of seats available. Generally, the higher in the theater you sit (usually the upper rings or the gallery), the cheaper the price. Tickets could range from 260 € for orchestra-level seats for special performances to 16 € for seats farther from the stage.
Read the seat description carefully; some are listed as "restricted" view or "obstructed" view, which means columns or pillars prevent you from seeing the full stage. (Sometimes the obstruction is fairly minimal, so it's not always as bad as it sounds.) There are also "listening only" seats which means there's no view of the stage. Seats along the sides of the theater are often close to the stage and easy on the pocketbook, but they can be hard on your neck, which will spend hours turned at an angle so you can see.
If you're on a tight budget and have sturdy legs, consider buying a "standing place" ticket. (One sells for just 10 € at the Munich's National Theater.) There's literally no seat—you stand in a high-up ring row with a railing to lean on. While everyone else gets up at intermission to stretch their legs, you'll seek out a bench to sit on. If you wish to experience the majesty of the theater and see what's worth singing about, these are the spots to buy. You could depart at intermission, but don't be surprised if you come back to see how it all turns out!
Always check in advance the opera's length and how many intermissions (or "intervals") it has. Some two-act operas play in less than three hours, including intermission, but there are epic, three-act operas that run for 4.5 hours plus two intermissions that last 30 to 40 minutes each. (Some performances even take a dinner break!) If you're an opera newbie, start with shorter, two-act productions such as Carmen, Hansel and Gretel (a holiday favorite in Germany), The Magic Flute (Die Zauberflöte) and The Mikado.
If you're sitting in the opera house's upper levels, bring binoculars or rent/borrow opera glasses at the theater.
Buy available seats one hour before the opera performance at the theater box office. You might not get a seat next to your travel companion—or you might not get in at all.
If you bought a ticket for an opera featuring a superstar singer—Jonas Kaufmann, Anna Netrebko, or Bryn Terfel, for example—and he or she cancels, you cannot get a refund. A different singer will be substituted, and the show will go on.
What to Wear to the Opera in Germany
At the opera houses in both Munich and Dresden, I witnessed theatergoers wearing everything from jeans to sequined gowns. Men wore suit jackets or nice shirts. The style of dress also varies with performance time: Matinees and weeknights tend to be more casual; Saturdays and opening nights are more formal.
Pack clothes and jewelry you'd wear to a nice restaurant, and skip the tux and cocktail dress unless you have other occasions during your trip to wear them.
Germans are practical about footwear. Unlike Paris, where stilettos might de rigueur, flat shoes are fine. (After all, Birkenstocks were invented in Germany!) If the weather is wintry, wear snow boots. Better to leave them in the coat check than to slip on icy cobblestones. In fact, the foyer of Dresden's Semper Opera was filled with people changing into dress shoes before the show.
Wear layers in case the theaters are either drafty or hot. For instance, in February I wore a simple black skirt and sweater plus a shawl to wrap around me. (For the record, both theaters' heating systems were comfy.)
If you're sightseeing all day and don't have time to return to your hotel to change before the opera, carry your clothes in your daypack and change at the opera house. Be sure to leave enough time to locate the restroom, wait in line if necessary, change clothes, and then take your pack to the coat check (which may be down a couple of flights of stairs, and where there is likely to be a line).
Leave your coat, umbrella, recording devices, and bulky bags with the coat-check attendants. The service is usually free; tips are welcome but not expected. Theater seats are close together, so taking a bulky coat to your seat is inconvenient and likely to annoy your neighbors. In Munich's National Theater, I noticed that ushers routed people to the coat check before showing them to their seats.
Language and Supertitles at the Opera in Germany
All operas are sung in the language they were originally written in, so even if you're in the United States, La Traviata (by Verdi) will be sung in Italian and Carmen (by Bizet) will be sung in French. Operas have supertitles, translations projected above the stage, so that the audience can read the lyrics. (Sometimes there are seat-back translations rather than the above-stage projections.)
In Germany, supertitles are in German—even when sung in German—because it's often difficult to understand sung words even in your own language). Some operas, including Dresden's Semper Opera and the Dresden State Operetta, also project supertitles in English.
What to Know about Attending Opera in Germany
Stay in a hotel close to the opera house, or at least have dinner within walking distance so that you don't have to worry about competing for a taxi or catching the right train to and from the theater.
If you don't have time to eat before an opera, you can buy snacks and beverages (including wine or champagne) during the intermission(s).
Be sure to arrive on time; most theaters will not seat latecomers until there's a break in the action, which could be halfway through an act.
When to Applaud at the Opera in Germany
It can be nerve-wracking to know when to clap—especially in a foreign country. Sometimes there's light applause at the end of a scene, and there's almost always a big ovation at the end of each act, when individual singers will often step out in front of the curtain for their bows. So what's the etiquette?
Don't be the first person to applaud. Wait until others start clapping to avoid embarrassment.
If a solo or duet is performed particularly well, the audience may erupt with enthusiasm; feel free to join in. The singers onstage usually freeze in place for a few moments until the applause subsides. When they start moving again, stop clapping.
If you really love a singer's performance, during the clapping you may call out "bravo" for a male singer or "brava" for a female singer.
This article is part of our series: A Night Out at the Opera in Germany
Author Bio: Freelance writer Laurel Kallenbach plays bassoon and is working on a novel about opera musicians.