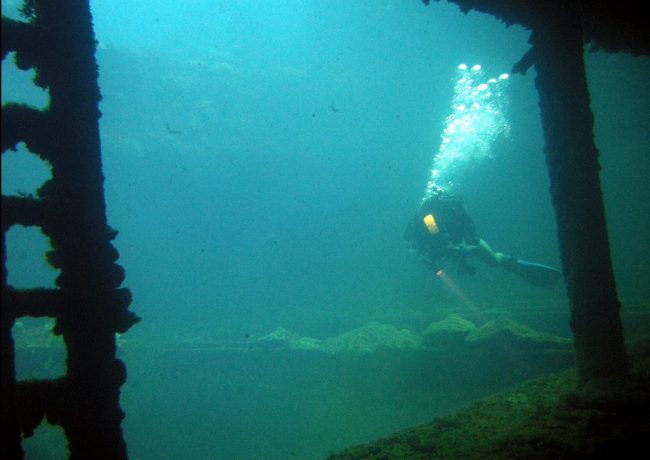 Gazing through the porthole of a large ocean-going vessel is the ideal vacation for some. If that porthole is 200 ft. below sea level and you gain access to the cabin via a hole blown in the side of the ship by a torpedo, and you're wearing a twin rig of scuba tanks holding what would seem to be not enough air to fill a refrigerator, well, you're looking at a rather different experience.
For those who enjoy diving and can endure the somewhat lengthy trek to its remote shores, Chuuk, formerly Truk, contained within the Federated States of Micronesia (FSM), offers a checkered history and unparalleled scuba experiences.
Diving in Micronesia
Chuuk – rhymes with duke – is not easy to get to, yet streams of scuba divers fly there week in, week out to take advantage of what is described, with good reason, as the greatest wreck-dive experience in the world. It's been the Holy Grail for underwater adventurers since 1969, when famed explorer Jacques Cousteau made a documentary on the maritime graveyard.
This is not an adventure for the faint of heart. Technical diving (using different blends of gases to allow more time underwater) is, to a large extent, the pursuit of those with strong muscles. The sheer physical strength needed to maneuver the equipment into the water is a challenge in itself.
The contrasts experienced by travelers to tropical islands are all present here; volcanic peaks (Chuuk means "mountain" in the local language) covered in almost-painful emerald hues etched against a perfect blue sky; palm trees and white sand beaches bordering calm turquoise and sapphire lagoon waters that reach temperatures higher than the resort showers.
Chuuk
In Chuuk, the most populous atoll of FSM, apples and blackberries are still something you eat, internet access is very much a hit-and-miss affair, mobile phone coverage is virtually non-existent and when they run out of eggs or coffee, you may have to wait a week or more for the supply ship to arrive. If you're after a five-star resort experience, this is probably not the ideal destination.
As with most tropical island destinations, one must be prepared to adopt a different concept of time. Nobody hurries here; things happen when they happen and visitors are bound to be a lot more content if they can come to terms with that before arrival.
 Continued on next page