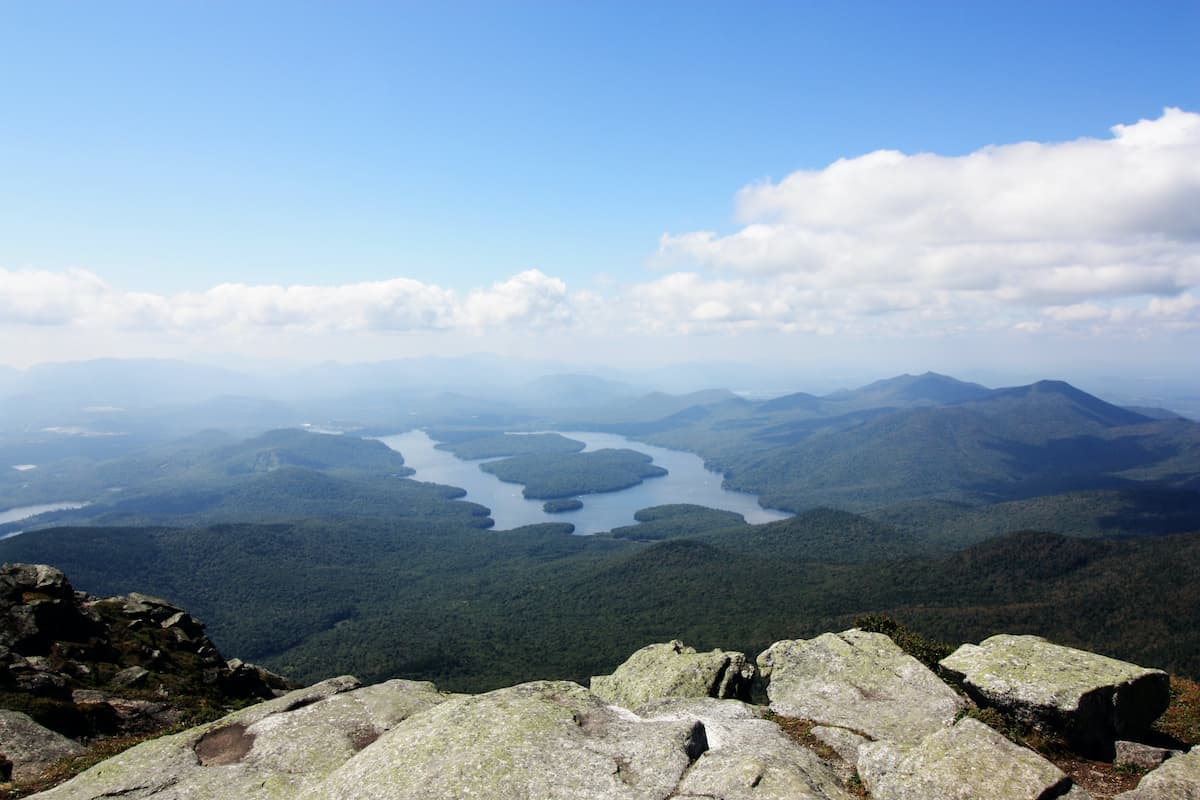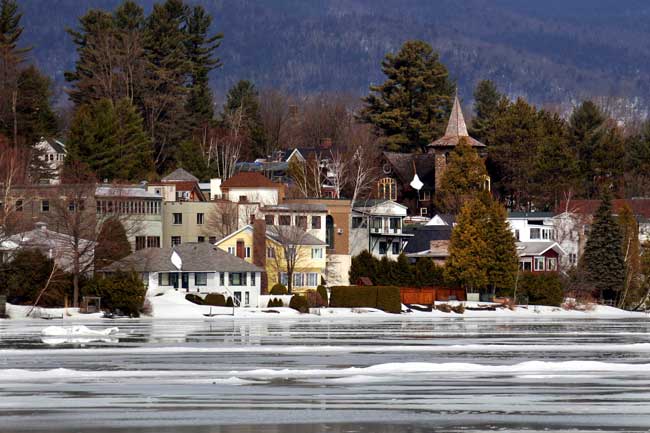 Planning a last-minute trip to New York?
Top Experiences and Tours in New York:
Where to stay and transportation in New York:
Lake Placid, NY
Despite having hosted two Winter Olympics—in 1932 and 1980—both the village of Lake Placid and its ski mountain in the Adirondacks of upstate New York are relatively unspoiled. The town is still a quintessential small mountain community with a population of less than 2500 year-round residents. Forbes Traveler named it one of America's prettiest towns.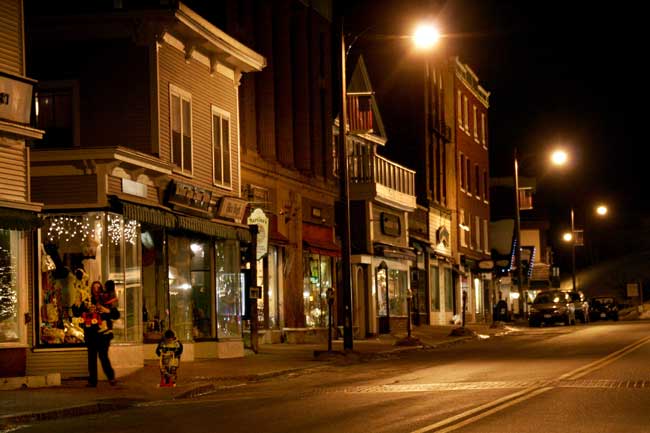 Set along the peaceful banks of Lake Placid and Mirror Lake, it reminds me of a Currier & Ives depiction of winter solace. Its short Main Street is filled with the kinds of locally owned boutiques tourists love, and its restaurants range from fine dining to pub fare.
Mirror Lake Inn Resort and Spa overlooking the lake that really does resemble a smooth, glassy mirror is the elegant historic anchor that drew wealthy vacationers from New York City in the early 1920s. It's still the premier property of the village.
Best Tips & Tools to Plan Your Trip
Whiteface Mountain
Ten miles away is legendary Whiteface Mountain, a vintage ski area that opened in 1958. It's an imposing mountain—rising 3,430 feet from the parking lot at 1,220 feet—making claim to the greatest vertical drop in the east and fifth highest peak in New York state.
Eighty percent of its 86 trails are expert and intermediate, and 35 acres of double black terrain called The Slides are reserved for wilderness skiing when conditions are safe. An eight-passenger gondola and nine chairlifts serve 288 skiable acres.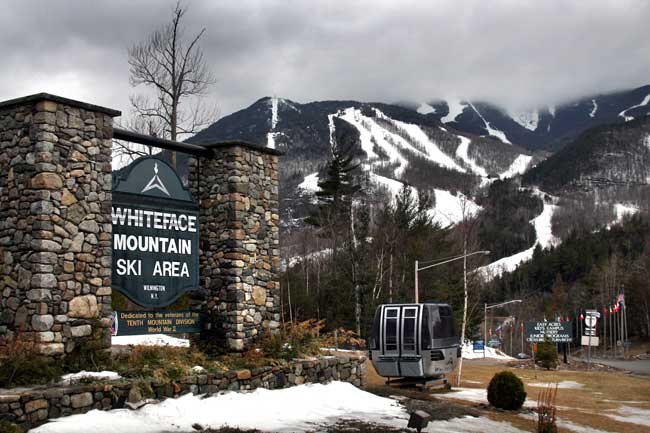 We skied Whiteface in early spring during a light rain on a surface of "loose granular," an eastern term for packed powder gone bad. Its nickname "Iceface" was not lost on me. It wasn't pretty for this Colorado girl who grew up skiing on Champagne powder!
But it was fun to ski on trails that Olympians had blazed in 1980—skiers like Sweden's Ingmar Stenmark, who won gold in both Slalom and Giant Slalom, and America's Phil and Steve Mahre, Cindy Nelson and Christin Cooper. In those days, only three disciplines made up the alpine events: Downhill, Slalom and GS. For the 1932 games, alpine events didn't even exist. They were added in 1936.
Lake Placid Olympic Museum
How do I know this? We learned all kinds of Olympic facts at the Lake Placid Olympic Museum, a great place to brush up on winter sports history. Here we found all kinds of winter sports memorabilia, including the first gold medal ever awarded in the winter games.
Fittingly, it went to a Lake Placid native Charles Jewtraw, a speed skater who won it in the first Olympics in Chamonix, France in 1924 (file that away for Trivial Pursuit!). The medal has since been donated to the Museum of American History at the Smithsonian Institute. Other artifacts, photos and videos tell the story of winter sports around the world in this impressive collection.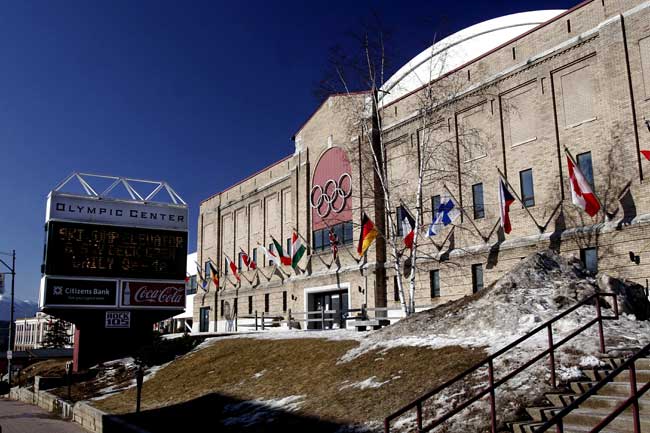 Lake Placid Olympic Center
The 1980 Winter Olympics are best known for the "Miracle on Ice" hockey match between the U.S. team of mostly college kids and the heavily favored seasoned Russian team that had won four consecutive Olympic gold medals. The 2004 film depicts that riveting event when U.S. coach Herb Brooks led his team to defeat the Soviets and advance to beat Finland and capture the gold.
The Herb Brooks Arena, where the highly emotionally charged game was played, is housed in the large Olympic Center in the middle of the town. The place is revered!
Our guide, who actually was at the game, played those last historic minutes of the match on a video monitor, and he nearly broke into tears as he watched it with us. The people of Lake Placid hang onto every moment of winter sports history that made their little town famous.
The Jack Shea Arena, where figure skater-turned-movie-star Sonja Henie won her second of three Olympic gold medals, is also here, as is the Olympics Museum.
Outside the Center is the speed-skating oval that's open for public skating and speed-skating practice from mid-December to mid-March. It was on this oval that Eric Heiden (with his 28-inch thighs) cleaned up all the men's speed skating races in 1980, winning five gold medals.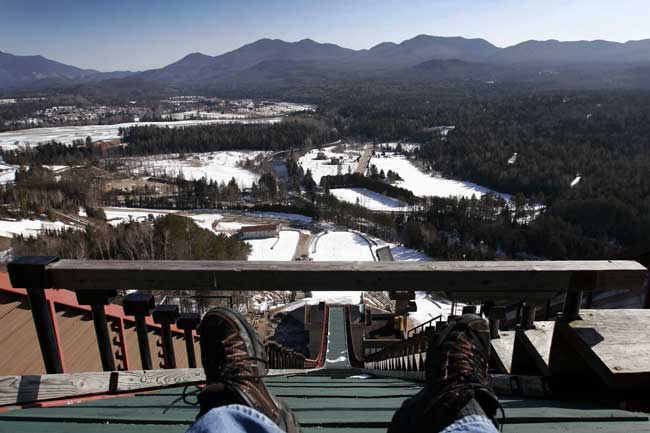 Just before entering the town from the highway, we spotted the enormous towers at the Olympic Jumping Complex looming large over the land. It was our first clue that we were nearing the Olympic site. When we got up close to the ski jumps—120 meters and 90 meters—we were blown away by their height.
We rode an elevator to the top of the highest jump where we got a greater appreciation of the courage the jumpers must have to point 'em down the skinny track and soar through the air.
Nearby is the year-round Freestyle Aerial Training Center where athletes flip into a pool in summer but must land their aerials on snow in winter.
We were lucky to be at the Olympics Sports Complex on a day when racers were training for the Skeleton event. Lying stomach-down on a sled, they barreled face-fort down a 1,680-meter winding ice track at break-neck speeds.
Bobsled is also run on this course; and for a fee ($95/adult; $85/12 and younger), you too can experience the rush of these exhilarating sports winter and summer. You can also participate in Biathlon, cross-country skiing, snow tubing and ice skating at the complex.
Though you may never attend an Olympic event, visiting Lake Placid where the Olympic spirit has never left is the next best thing.
If You Go to Lake Placid
Buy an Olympics sites passport that will get you into all the venues. Purchase it online or at the ORDA (Olympic Regional Development Authority) store on Main Street and at ticket offices at all the sites.
Lake Placid
www.lakeplacid.com
Lake Placid Olympic Museum
www.lpom.org
Whiteface Mountain
www.whiteface.com
Helpful Books & Information
Discover the Northern Adirondacks: Four-Season Excursions from Lake Placid, Saranak Lake and Points North (Discover the Adirondacks Series)
Lake Placid, High Peaks: Adirondack Park (National Geographic Trails Illustrated Map)
Going for the Gold: How the U.S. Olympic Hockey Team Won at Lake Placid (Dover Books on Sports and Popular Recreations)
Inspire your next adventure with our articles below:
Author bio: Claudia Carbone is an award-winning ski and travel journalist based in Denver, Colorado. She has skied every major resort in North America. Visit her hotel and travel blog Sleepin' Around on GoWorldTravel.com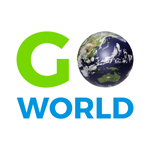 Latest posts by Go World Travel Magazine
(see all)