The paint brush in Rosario's hand dripped bright red and I winced as she moved in close to my face during the Day of the Dead celebration in Oaxaca, Mexico. I could feel the cold liquid sweep across my eyelid, under my eye and around it. I had no clue how this 'makeover' would turn out.
It would cost me only 75 pesos, (US$ 3.50) but it had to be finished before our nighttime visit to the cemetery in Xoxocotlan outside of Oaxaca. I had requested 'medio'- the one-sided face-painting option, because it signified honor to both the living and the dead. The cosmetic artist grabbed large fake, diamond-like rounds and pushed them into place around my eye.
Day of the Dead 
A brush that oozed in harsh black paint zeroed in to coat my nose. A few more strokes and Rosario stood back to admire her work on my calavera face. As I looked at the mirrored image of half a skull, with colorful facial decoration over white-based skin for the Dia de los Muertos event, ideas of how to blast the paint off at night's end festered in my mind.
Next, my husband nervously prepared for his facial transformation into a catrin, the male version of a catrina, a human figure in skeletal form, seen at every turn during Day of the Dead. In the early 20th century, Mexican political cartoonist Jose' Guadalupe Posada created a series of skeleton caricatures, known as Posada's Calaveras and Catrinas to mock rich Mexican socialites.
"Todos somos calaveras," he said. "We are all skeletons−underneath man-made trappings, we are all the same."
Day of the Dead Traditions
What is the Day of the Dead (Día de los Muertos)? It's a multi-day Mexican holiday when people honor their friends and family who have died with prayers and remembrances.
In 1948, Mexican artist Diego Rivera painted a calavera-faced woman representing his wife, Frida Kahlo, dressed in fancy clothes and furs in his iconic mural, Dream of a Sunday Afternoon in Alameda Park. This image of death, la catrina, became the most universal symbol of Mexico's Day of the Dead celebration.
The pockets of Rosario's smock bulged with 100 peso bills. At her annual 'money making' event, she had to create 'dead-faces' non-stop during the three day-affair. Come November 3rd, her cash flow would dry up quicker than her paint brushes. Tourists, eager to interact with mourners who sat vigil from midnight until daybreak at the grave sites of their departed relatives, hoped the Mexican families might accept the foreigners' intrusion if they looked the part.
Even though we live in Mexico as expatriates, we joined the throngs who had come to observe the Mexican Dia de los Muertos, photograph the locals' preparation for the return of dead souls, infringe upon each family's personal space around the grave sites and with no harmful intent, disturb the faithful with our gawking.
Visiting Mexico During Day of the Dead
You'll need to start planning now if you want to visit during the Day of the Dead. Annual Day of the Dead observation in Oaxaca, Mexico from Oct. 31 to Nov. 2 attracts the largest number of world-wide visitors.
It's a mixture of pre-Hispanic celebration of Death and the Catholic feast of All Saints Day on Nov. 1 and All Souls Day on Nov. 2. Other cities throughout the country follow the traditions, but travelers who have selected Oaxaca should expect hordes of companions, both living and dead.
Since the 2018 Academy Award-winning animated film, Coco by Pixar Studios, revealed the story of Oaxaca's Dia de los Muertos, the number of tourists to this year's event quadrupled.  Every flight was overbooked, and anyone without reserved accommodations could be seen dragging suitcases looking for a room.
In our boutique hotel, La Casona Oaxaca, a block from the central square, we met travelers from China, Thailand, Japan, and in-country voyeurs such as ourselves from Guadalajara.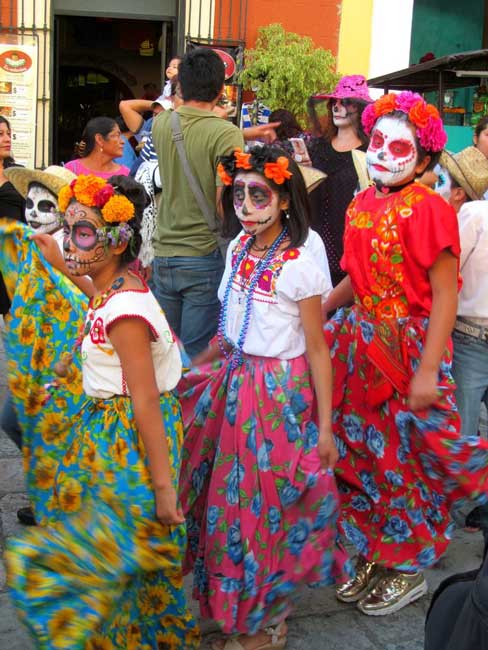 Local Mexican mourners have accepted the blitz of foreign spectators. Their sacrifice of privacy has led to a peso-rich explosion of the region's economy, with the infusion of millions of tourist dollars pouring into the city. Onlookers spare no expense to participate in events at cemeteries throughout the area and enjoy repasts of Oaxaca delicacies like pollo mole in Central Plaza upscale restaurants.
Banners of wild orange and pink cut-out tissue paper called papel picado crisscrossed all the streets and the intoxicating aroma of copal incense filled the air. It was a bright, colorful, exciting party at every turn.
Dia de los Muertos
As I watched eager cemetery goers wait for a proper painted-face, I couldn't help comparing this festive bash to our 2015 experience of the Day of Dead celebration in Patzquaro in Mexico's state of Michoacán. Calavera painted-faces missing, reverent, somber and respectful reflections took place at graveyards located on many of the remote islands situated on Lake Patzquaro.
Every year, indigenous people from the surrounding countryside travel to the lake's shores, pile into canoes and paddle to isolated islands where their loved ones are buried.  We stopped briefly at Janitzio, the largest and closest island to shore which resembled Oaxaca with its commercialization.
Tourists swigged tequila, crowded the main street leading to the cemetery, and danced to live music along the way. Dizzied by the pandemonium, we sped away across the lake to a tiny, sparsely populated island, an hour's boat ride away.
Upon docking at the isle's pier, we climbed steep steps to the entrance of the sacred graveyard where the faithful pushed wheelbarrows full of adornments.  I loved sitting with families around well-prepared resting places from midnight until 4 am. A cold mist rose eerily from the lake into the dark November night sky and bundled relatives huddled together on blankets covering the hard, damp earth.
Observers numbered an inconspicuous 30. We brought offerings of candles and pan de muertos, round sweet breads made especially to help lure the souls back home. A vegetable-based painted calavera, called a carita had been baked in the bread's center and it is this icon that authenticates every loaf.
We shared the pan with families and listened to their stories told in Spanish about the persons whose spirits they awaited. I remembered the intimacy I felt with the mourners and the mystical connection to Mexico's unique interpretation of death.
Continued on next page