Editor's Note: Travel is complicated right now, but we hope this will inspire your future travels. Please check local regulations and location openings before you go.
While the rest of the Western world decorates their cities for Christmas with Christkindlmarkts and reindeer lights, Argentina, which is south of the equator, soaks up the throes of summer. Stores have special holiday sales, and as Dec. 24 gets nearer, more and more presents are bought, wrapped and carefully hidden from excited children.
In many ways, an Argentinian Christmas is just like the one you might celebrate with your family. In other ways, it is completely different from the commercialized holiday that we know and love in North America and Europe.
How to Celebrate Christmas Like an Argentinian
Dec. 24 is the biggest holiday of the year in Argentina. During the day, parents run around from store to store trying to find those last-minute gifts. Toy stores are the most popular this time of year, because the gift-giving tradition is mostly reserved for children, and adults rarely get presents.
Once all the gifts have been bought and wrapped, they are hidden from sight until midnight on Christmas Eve. Some people go to church before dinner for Mass, but it's not a tradition that all Argentinians practice. People usually go to a family member's house and have a big dinner around 9 or 10 p.m.
Last year, my mother and I spent Christmas with some Argentinian friends in Tres Arroyos, which is in the Buenos Aires province and close to the Atlantic coast. It was my second Argentinian Christmas and my mother's first.
What sticks out to me, an American, is how calm the whole ordeal is down south, but also how incredibly welcoming the people are and how delicious the food is.
Special Foods are Saved Just for Holiday Time
The Argentinians make special foods that they wait all year long for, and only eat on Christmas, like pionono, a sweet bread rolled up like a cinnamon roll and filled with layers of ham, tuna or veggies and covered with a topping of cream cheese. There are several different kinds of pionono.
For dessert, many Argentinians eat fruit salad with dulce de leche, pan dulce or Italian panettone (which are both like a fruit cake) or a special Christmas cake with dulce de leche and sweet cream. The dinner lasts until about midnight, which is when the real fun begins.
At midnight, the kids run outside to watch the fireworks, which people set off from the streets in front of their houses. Sometimes you can see multiple mini-firework shows from one spot on the street.
The adults in Argentina follow with glasses of Champagne, and someone usually makes a Christmas toast. When the fireworks are over, everyone goes back inside to find that presents have been left under the Christmas tree by Papa Noel, or Santa Claus, as he is otherwise known.
When the last gift has been opened and all the pan dulce is gone, people finally go home and go to bed. It is typical for people to not go anywhere on Dec. 25. Kids wake up and play with their new toys, and some people have a second Christmas dinner, but it is usually a very calm day.
If you want to teach your kids about different countries and cultures around the world one of the best places to start is getting them a Little Passports kit. Little Passports deliver packages with different themes from science to language or geography and history, right to your door. Check out their learning kits for every age here.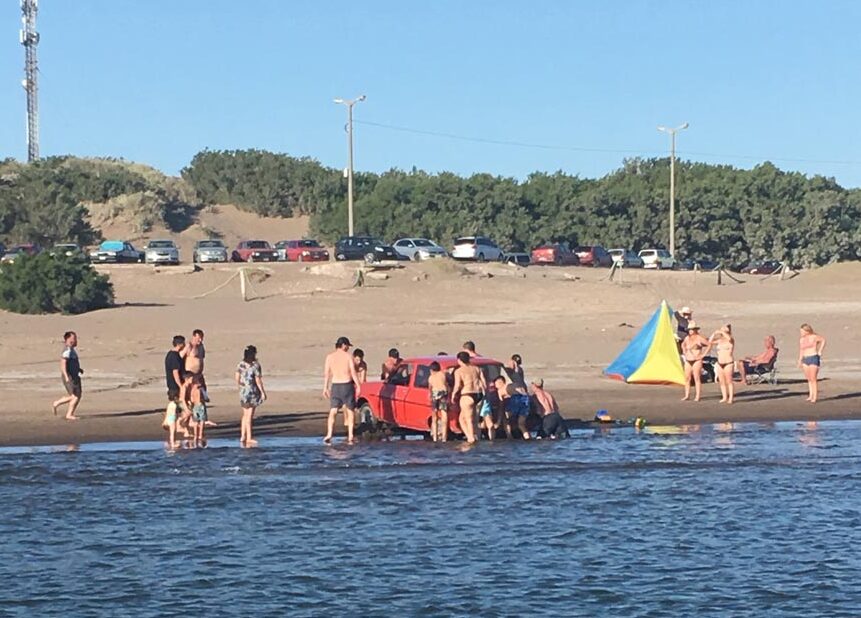 No Sounds of Christmas Carols
Argentinians are not as big of fans of Christmas carols and movies as Americans are. The radio stations don't play Christmas tunes all season long, and Hallmark isn't such a big deal that far south.
Without all the caroling, Christmas Day sounds a lot like any other day in an Argentinian household. It is often hot outside, so most people stay home or go to the beach if it's nearby.
We opted for the Argentina beach holiday, which is something I had never experienced before. We slept in, waited for the heat to pass, and then drove to the coast around 5 p.m. We were able to spend a few hours splashing in the waves before the sun went down and the mosquitoes came out.
There is nothing quite like a beach sunset, especially when you're with people who love you on Christmas Day.