"You're going to a WHAT?" asked my friend apprehensively. Yup. A hotel. Three of them actually for a total of six days as part of an Empire State Road Trip in upstate New York in early September sponsored by the Harbor Hotels Collection.
I felt cautiously optimistic until my friend pointed out – with some degree of pleasure, I thought – that no matter how scrubbed down the room was, how many masks were in evidence or social distance maintained, if such was even possible in a hotel setting, our safety was still not guaranteed. I couldn't disagree.
Still, my husband and I planned to adhere to all precautions – and the Harbor Hotel Collection providing our accommodations promised to do the same – which they did admirably. After months of quarantine, we decided to face the virus with a defiant stance. We were going to go on living – and for us, that meant traveling. A road trip from Washington, DC seemed like a perfect compromise.
THE EMPIRE STATE ROAD TRIP TO UPSTATE NEW YORK BRINGS WITH IT A LOT OF LAUGHS
First stop – Chautauqua, New York, where comedy is king – and queen… (The two museums are actually in Jamestown, NY, a small town adjacent to Chautauqua).
How many places do you walk into laughing? Flashes of comedic movies, TV shows and stand-ups assault your inner comedian as you enter the National Comedy Center and you feel one with a larger-than-life Rodney Dangerfield. Then a sign comes on reminding you to wash your hands – and you stop laughing – but just for a moment. Instead of the pre-Covid wristband, you get a card that provides interactive capability during the virus and a stylus allowing you to touch screens. And you allow yourself to start laughing again.
The National Comedy Center began as a long-ago vision of the legendary Lucille Ball – a home-grown Jamestown girl (the small town adjacent to Chautauqua), born, bred and buried – for her hometown to become a destination for the celebration of comedy. Still, it didn't actually open until 2018. Her own much-older museum is just down the street – but more on that later.
First, I had to personalize my comedy experience by picking my favorite comedians, TV shows and films from Cary Grant to Stephen Colbert, All in the Family to Modern Family, The Marx Brothers to Bridesmaids. They lost me at podcasts but turns out my humor runs toward political satire, wry and sophisticated, and observational. My husband took issue with the sophisticated designation….
COMEDY AS AN ART FORM TAKES ON A WHOLE NEW MEANING AT THE NATIONAL COMEDY CENTER IN CHAUTAUQUA, NEW YORK
The museum emphasizes comedy as an art form and illustrates everything that goes into the craft of comedy from inception to production to execution. A sample of Dangerfield's handwritten notes has him admonishing the audience: "What a crowd! What a crowd!" I didn't want to know that. Joan Rivers had her own preparation notes: 17 Ways to Handle a Heckler. Okay, so no taking any chances there. Lots of iconic outfits dot the museum from Jerry Seinfeld's Puffy Shirt to Phyllis Diller's huge ball gown to Carol Burnett's wacky characters' fashion statements.
One exhibit is devoted to all things George Carlin; another to late night hosts from Steve Allen to Seth Myers; another to When Harry Met Sally highlighting two of the most memorable movie scenes ever.
At the stand-up comedy lounge, I got to sit in to view some of my favorite comedians from my initial sense-of-humor profile. I actually looked around for a bartender to take my drink order. A different lounge presented clips from my favorite TV shows.
Passing from one exhibit to another takes you down a hallway of one-liners. At this point you just can't stop laughing and you may never make it to the end. There's an academic exhibit which chronicles the history of comedy from the Greeks to vaudeville to the internet. Lest you find that a tad too serious, when you sit on the adjoining bench, what do you think happens? Yes, of course. The bench farts!
There are scripts where improvised changes that were made during shooting remained on camera; there is the history of radio from Jack Benny to Howard Stern; and then there is the age-restricted raunchy "Blue Room" for the likes of Lenny Bruce to Wanda Sykes. Everything tells a story of how a joke goes from page to stage, the long grind from comedic inception to commercial success. And it's all funny!
THE LUCY AND DESI ARNAZ MUSEUM IN CHAUTAUQUA, NEW YORK BRINGS THE ICONIC TV SHOW ALIVE
I, like millions of Americans throughout the 50s, laughed with and at Lucy and Ricky Ricardo growing up. The I Love Lucy Show was must-see TV. I liked her – I didn't love her – but her iconic show no doubt laid the foundation for situation comedies for decades to come. Having a museum of her own in her hometown seemed like a fitting testament.
The Lucy and Desi Museum down the street, while special in its own right, is static by comparison to the Comedy Center. Most of the visuals are behind glass enclosures and I kept looking for something to scan. The West Gallery is devoted to Lucy and Desi, their relationship, their family; the East Gallery, to their studio and show, with replicas of all the rooms of the Ricardo's second apartment. Any fan would feel transported back in time and onto the TV set.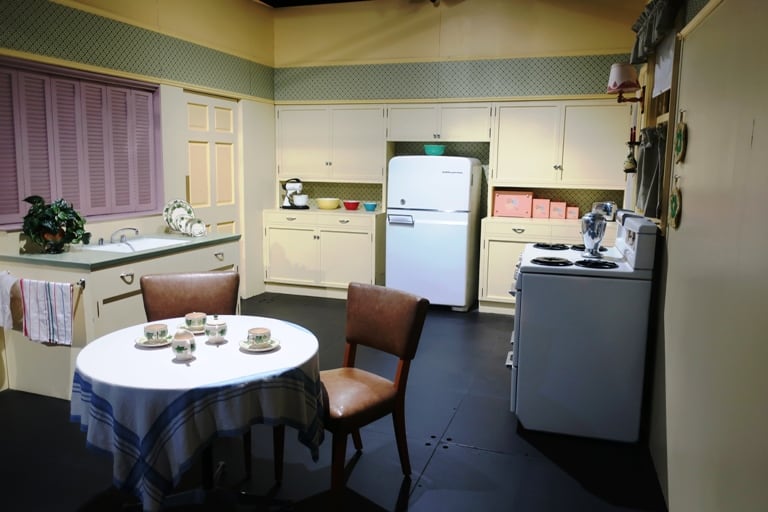 For a Lucille Ball fan, this would be a tiny bit of heaven. Since I was more socially distanced (in every sense of the word), I just was sorry to read that Lucy and Desi got divorced the day after the last show aired in 1961. After four hours steeped in laughter, I left feeling sad. That just seemed wrong, so I headed back to the Comedy Center. Problem solved.
Traveling on to Watkins Glen and the 1000 Islands as part of the Empire State Road Trip will be covered in future articles. For more information call (607) 535-3759 or log onto harborhotelcollection.com/experiences/empire-state-road-trip; comedycenter.org; www.lucy-desi.com.
Authors: Fyllis Hockman and Victor Block are a husband-wife team of experienced travel journalists who have gallivanted throughout the United States, and to nearly 80 countries around the world, and written about what they have seen, done and learned. Their articles have appeared in newspapers across the country and on websites across the Internet, and they each have won numerous writing awards. They love to explore new destinations and cultures and uncover off-the-beaten-path attractions. Read more of their work at The Rambling Writers
Latest posts by Rambling Writers
(see all)