I was in Rome's Leonardo da Vinci-Fiumicino Airport waiting comfortably with a hundred-or-so other people to board my connecting Delta flight to Catania, Sicily. The televisions in the gate area had just finished broadcasting the Wednesday holiday speech Pope Francis delivered from a window high above St. Peter's Square when Sky News coverage switched to breaking events.
The TV screen showed reporters interviewing emergency responders in front of crumbling buildings. The red graphics banner scrolling across the bottom of the screen displayed the words: "Ultim' Ora: Sisma Catania, Danni Maggiori a Fleri, Santa Venerina. Etna, Terremoto de Magnitudo 4.8 A Nord Di Catania."
With only the remedial Italian I'd learned from months of study on my Duolingo app, I could discern the essential meaning: "Breaking News: Earthquake Catania…Major Damage…" I also surmised it was related to an eruption from Sicily's Mount Etna volcano, and that the quake was a magnitude of 4.8.
What if a natural disaster occurs at your destination during your vacation?
First off, I recalled that in 2010, an Icelandic volcano eruption and the steam and ash it spewed into the skies had brought air traffic in the United Kingdom and Europe to a halt for a week due to safety concerns related to aircraft engines. Some 20 countries closed airspace grounding millions of travelers.
I was also aware that hundreds of people had been killed and many more made homeless in a series of earthquakes in Italy over the past two years. Those quakes ranged from 4.6 to 6.2 on the Richter scale, and most of them involved aftershocks.
As I watched the ongoing news coverage on television, I began to wonder whether the roads would be passable and whether my hotel in Catania was affected or would even be open for business. A news alert on my iPhone described the quake as magnitude 5.1 with the epicenter one mile from Aci Castello – nine kilometers from Catania.
I figured I had a decision to make. Do I fly right into Catania and continue with my travel itinerary? Since I am at a major airport, do I turn around and fly back to the states while I have the opportunity? Or maybe I should hold in Rome for a night and see how it all plays out?
It was a bustling Boxing Day afternoon. So where would you, in this situation, turn for advice?
I arranged my trip through what one might have referred to in the old days as a travel agency. But the company I used, Lake Como, Italy-based IC Bellagio, a member of the exclusive Virtuoso Travel Network, is better described as a custom travel advisor that arranges extraordinary, authentic experiences and access inside Italy through deep local knowledge and relationships.
I decided maybe I should read the detailed itinerary I'd been provided by IC Bellagio off my iPhone so I could find the phone number for the Una Palace Hotel in Catania and perhaps try to call ahead to get an update on the properties condition and status. When I opened my email on the screen, I noticed a new message from Beatrice Deho, an IC Bellagio guest ambassador, checking to see if I'd landed safely, welcoming me to Italy and explaining that she is on duty through the holiday.
"I would like to remind you of my availability if you should need anything during your stay," Deho wrote. Her email address, mobile phone, fax number and even photo were included in the email.
Mea culpa for my cynicism: I initially feared it was a form email timed to coincide with my landing time. Instead, it turned out to be like having a genuine guardian angel watching over me during my travels.
Deho responded within minutes to my email asking whether I should board the connecting flight to Catania and proceed. She managed to quickly confirm I would be able to fly in, get the rental car, and enjoy the Una Palace Hotel and tour Catania unhindered by the volcano and the earthquake.
An IC Bellagio Guest Ambassador remained in touch throughout the trip
I was buckled in an aisle seat near the front on the Delta code-shared Alitalia flight out of Rome. During our initial descent into Catania, the aircraft passed by Mt. Etna on its left. An Italian man sitting against the window could see I was trying lean over to take a picture of the volcano, and was kind enough to pantomime his offer to take my camera and snap a few good shots for me. The resulting photos were dramatic.
Deho was correct. Catania was going about its business when I arrived at the Una Palace Hotel, right in the center of town, in time for the evening Christmas market and holiday crowds walking up and down the streets and stopping to warm up with an espresso or chill with a few spoonfuls of pistachio gelato.
The following morning I sampled traditional Sicilian dishes suggested by IC Bellagio Guest Ambassador Nicole Bellatti, who was back on duty after the holiday and in touch via email.
She tipped me off to a special, traditional breakfast the hotel offered in Etnea Roof: the all-glass restaurant atop Una Palace Hotel with an indoor and outdoor view of the smoking Mt. Etna. Arancini Siciliani with meat sauce (rice balls); Parmigiana Di Melanzane a Spicchi (eggplant); Caponatina di Ortaggi Al Bicchiere (stewed vegetables) and Ravioli Fritti Con Ripieno di Ricotta (which amounted to a fried donut).
IC Bellagio had arranged a personal culinary walking tour of the fish and fruit markets, churches, ruins and cultural sights after breakfast that morning. The volcano and earthquake subject was at the top of everyone's mind, though, especially when the newspaper headline in that La Sicilia that morning was: "Etna, Natale di paura" ("Etna: Christmas of Fear"), and a photo of rescue workers climbing through the roof of a crumbling building. The caption reported 28 people were injured and 600 people were forced out into the streets.
"I was frightened. We all felt the earthquake at night. It was 3:19 a.m. The house was shaking a bit. Some people had to leave their homes and are being hosted by hotels in the area," said my IC Bellagio walking tour guide Agata Vinci as we walked up the street.
She reminded me that Catania and the surrounding cities were once completely destroyed by an earthquake in 1693. "The city is now built in baroque style because of that. When this one hit I started to pray…and it stopped. I am not saying I stopped it, though."
It was business through the vibrant markets and a crowd of undeterred older gentlemen still gathered in the park to play the card game, Scopa. The only portion of the tour even remotely altered was at A Putia Dell'Ostello – a restaurant and bar with a cave below normally accessible by visitors.
Despite Vinci's efforts to gain access for us to climb down into the cave, the owners felt uneasy, given the quake the day before, about sending anyone down there – much to my relief, to be honest!
Dangerous driving over unfamiliar roads can be a challenge
I had to be honest when I discovered my own limitations during the next portion of my trip to Sicily. Bellatti, the IC Bellagio Ambassador who had planned my itinerary in great detail, gave excellent local advice. When I left the Una Palace Hotel in Catania after two nights to move to the Belmond Grand Timeo Hotel – an hour drive away in Taormina – I followed Bellatti's suggestions that I visit, along the way via the Riviera dei Ciclopi coastal route, the little, consecutive seaside fishing villages of Aci Castello, Aci Trezza and Acireale.
The scenic cliff side towns were little, and so were the streets. Sometimes one-way, sometimes dead-end, and often so narrow as to require patience, which lead-footed, horn-honking, aggressive Sicilian drivers never seemed to have in the perilous passing in opposite directions. Finding parking could also be puzzling, with some lots requiring payment through an online app.
The piece de resistance of the day, after a successful stop for a pistachio granite and brioche at Caffe Cirpriani in Acireale, was driving up the switchback ribbon of road that climbs up the cliff side into Taormina, a town literally perched in the side of the mountain. It's easy to see why IC Bellagio recommends, and is able to score high-demand rooms for its clients at the Belmond Grand Timeo.
The hotel, which opened in 1873, is a magnificent, elegant and stately hotel with jaw dropping views of the Strait of Messina and Calabria on mainland Italy below and Mount Etna above. The properties location, with the cliff on one side and the ancient Greek Theater on the other, is actually in the center of Taormina which made it puzzling for me, driving my rental car, to find.
I panicked a number of times trying not to clog up the streets of what seemed like driving in a animated, antique, anthill. I used GPS but almost none of the roads are signposted and sometimes it seemed counter-intuitive to turn through an arch or onto a narrow, unlined street with storefronts on each side full of people walking in the middle of it and shopping.
Imagine your GPS insisting you turn into a shopping mall or drive down a sidewalk and you will get my drift. One of the streets leading to the hotel was accessible only by taxis; the other entrance to the hotel was to turn through a massive iron gate on a street well below the hotel which runs along the public gardens.
Once I cracked the code, picked the lock, solved the puzzle (with the help of strangers walking through town and a phone call to the front desk) I arrived in the hotel's shaded car park where I was greeted in a very warm fashion by a bellman named David.
"About 60-percent of the people who come here for the first time by car have the same trouble you did," he revealed in an attempt to soothe my ego. David also bolstered my esteem by answering my questions in Italian even though he knew my attempt to converse with him in Italiano revealed my limited ability and that I probably would not be able to understand his answer.
I was able to translate David's words when I heard him discreetly (and kindly) advise other hotel staffers, including the front desk attendants and waiters: "Signore Shiels piace parlare in Italiano." ("Mr. Shiels likes to be spoken to in Italian.")
The language of hospitality is universal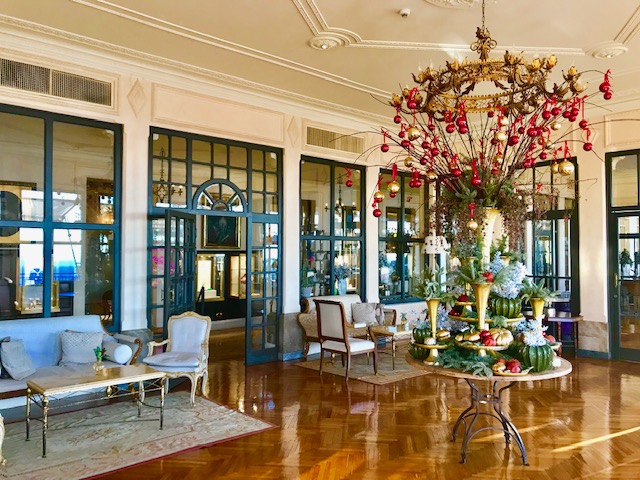 David was witty and popular. While chatting with him and another valet about the historic, palace-like hotel in front of its lush entrance, he joked, "I thought I lived an average life until I came to work at Grand Timeo. When I got here I realized what I considered average was actually poor!"
I was so depleted after my tense, stressful attempt to explore the intricate nooks and crannies on my drive from Catania to Taormina that when I was shown to my gorgeous room with its stunning view, I opened the balcony doors to allow the afternoon air in and fell asleep atop the bed for two hours. But before I drifted off, as I laid there in the fetal position on the percales, I cried "uncle" in an email I managed to send to Bellatti, my IC Bellagio guest ambassador.
I described, in the email, my cowardice in the car that day. I feared the dream itinerary she'd arranged for me the next day to scenic Savoca and the fortress of Forza d'Agro would turn into a nightmare with wimpy me at the wheel. So I apologized and asked her if she might have a contact willing to drive me through the day.
By the time I awakened from my nap Bellatti, without passing judgment on my lack of bravery, had made my dream come true, even on such short notice. A driver would pick me up at the hotel and steer me through the touring points on my itinerary the next day. My IC Bellagio guardian angel had saved me again!
The driver, a man named Lulian Motfolea, was an affable godsend who knew his way around the sunny Sicilian streets.
"I know what you mean about the roads in Italy," he sympathized. "I drove down once from Germany though Switzerland. I didn't need a sign to tell me when we crossed the border into Italy. I could tell by the roads."
Motfolea was also willing to snap photographs of me with people I met and in locations I visited since I was traveling unaccompanied. He played Sicilian music. The theme from "The Godfather" played on his car stereo and he made conversation – in Italian and English – even though he was from Eastern Europe.
The term "travel agent," isn't in common parlance in the age of internet hotel booking and Groupon discount vacations, but travel advisers do exist. IC Bellagio, as I experienced, focuses all of its inside access, experiential expertise, client care and feeding on travelers to Italy. Even during earthquakes and on short notice.
Michael Patrick Shiels is a radio host and travel blogger. Follow his adventures at GoWorldTravel.com/TravelTattler. You can contact him via [email protected]. 
Latest posts by Michael Patrick Shiels
(see all)