I noticed the Beverly Hills Courier morning newspaper on many driveways with the banner headline: "Fashion-Themed Holiday Décor Proposed for Rodeo Drive," which hardly could have been a scoop or surprise.
A star-seeking jaunt to Southern California's Los Angeles area indeed yields Hollywood experiences ranging in price from expensive to no cost at all. I endeavored to experience a combination of both over a few days in La La Land, beginning with an immediate stop, upon landing at LAX, at In and Out Burger, which is less than a mile from the rental car counter.
The "Double-Double Cheeseburger Combo" is about $9-dollars. After that burger in a box the price of exciting meals in L.A. soared like the jumbo jets flying in and out of LAX right over In and Out's outdoor tables.
The Beverly Hilton Hotel
I was flying high, though, while finishing my fries, I hit the jackpot on one of those last-minute lodging websites by using the feature in which you name your price and then are blindly "assigned" a hotel. I chirped out loud after rolling the dice and seeing I'd scored the Beverly Hilton for $150 per night (plus a $50 daily parking fee.)
Despite the bargain price I paid, staffers at the Beverly Hilton treated me like a celebrity. When I checked-in and noticed the key card for my room bore the logo of a glamorous annual star-studded event seen worldwide on television.
"Is this the venue of the Golden Globe Awards?" I asked Steve, the security guard next to the front desk who confirmed that it was. "Are they held in that ballroom right there?"
"They are. There in our International Ballroom," Steve answered. "Would you like to see it?"
"I would," I said, "but it is locked up."
"Meet me by the doors there. I have keys," Steve assured me, and then shortly thereafter emerged from inside the theater-type ballroom that has hosted red carpet show biz stars each January for more than 50 years. I was struck by how thoughtful Steve was to offer me the opportunity to see the tiered, auditorium-style space, which, while expansive, is as the cliché goes, is cozier than it looks on television.
Steve was patient while I snapped photos and climbed up and stood on center stage and pretended, I was presenting or winning a Golden Globe Award. The venue was empty but I even got a quick minute backstage and imagined ghosts of decades of high-powered performers walking back there, trophy in hand, after giving an excited, emotional acceptance speech at the ceremony. Steve pointed out where the actors and actresses such as Merryll Streep and Jack Nicholson who present and win awards such as "Best Actor" or "Best Actress" queue up to enter from outside the back of the ballroom when it is their turn to take the stage.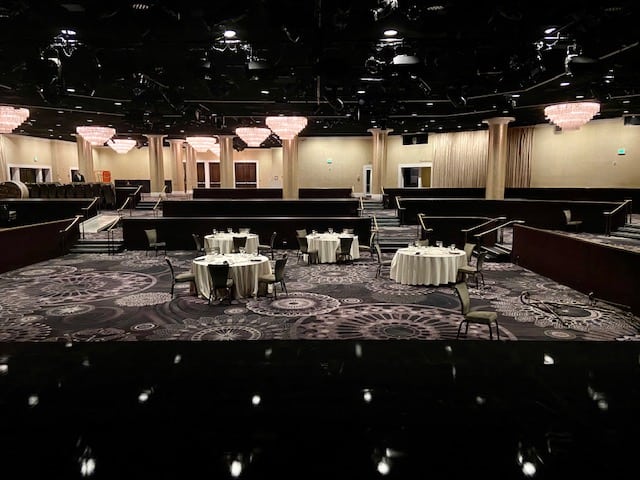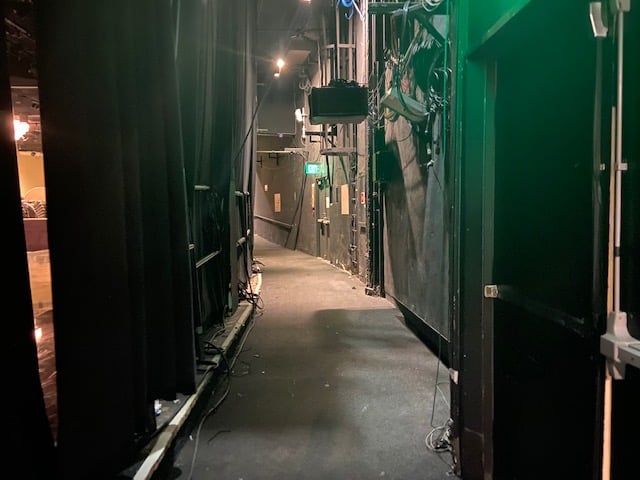 Pool Attendant Philosophy
The hotel's hallways – even the parking garage – were lined with Golden Age Hollywood photos of movie stars and the swimming pool, surrounded by suites, cabanas, and tables under umbrellas, had a certain glamor to it. Classic soundtrack and movie tunes scored the scene. I walked onto the pool deck with my requisite sunglasses on and was approached by a pool attendant named Alfredo. Carefully choosing the right chaise lounge at which to headquarter is decidedly a first-world problem, but he advised me with precision and seriousness.
"Do you prefer sun or shade, sir? Depending on how long you will be here, this chair will be in the sun about an hour from now if you'd like a little of both," he advised. It seemed like a reasonable compromise and when he'd finished placing the towels on and beside the chair, he wished me a "happy Social Friday."
"Alfredo, what is 'Social Friday?'" I asked him before he could walk away.
"'Social Friday' is when, after a week of work, you get together with friends and be social," he explained. "You block it all out and let it go. Focus on the moment. Remember, if you don't take good care of yourself nobody will."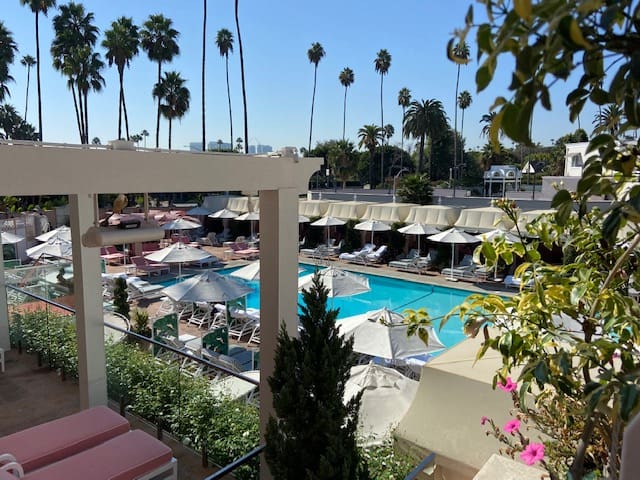 Good morning, Rodeo Drive
The Beverly Hilton is a fortress-type island to itself – a mainly corporate-style business enclave perched slightly above Beverly Hills. It was an easy walk from the circular valet entrance down to street level and four blocks or so over to Rodeo Drive where I would spend the sunny, warm morning window shopping, people watching and getting my steps in.
I wanted to see Spago, the famed Wolfgang Puck restaurant that hosted the après-Oscars party for so many years and in doing so passed all of the designer shops one might expect on such a gilded street.
I did stop in to Louis Vuitton, which had glass windows and a prominent corner spot. Inside there was lots of natural light and luxury. The sales attendant was somewhat less patient than Alfredo at the pool when I deliberated over a couple small gift items under glass.
After my eventual purchase, which I am certain would hardly affect the store's bottom line that day, she walked me to the door and I tried to melt the ice some with a little small talk.
"This is a nice store you have."
"Yes, it is," she confirmed without an ounce of irony.
The Beverly Hills Hotel
I walked up Rodeo Drive past the Gucci and Hermes shops and into the neighborhood on the other side of Santa Monica Boulevard not far from the Playboy Mansion.
Whilst walking I noticed the Beverly Hills Courier morning newspaper on many driveways with the banner headline: "Fashion-Themed Holiday Décor Proposed for Rodeo Drive," which hardly could have been a scoop or surprise.
The Pink Palace
At the top of the road, I reached the historic Beverly Hills Hotel – the stylish "Pink Palace" with its hideaway bungalows and the famed Polo Lounge, where at one time having a telephone brought to your table to take an important call bestowed a sense of immortality amongst the celebrity crowd.
Immortality, of late, for the timeless Polo Lounge, comes in the lyrics of a song by rappers Rick Ross and Drake singing about "Spaghetti Bolognese at the Polo Lounge." (a $52-dollar dish with 24-month parmesan.)
The McCarthy Salad, Tortilla Soup, and Steak Tartare and the power-diner classics of the Polo Lounge where inside it's a green and white candy-striped ceiling; outside it's palm trees and flowers.
"No Photographs" reads the sign on the gate leading down to the Beverly Hills Hotel pool, and with good reason, because descending into the enclosed, open-air pool deck is truly swimming or sunning with the stars.
The hotel recognizes its place in history with a museum-like display bearing of photos of the property and a timeline of important anecdotes on the lower hallway next to the expanded Fountain Coffee Room coffee and across from the gift shop.
I found the small store, with its colorful, classic items and logoed apparel irresistible. I shopped my way to the counter with two big, striped Beverly Hills Hotel beach towels; a palm-frond covered hotel cap evoking the verdant pathways to its secluded bungalows and Don Loper-designed wallpaper; and a teddy bear dressed as in the clothing Beverly Hills Hotel's pastry chef Brooke Martin would wear.
The woman behind the counter rang up the four items and, as I pulled my platinum Delta American Express card from my wallet, I chuckled when I mistakenly thought I heard her say "$437.00."
But it was no mistake.
And if I were called to "come on down" as a contestant on "The Price is Right," (which is staged nearby at CBS Television City), I would never have guessed the top-quality teddy bear to be the dearest of the items at $184.
I swear I could feel the teddy bear looking at me with disappointment (though the shop clerk didn't) when I replaced it on the counter with a pink Beverly Hills Hotel rubber duckie ($12.)
Johnny Carson Park
It didn't cost anything to visit Johnny Carson Park near the former NBC Studios in Burbank where the now late, late-night king drove from his home in Malibu to sit behind a desk hosting the Tonight Show in front of a studio audience for decades.
The park is between the Walt Disney Company Headquarters and Studios, which are appealing in appearance but inaccessible to the general public and Forest Lawn Cemetery, where many notables are laid to rest below Griffith Park. You will not, however, receive a "map of the stars graves," like you would of their homes on a requisite Hollywood tour. An exchange with the attendant in the entry booth when I pulled up went like this:
"Can I help you?"
"Yes, do you have a map of the grave sites?"
"I'm afraid I can't help you."
In any case Johnny Carson Park is not a theme park like Disneyland (which is 36 miles away down in Anaheim), but rather a parcel of land on Bob Hope Drive with trees and power lines behind Providence St. Joseph Medical Center. There is a bronze bust of Carson and a "Tonight Show Playground" amidst the picnicking people and the place has a Midwest humbleness that Carson, originally from Nebraska, supposedly did not always embrace.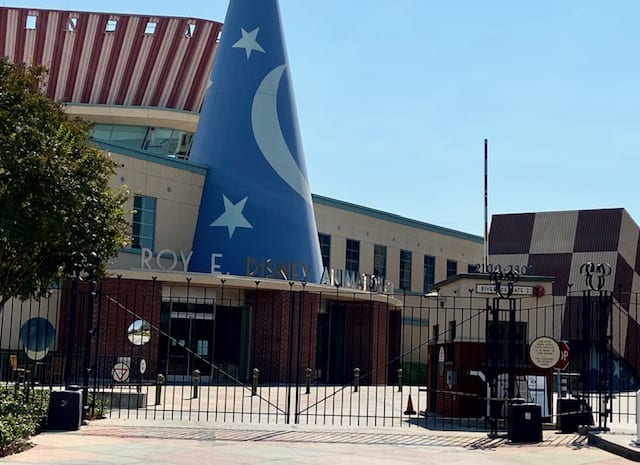 The Ivy and Shutters on the Beach
Some of my sightseeing in Southern California stayed behind the wheel as I motored from over scenic Mulholland Drive down onto Sunset Boulevard to see what was historically known as Grauman's Chinese Theatre and the Pantages down the Hollywood Walk of Fame – which in some dodgy areas I would run opt to down were I actually on foot.
But two modern-day showbiz stops I wanted to make were well-known for celebrity sightings and superstar stays — the Ivy Restaurant in Los Angeles and Shutters on the Beach, in Santa Monica.
The Ivy is a spot spied by the celebrity-seeking paparazzi and colorful to the cornea for the civilians. Its colorful cottage-style chic is eye candy as cute as its cuisine, including the Ricky's Fried Chicken with grilled corn, coleslaw and mango chutney consumed al fresco behind the weathered white picket fence by the glitterati (for $32 per plate.)
Monet himself would adore the colors inside which may mirror the Farmer's Market tangerine and passion fruit sorbet served for dessert.
Even lunch at 3:30 in the afternoon found all the tables taken amidst a big buzz.
Shutters on the Beach also has a cottage-style feel – a seaside hotel in Santa Monica sporting a Cape Cod-style look. Morning virtually on the sand with a view of the iconic pier and its amusements at the hotel's outdoor Coast restaurant meant Huevos Rancheros sunny side up with black beans, guacamole and a corn tortilla ($26.) Courtney Cox, Julia Roberts, Eva Longoria Christian Bale and many other actors and actresses have sampled Shutters and the 2003 film "Something's Got to Give" was shot at Shutters as a stand-in for the Hamptons.
And if you're into Pacific Ocean filming locations, just 10 minutes up the Pacific Coast Highway you'll find the Malibu Sport Fishing Pier, which was featured in the conclusion of the Liam Neeson, Famke Jansen thriller "Taken 2," shot in what is now the Malibu Farm Café at the end of the 780-foot, circa-1905 pier.
There is no stand-in for the excitement seemingly at the end of every pier and around every corner in the Los Angeles area.
Read more of Michael Patrick's work at The Travel Tattler, or contact him at [email protected]