"Avoid touching the walls. They're covered in poisonous paint," advises Nick Jackson, a bespectacled English bloke in a construction orange vest. "So touching the walls, licking the walls (has anyone ever actually DONE that, I wonder?)—not a good idea," he advises.
It's definitely the direst tour introduction I've ever heard, but this is hardly your typical "attraction." I'm huddled with perhaps 30 other tourists in a concrete passageway—the first of 30 rooms in a subterranean warren that twists and turns down three levels within the Gesundbrunnen U-bahn station in Berlin.
I'll only spend 90 minutes in these dank chambers, but between 1941 and 1945, up to 5,000 Germans at a time whiled away countless hours in this dim labyrinth, illuminated by toxic glow-in-the-dark paint, listening for the drone of airplane engines and the booming of bombs.
"Above ground, there's very little left from the Second World War, but underground, everything the Nazis (which he pronounces 'Nasties') built or used is roughly still here," explains Jackson, who leads this "Dark Worlds" tour for the Berliner Unterwelten, an association dedicated to documenting the city's air raid shelters, caverns and abandoned railway tunnels.
The government is adamant about avoiding the creation of any kind of shrine to the Nazis, who perpetrated such unimaginable horrors. But because civilians used this bunker, rather than the regime, visitors are allowed to explore it with a guide, and the experience offers a grim glimpse into the wartime uncertainties and fears that gripped Europe in the 40s.
"Ninety percent of Berlin was damaged; 27 percent was smashed to bits," Jackson reveals. Air raids were so frequent that Berliners rushed to shelters roughly every 48 hours.
"There was no reserved seating. There were tales of people being crushed to death," our guide says, leading us through a doorway marked "Zum Frauen-Abort." In this passage—the women's bathroom–about half-a-dozen toilets line one wall. "Getting to the restroom took hours. Never enough for the ladies, is there?" Jackson quips, before undermining his momentary levity by revealing that the cubicles around the toilets were removed after desperate souls took advantage of the locking doors to commit suicide.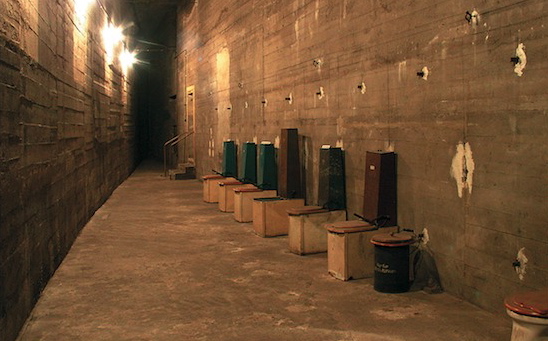 Down a flight of stairs, we find two glass cases featuring artifacts like gas masks—made by slave labor from concentration camps—and a board game that taught children what to do in a bomb raid. "If you win the game, you survive, and mum makes you tea," Jackson concludes wryly.
One display case is chock-a-block with objects constructed from the detritus of war, like shoes made out of tire rubber. Others feature relics from a Nazi bunker, including an Enigma machine, a pin and button emblazoned with swastikas, a blood pressure cuff, and—bizarrely—a ceramic bunny and figurine of what appears to be Snow White and the seven dwarves.
An entire room is devoted to the possessions of dead soldiers–helmets with telltale holes, pistols, a pipe and dentures. Jackson pauses in front of a case filled with items that belonged to a fellow called Schneider. "He was a bit flash. Had big feet," our guide says, gesturing to the large worn boots that lay alongside a watch, gas mask, toothbrush, comb and condoms. "He never got around to using the condoms," Jackson notes.
We emerge from the maze a more sober, silent group than when we entered, breathing the fresh air gratefully into our lungs. Jackson, having revisited the squalid senselessness of war 100 times or more, squares his shoulders and leaves the dark world behind, heading into the sunlight in search of a curry.
If You Go
Berliner Unterwelten "Dark Worlds Tour 1"
More information: Berlin Tourism
Author Bio: Amy Laughinghouse is a freelance writer based in London. Follow her on Twitter at @A_Laughinghouse or visit her website: www.AmyLaughinghouse.com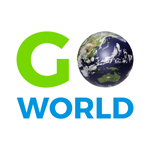 Latest posts by Go World Travel Magazine
(see all)