"People come to Belize for culture and adventure."
-Andrew Usher, managing director of Sirenian Bay Resort and Villas in Placencia.
Many readers and friends perked up when I told them I was traveling to Belize. They told me:
"I have always wanted to go there."
"Please send me photos!"
"My honeymoon was there 20 years ago…I have been single now for 17 years."
Getting to Belize was easier than I thought. All it took was a two-hour flight from Miami to Belize City followed by either a three-hour car ride or a 30-minute, scenic, Tropic Air puddle jump flight aboard a 12-seat prop plane to Placencia – the little village where I found big fun.
God Save the King – Understanding Belizean Rule
I happened to be visiting the Central American sunspot during the funeral of Her Majesty Queen Elizabeth II, a day which Belize, still a proud British Commonwealth Country, had declared a National Day of Remembrance. Ironically, English-speaking Belize that week, September 21, also celebrated its 1981 Independence Day from that very same empire. Well, sort of.
"It's a double-edged sword, I suppose," admitted Andrew Usher, managing director of the blissfully boutique Sirenian Bay Resort and Villas, in Palencia, Belize. "We are part of the Commonwealth, so the monarch, now King Charles, is still the head of state for our country. Belize also has a Governor General and a Prime Minister."
Usher recalls, as a 16-year-old student, seeing Queen Elizabeth's motorcade drive by as his classmates lined the streets during a royal visit. It wasn't the only royal encounter for his family that day.
"My father was a commercial pilot working at the airport she flew into. He laid the stool down for the Queen to step out of her aircraft," Usher recalled.
Independence Day Celebrations on the Road and Over the Top
Try to keep up:
While you can experience traditional native music such as Garifuna drummers, Maya culture and language, English is widely spoken in Belize…and U.S. currency is acceptable everywhere. American Express cards are accepted nowhere in Belize. Belize is in the Mountain time zone – similar to Denver.
"We're a melting pot. We're many different cultures," Usher insisted. "We identify more with the Caribbean because of the British, but we are actually in Central America, with Mexico to our north and Guatemala to our south and west with the Caribbean Sea to our east.
To top it all off, Sirenian Bay Resort and Villas was founded as a retirement project around 2019 by Texans: Brian Montgomery and his wife Brenda.
I found Belizeans, including Usher, to be both proud and welcoming to visitors. Independence Day in Palencia lasted all day. It was a colorful, all day (and night) bash.
"People take to the streets, dress up and party," said Usher, making it sound simple.
I witnessed everything from a 2 a.m. mudslinging musical procession to a noontime, broad daylight, carnival-style parade with troupes of costumed dancers filling the street with splashy colors and fun. I dodged the sun by spotting the floats rolled down the lane from the covered patio of "Strange" – a former coffeehouse-turned bar – where a server named Kamille, dressed in the red, white and blue colors of the Belizean flag, welcomed me in with a bright smile and a cold Beliken beer.
As I sipped the suds, Kamille told me she was one of 11 children in her family and that her father now lived in The Netherlands.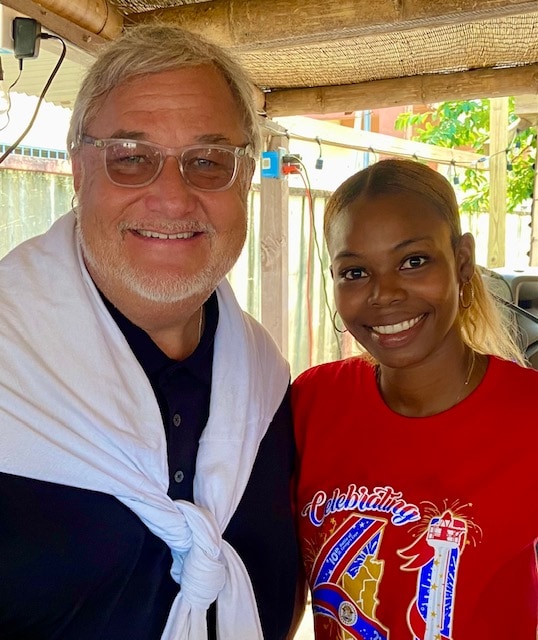 Sirenian Bay
Kamille wasn't the only one to welcome me with drinks. Upon arrival at Sirenian Bay Resort I encountered a tall Belizean with an equally shiny smile and delightful demeanor named George balancing a teetering tray full of neon green drinks in tall glasses. (I only took one, by the way.)
George was also a driver for the resort, picking guests up from Placencia's airstrip or Belize City Airport and bringing them to the peaceful little resort while entertaining and informing them along the way. George had lots of local knowledge and even was acquainted with Kamille at Strange.
Another Belizean Tiffany, who managed the front desk (literally one desk) and served as concierge, had a handle on everything at the gated compound, which included a variety of different cottages and houses surrounding a stylish pool with a Snooty's tiki hut, swim-up bar, and jacuzzi. It's a flower-filled setting facing the bright sandy beach and light blue sea.
So personal and warm was the attention and service that all of the Sirenian Bay Resort and Villa's staff knew and used my name, and I learned it was Tiffany's son David's sixth birthday.
"I am going home for his party after he gets back from fishing. He loves fishing," she said. "He fishes every day."
Tiffany said she planned to give David some books for his birthday. I suggested, since David loves fishing, she should procure Ernest Hemingway's Old Man and the Sea, which is set in nearby Cuba and featured a young boy who loved to fish. I handed her some money to buy the book as a show of my appreciation for her friendly nature.
I also discovered that Charles, the friendly and slightly sassy bartender at Snooty's, blended up delicious chocolate mudslide drinks…a flavor foreshadowing my spa treatment.
There seemed to be a coincidental preponderance of Texans at the bar, except for one woman who'd won the trip to Sirenian Bay in a trivia contest she'd entered on the Live with Kelly and Ryan television show Regis Philbin founded. She brought her aunt with her.
"I'm Victoria Mildenberger from Vancouver, Washington, U.S.A.," she told me as if she were appearing on the show. "I watch the show and enter the contest on their website every day. I've won the contest three times! And here I am enjoying the weather in Belize!"
Sirenian Bay is a Home Sweet Home Base
With its outdoor showers, elaborate mini-golf course (Hollywood director Sofia Coppola enjoys playing putt-putt there); pickleball; fitness center; organic garden; kayaks; both gourmet and casual dining and beverage choices, Sirenian Bay Resort and Villas keeps guests entertained, active, relaxed and satiated.
Restaurant options include both gourmet and casual dining and beverage choices: Inky's 19th Hole; Beach Grille; three60 Martini Bar; and, if you desire, room service.
One evening I enjoyed the resort's "Belize Culinary Dining Experience." You can sample a Garifuna favorite: Fish Sere, which is a creamy coconut chowder with fish, plantains, and root vegetables.
Pork Pibil Salbutes, a puffy, fried, handcrafted tortilla street food created by the Yucatan Mayans. It's layered with meat or seafood, lettuce, cabbage, and pickled red onion is also served. Next comes Bollito De Chaya: spinach tamales topped with tomato and cheese.
Desert was a Sweet Potato Pone a la Mode with raisins, coconut milk, and soursop, one of Belize's favorite fruits.
Savory and Sweet
Sirenian Bay is a sweet experience – literally – when it comes to chocolate, a beloved Belizean product. One is on-property…one is off.
At Siren's Spa I signed up for a unique cacao exfoliating chocolate body wrap and mask treatment. After an hour at the hands of the instructive therapist Jennifer (who is Charles the bartender's wife, by the way), I'd learned a great deal about chocolate, and my entire body looked like a Hershey Bar. (Or, more accurately to body type, a Hershey's Kiss.) I showered off all the chocolate in the treatment room but, somewhat pleasantly, my pour has an aroma of poured chocolate for a couple days.
Since I would be going snorkeling, I Googled whether or not sharks like chocolate?
In terms of my own bite, the spa therapist was thoughtful enough to realize all of that aroma would provoke a craving, so they sent me away with an organic, local, dark chocolate bar.
The next day I learned, firsthand, the truth about the treat during an excursion to a chocolate farm in Ixcacao. A charming man named Pablo and his three-generation family, living on a small farm with no electricity, put on a presentation that began with making tortillas with his mother and concluded with eating them at a lunch prepared by his wife while we watched his wife daughter dance, in traditional Maya local clothing, to a xylophone performance put on by his father!
In between, the small group of Americans was led up into the trees to see the cocoa beans in their natural environment and follow (and taste) the process of production from peeling, drying, roasting and grinding. (I bet you'd like some chocolate right now, eh?)
"Mother Nature's Best-Kept Secret"
"People come to Belize for culture and adventure," said Usher. Sirenian Bay Resort and Villas is even named for manatees. Sirenians are one of three species of manatees (or sea cows.) The name sirenia is derived from the "sirens" of Greek mythology that drew sailors to the sometimes-perilous shore with their songs. Yes, mermaids of lore may have actually been sea cows.
The shores weren't perilous at all, though, aboard an aquatic half- day trip on Captain Jak's snorkeling adventure. The Captain Jak's operation is owned by Sirenian Bay Resort and Villas, which means it carries the same high standard of quality the resort does.
Captain Jak's provides all of the gear needed.
"What size flippers do you need?" one of the guides asked me at the dock. "What shoe size are you?"
"14," I answered.
"Then you don't need flippers!" he joked.
Sure enough they brought out a pair of 14's.
A nice, big dive boat pulls out of Placencia and out to Silk and Moho Caye, plus a tiny, patrolled, national park island, where a local guide named Moses jumped into the impossibly warm water with us to swim along leading us on an hour-long snorkel safari. I liked having him there to point things out such as sea turtles, manta rays, harmless nurse sharks, types of coral, conch, and colorful fish. Moses helped us avoid the non-poisonous jellyfish, which were delicate and intriguing to look at underwater.
Following the swim, a prepared local picnic lunch was served on the island. (Bring your own beer, though, which you can get in a market across the street from the dock.) A little hammock and Adirondack chair time – or more swimming if you wish in the Gatorade azure waters – was built in before returning to Placencia.
It was a top-class experience.
And you won't need to bring your own booze back to Sirenian Bay Resort and Spa – they can even arrange a rum master class and a wine tasting experience.
Land, Sea and Sky
You might need a drink before engaging in one of Belize's other adventure activities: zip lining!
Another half-day excursion takes guests via van to Mayan Sky Adventure Center, where you can not only zip line on what's called a "canopy tour" atop and through the trees, but you can also go tubing in Stann Creek or swim in the Mayan King waterfall.
A number of people in my small group had never ziplined before, most of them (translation I chickened out and didn't try it) tried it for the first time and enjoyed it.
One of the guides poked around in the tropical forest trying to find a tarantula spider to show us. I, for one, was relieved that any that may have been there were able to elude him!
You won't let a return trip to Belize evade you once you've visited Sirenian Bay Resort and Villas.
Say "hi" to everyone for me!
Read more on Michael Patrick Shiels' travel blog, The Travel Tattler. Contact Travel Writer Michael Patrick Shiels at [email protected]
Latest posts by Michael Patrick Shiels
(see all)