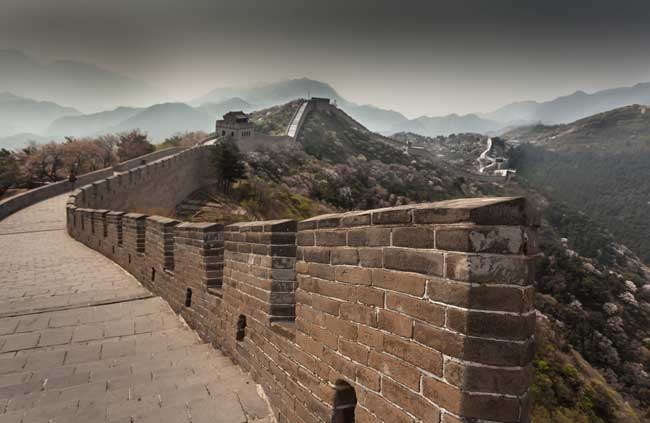 There's been a lot of talk in the news lately about building great walls to protect borders. But border walls are nothing new. And one of the biggest, farthest-reaching, and oldest border walls designed to keep outsiders outside is just outside Bejing, China.
Recently, during our travel in China, my daughter and I took a walk along part of the Great Wall of China.
Visit the Great Wall of China
Like most who visit the Great Wall of China, Nicole and I made our base in Beijing. Locals in Beijing say that if you look to the sky and see blue, you should play your lo\ttery numbers. Pollution has made air conditions harsh, and the forecast on most days — rain or shine — is smoggy.
That wasn't the case on the morning that we left the busy city of Beijing for one of the most visited tourist attractions of China — and the very symbol of the ancient nation's resolve to protect itself from the outside world.
When we arrived by bus to the Great Wall of China, we found it to be as impressive as we imagined it would be — and we only saw a tiny portion of it. "Tiny" didn't seem like the right adjective at the time, however, as we approached and proceeded along a portion of the great stone walkway.
The full wall snakes through the mountains and valleys of foliage and desert for thousands of miles. The Great Wall originated as a series of individual walls, but between 221 and 210 B.C., a unified China unified the wall, fortifying the smaller walls already there and connecting them with more wall. Today, it continues to stand as the largest man-made structure in the world.
The genius of the wall was not that it was so tall and strong. It's that every single section of the wall is within reach of a bowman's arrow from a tower, meaning that no part of the wall went unprotected. The towers also served as beacons, so it made for an easy and fast way to send an alert from one part of the wall — or China — to another. Messages could be sent quickly from one tower to another by fire, smoke, flares, drums, or bells.
"Like an ancient instant-messaging app," our guide offered, cell phone in hand.
The wall also offered a means of base and protection for troops traveling from one part of China to another. Camp always remained permanently set just beside the wall.
We felt something like troops ourselves as we sweated our way up the wall at Juyong Pass, the most popular section of the wall for tourists due to its proximity to Beijing. We climbed narrow and uneven stairs built centuries ago. We made it up through three towers, the crumbling stairs extremely steep and uneven.
The railings were so low that only the smallest children could take advantage of them — unless you decided to crawl. It took a lot of effort and energy to walk the wall, even just for a couple hours. It's a good thing our guide reminded us earlier that morning to wear good footwear (hiking shoes), and gave us water bottles to carry with us as we went. Those bottles were empty by the time we made it back down the wall.
We climbed to the top of one of the watchtowers. To get to the top, we had to navigate extremely narrow stairs that were so steep we had to use our hands and feet at the same time, balancing ourselves as we went up and down. They were more like stone ladders than stairs.
Continued on next page