Autumn in Scotland is one of the best times to visit and enjoy the changing of the seasons. Crisp weather, dry conditions and the thick woodland turning from green to golds and reds. Furthermore, there is no better destination than the very heart of Scotland.
Perthshire, otherwise known as Big Tree Country, is in the heart of Scotland. And autumn is the best time for a journey through this beautiful area.
Following is a list of places to enjoy Perthshire, Scotland in autumn. All the stops are easily accessible from the main A9 road running between Perth and Inverness. Less than one and a half hours from both Glasgow and Edinburgh, together these make a simple and inexpensive day trip.
Experience Autumn in Scotland's Big Tree Country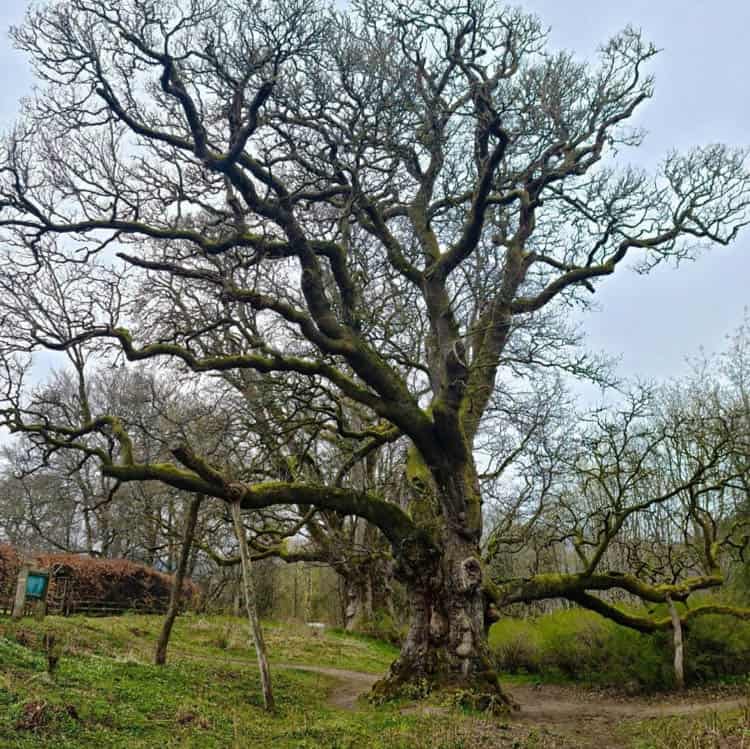 Birnam Oak
When it comes to trees, you won't find one much more historic than the 600-year-old Birnam Oak. If you enjoy Shakespeare, then you might recognise the name Birnam from "The Scottish Play". The three witches tell Macbeth that he won't be defeated until the Great Birnam Wood comes to Dunsinane Hill.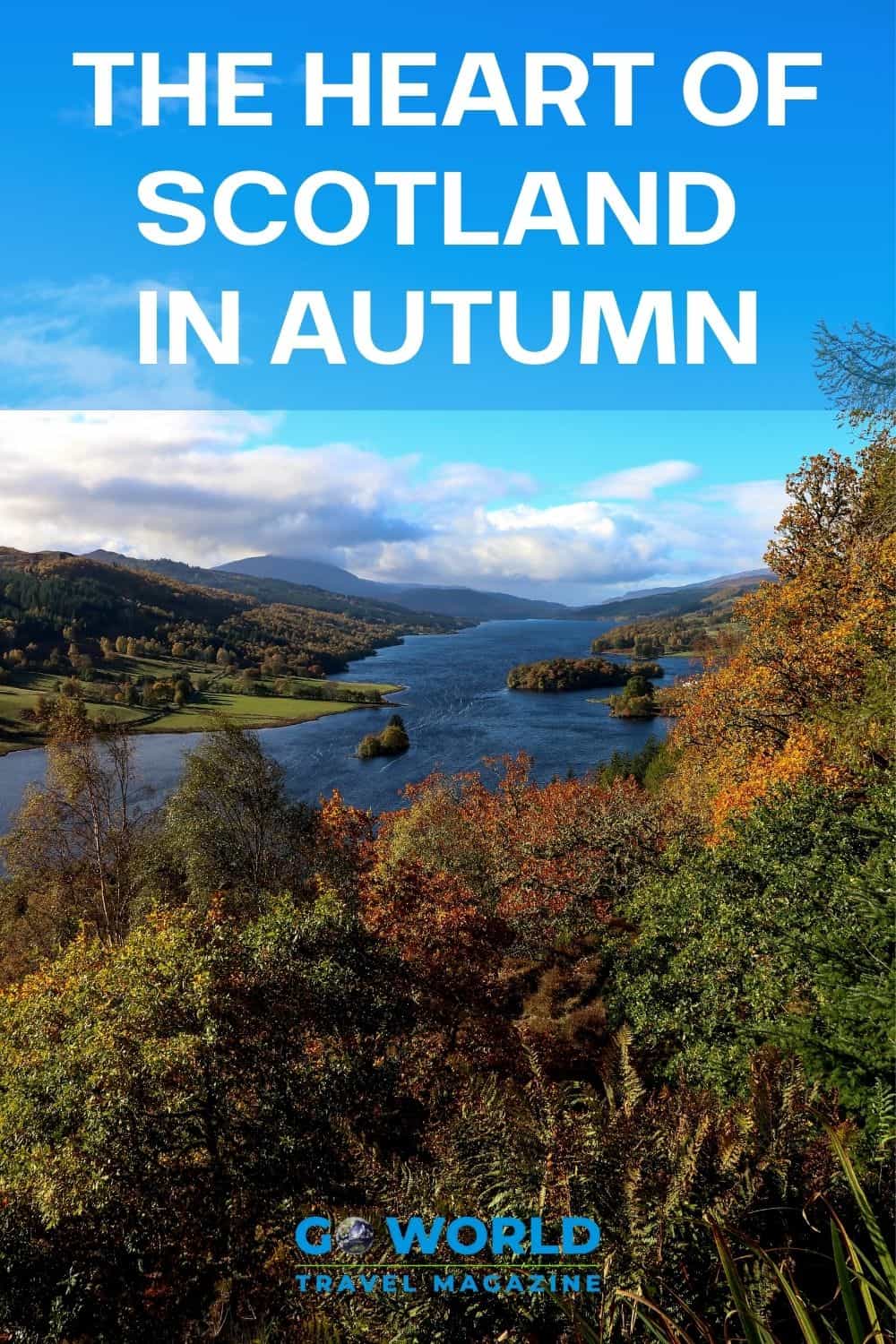 Confident that trees don't move, Macbeth thinks himself invincible until the enemy army used branches from the ancient oak trees to disguise their movements.
The Birnham Oak is all that remains of the Birnam Wood. It isn't quite old enough to have been around in Macbeth's day. However, Shakespeare did get the inspiration for Macbeth while performing plays in Perthshire in 1589. That means he may have come face to face with this very tree.
Even if old trees aren't your thing, Birnam Oak is a tranquil riverside walk to explore on your journey through Perthshire. There is lots of free parking in Birnam Village and then it's a short walk down "Oak Road". Turn left at the riverside path and keep your eyes open for the Birnam Oak.
Dunkeld
Dunkeld is a picturesque little town on the other side of the river from Birnam. There are plenty of historic buildings, but Dunkeld Cathedral is by far the most interesting. This romantic church has its roots in an 8th-century monastery which quickly became the religious centre of Scotland.
The cathedral eventually fell from grace but today you will find it a quiet spot to relax by the river. Dunkeld Cathedral is free to visit inside but occasionally closed for conservation work.
Elsewhere in Dunkeld, you'll find great bakeries and sandwich shops to stock up for the rest of your journey. The Scottish Deli and the ARAN bakery are incredibly popular while the Dunkeld Fish Bar frequently wins awards for their fish and chips.
Hermitage
No autumn journey around Perthshire is complete without a visit to the Hermitage. This is one of Scotland's most popular woodland walks among some of the tallest trees in the country.
The Hermitage is best enjoyed in its vibrant coat of autumn colours along with the crunch of fallen leaves underfoot. There are options for every level of walker from a flat 30 minutes to the more strenuous hike to Pinecone Point.
The highlight of the walk is Ossian's Hall which juts out dramatically over an impressive waterfall. As you walk through the small building the sound of water rises steadily.
When the door to the balcony is opened, you're met with the crashing sound of a torrent right below your feet. It's unbelievably atmospheric and one of the best viewpoints of Scotland in autumn.
Keep walking up the path alongside the river and you will eventually come to the Hermit's Cave. It was built as a feature in the 18th Century and even advertised for a permanent hermit to live here as an attraction.
The Hermitage is free to walk around but has a £3 car park charge if you aren't a National Trust member.
Killiecrankie
The wonderfully named Killiecrankie is a tranquil place today, perfect for walks and wildlife. Things weren't always so peaceful, however. In 1689, the Jacobites won a great battle on the slopes of this Perthshire gorge.
They were outnumbered at least 2-1 by the government army but they believed in their cause. With their leader Bonnie Dundee, the fearless warriors charged headfirst down the hill straight at the enemy.
With the sun in their eyes and angry clansmen racing towards them, the government soldiers panicked. They ran in every direction to save their skin.
One man grabbed a horse and tried to ride to safety but he was knocked to the ground instead. He realised his only escape was across the River Garry. In a daring feat, he jumped the 18ft gap now known as Soldier's Leap.
Killiecrankie has well-signposted trails to viewpoints and down to the riverside. It's free to walk around but has a £3 car park charge if you aren't a National Trust member.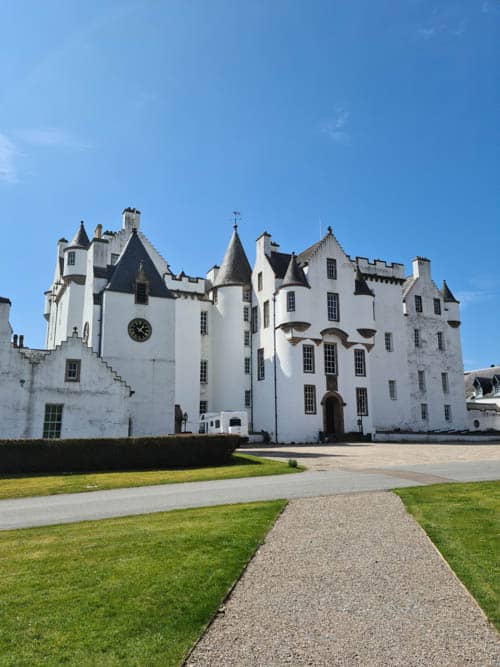 Blair Castle
Blair Castle is an iconic, bright white guardian of the road through Perthshire. It's the ancestral home of the Duke of Atholl and Clan Murray. Additionally, it's the headquarters of the only remaining private army in the United Kingdom.
The oldest part of Blair Castle is called the Comyn Tower, but this was never Comyn territory. Back in the 13th century, while the Earl of Atholl was away on crusade, John Comyn saw an opportunity. He built his own castle here hoping nobody would notice and that Atholl wouldn't return alive.
When the Earl came home safely he quickly kicked Comyn out and used the tower as the basis for Blair Castle.
Discover centuries of stories packed into these walls, visited by monarchs, and decorated with hundreds of antlers and historic weaponry. Blair Castle is currently open 10:00-17:30 and costs £15 for an adult.
Queen's View
Queen's View is a popular stop with a watercolour inspiring scene across Loch Tummel. If the weather is clear and your eyes are good, then you can see all the way west to Glencoe.
Queen Victoria famously visited and assumed that this spectacular viewpoint had been named for her. Nobody was brave enough to tell her that it had been called Queen's View for over 500 years.
While this iconic Perthshire attraction is great at any time of year, it's Scotland's autumn colours on a clear day that make it perfect.
Queen's View has a free visitor centre and café while the car park costs £2 for the day.
Schiehallion
Schiehallion is a prominent Munro (any hill over 3000ft) that translates from Gaelic as the fairy hill of the Caledonians. It's a special place with a magical presence in the very heart of Scotland. Autumn is the best time to hike here and it's easy to access.
During autumn in Scotland, the days are still long enough to make the journey, the bugs have started to disappear and the weather is usually cooler so you can enjoy working up a sweat.
Its prominent shape, rising solitary from the landscape, make it an unmistakable landmark for miles around. If you have 4 to 6 hours free for the 10 km hike you'll be rewarded with an incredible view at the top out over Perthshire.
It's a popular walk from the Braes of Foss car park over a firm track and this makes a really rewarding hike for a beginner.
The Braes of Foss car park costs £2 for the entire day.
Book This Trip
Start planning your fall vacation across Scotland. Find delicious local restaurants, hotel and VRBO options, insider tips on the best nature sights and more through TripAdvisor and Travelocity. For all your transportation needs, train tickets and flight deals to Scotland check out Omio Travel Partner.
Author's Bio: Graeme is the writer and storyteller behind Scotland's Stories. In love with the history and folklore of Scotland, his mission is to share these stories in an engaging way to help people appreciate their travel more.