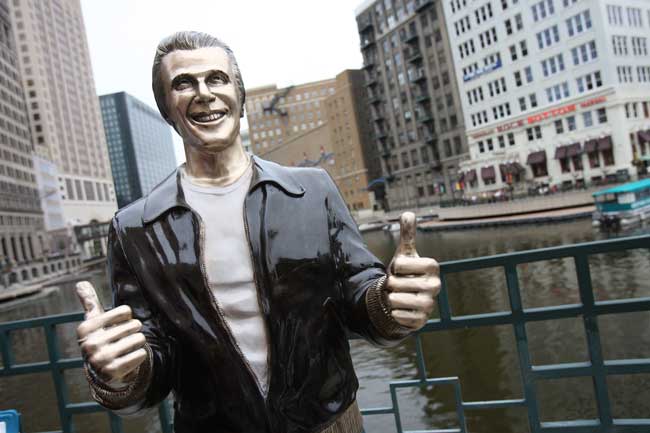 Traditional Favourites
Cheese. Check. Sausage. Check. Beer. Well, of course. Check. When you visit Milwaukee, Wisconsin, you can expect these traditional favorites that have put this American Midwestern town on the map.
What you may not be expecting during your travel in Milwaukee is such a vibrant arts scene. But as sure as Harley Davidson rules the road.
Milwaukee's museums and artists are inspiring many to take a road trip to this city on the edge of Lake Michigan.
Milwaukee Art Museum
The Milwaukee Art Museum is already a favorite destination for tourists and locals alike. Annually, 400,000 visit this gem for the treasures on the inside and to take in the amazing architecture outside.
Its stunning setting along Lake Michigan certainly allows for great views, but simply viewing this "winged" building itself is a treat for the eyes.
What's with those wings? According to the Museum, "The Museum's signature wings, the Burke Brise Soleil, form a moveable sunscreen with a 217-foot wingspan.
The brise soleil is made up of 72 steel fins, ranging in length from 26 to 105 feet. The entire structure weighs 90 tons.
It takes 3.5 minutes for the wings to open or close." The "wings" open at 10 a.m. in accordance with regular days of operation, close/reopen (flap) at noon.
It closes at 5 p.m. (8 p.m. on Thursdays). (Schedule is subject to change without advance notice due to weather/maintenance.)
The Museum completed a renovation in late 2015 of their permanent collection galleries to make way for new spaces.
The additional 25,000 square feet of new gallery space allows for 2,500 works from the Museum's Collection to be placed on view.
Visitors will now be able to see 1,000 more works of art from the 30,000 objects the Museum houses.
The additional space includes a new changing gallery, at 4,000 square feet, bringing the exhibition space within the Museum to 156,000 square feet.
Also new within the Museum is the Herzfeld Center for Photography and Media Arts, located on the lower level.
Dedicated to the presentation of photography, film, video, and light installations, the center offers a twenty-first-century approach to exploring light-based media and covers 10,000 square feet.
Grohmann Museum
In the heart of downtown Milwaukee, you will find the Grohmann Museum.
Dedicated to art depicting the working man (and woman), the Man at Work Collection showcases more than 1,000 pieces lovingly collected and donated by Dr. Eckhart Grohmann.
Paintings, sculptures and other works are on display inside a building which is part of the Milwaukee School of Engineering.
Not only is this a museum well worth a visit for its visual narration of the progress of work and industry through generations and the wonderful rooftop sculpture garden, this is currently a place of work and education.
You'll see offices belonging to School staffers lining the galleries.
The building itself is a work of art. On the corner of a city street, this modern structure has floor-to-ceiling windows in its entry and you will want to look down to see the mosaic created to highlight people depicted in other works.
Look up to see the intricate mural on the ceiling with representations of true innovators. Over 400 years of history are documented with pieces from around the world depicted the evolution of work.
Haggerty Museum of Art
At Marquette University's urban campus, you will be delighted to discover the modern temporary exhibits on display at the Haggerty Museum of Art.
In its permanent collection, they have 4,000 pieces with some on display, but the driver here is the celebration of contemporary artists.
Many of them Wisconsin natives as well as artists from Europe, Asia, Africa and Latin America.
While on campus, take the time to walk around the lovely greens and be sure to visit the St. Joan of Arc Chapel.
This European medieval structure was built south of Lyon in France and survived the several conflicts before finding its way to the United States.
Painstakingly reassembled in Long Island in 1926, the St. Joan of Arc Chapel remained there (escaping a fire in yet another close call) until Mr. and Mrs. Marc J. Rojtman took over that estate and donated it to the University in 1964.
Rebuilt yet again in 1965, it's a beloved and sacred place.
Florentine Opera Company
Milwaukee happens to be home to the country's 6th oldest opera company, the Florentine Opera Company. Several productions are performed each season at downtown's Marcus Center for the performing arts.
Founded in 1933, it is the oldest fully professional performing arts organization in Wisconsin. Notable performers including, Jose Carreras, Luciano Pavarotti and Beverly Sills have shared the stage with this fine group of performers.
For more than 60 years, the Milwaukee Repertory Theater has been recognized nationally as one of the top regional theaters in the country. Drama, comedy, musicals – it's all here and is seriously entertaining.
Other wonderful performing arts opportunities at the Marcus Center include the Broadway series, and the Milwaukee Ballet, which presents more than 40 performances annually including classics and new works.
The Milwaukee Symphony Orchestra is another hometown mainstay, founded in 1959 and performing everything from classics to Disney.
Broadway Theatre Center
In the Historic Third Ward, you'll find the lovely Broadway Theatre Center which features the Cabot Theatre, a replica of an 18th-century European opera house and the smaller Studio Theatre.
This is also home to the Skylight Music Theatre, Milwaukee Chamber Theatre and Renaissance Theater works.
Since Milwaukee is known as "Festival City," you'll find art and music in many area parks and in the city on the weekends. Keep an eye out for gallery nights, pop-up galleries, street performers and architectural tours.
Where to Stay in Milwaukee
The historic Pfister Hotel has been hosting guests for generations with luxury accommodations, great food and wonderful views (and cocktails) from its Blu Bar.
It is located on the 23rd floor with the views of downtown Milwaukee and Lake Michigan.
The Pfister has a marvelous collection of Victorian art. In fact, it's one of the largest hotel collections of this type and numbers over 80 pieces.
Dotting the public areas (and free and open to all), you'll be delighted in the collection. The Pfister's love of art does not end there. Since 2009, the hotel has done something very rare – it hosts an artist-in-residence.
Whether you prefer your art on the wall, on the stage, on the street or simply wish to pay homage to the Bronze Fonz, Milwaukee has you covered. Cheese not required.
For more information about visiting Milwaukee, go to: www.visitmilwaukee.org.
Author Bio: Mary Casey-Sturk is a freelance travel, food, wine and features writer based in Greater Cincinnati. Publications have included: the Cincinnati Enquirer, the Tennessean, Smoky Mountain Living Magazine, Venice Gondolier Sun, Nashville Arts Magazine, Indianapolis Star, Northern Kentucky Magazine, Cincy Magazine, Dayton Parent Magazine, Edible Ohio Valley, Hyde Park Living Magazine and others.