Steeple bells are chiming; it must be time for afternoon wine tasting at Allegretto Vineyard Resort in Paso Robles wine country. We happily oblige!
This Tuscany-style villa in the heart of California's Central Coast rests in the midst of 20 acres of vineyards, olive trees and fruit orchards.Though it lies barely off Highway 101, the property seems miles away from civilization and is as serene as a sunset and just as pretty. Statues, sculptures, antiques and other objet d'art beautify indoor and outdoor spaces.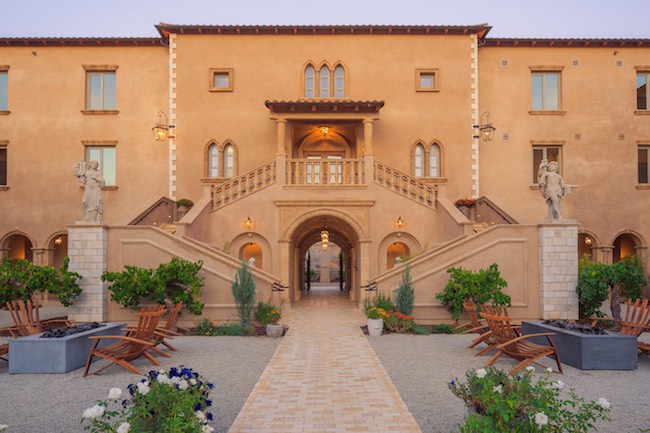 Allegretto Unique Art and Architecture
It's the amazing art and architecture that set this resort apart. For instance, there's a chapel with stained glass windows that filter sunlight at the right time of day. And the world's first Sonic Labyrinth has its home here. "Sound Circle" emanates sounds of wind instruments as you walk mindfully through the maze. This transformative experience goes hand in hand with the resort's spa and wellness offerings.
"Allegretto is a sacred place," said its founder and visionary Douglas Ayres. A member of the Ayres Hotel family, Douglas envisioned his own resort as a sort of sanctuary. After losing his son in a car accident, he traveled the world soul-searching and came back to build his resort with purpose and mindfulness. Indeed, the name Allegretto is a musical term meaning moderate tempo, harmony. Moreover, its logo is a sacred geometry symbol for luck.
The varied artwork he collected from around the world reflects Ayres' spiritual sensibilities. For example, there's wall plaster made of crushed marble from the Holy Land, an ancient Egyptian obelisk, yard swings from India, and a remarkable cross-section of a giant 2,000-year-old Sequoia tree whose rings give an amazing timeline of history. "I am joyed to preserve this piece of world history for our guests to see and have new thoughts as the tree becomes a portal of inspiration into the universal Life Force," Ayres' inscription reads. That's the kind of guy he is.
The concierge offers an art tour. Take it! The place is a veritable museum, and inspirational too!
Checking In
After parking in the free front lot (there's also valet parking for $20 per day), we enter the spacious lobby from the porte cochère. Immediately, we feel this place is special. Large vintage photos behind the desk impart a sense of place while a traditional double-sided marble staircase invites us to stay.
As is the style of European villas, a courtyard, Piazza Magica, is the centerpiece. Here, we find fire pits with Adirondack chairs repurposed from staves of wine barrels gathered round and an artistic symbolic fountain in the center. It's a peaceful, restful, beautiful space. At night, creative lighting generates an intoxicating ambiance.
Rooms at Allegretto
The Old World motif carries through in the 171 rooms, with warm gold walls and rich jewel tones in bedding and curtains. A desk and sleeper-sofa, plus TV, WiFi, fridge, coffeemaker, robes and slippers round out the amenities in our king room. The bathroom is spacious with two sinks and great lighting.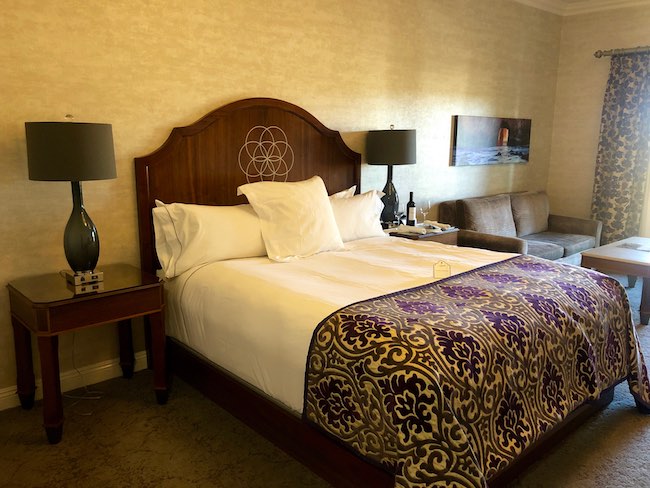 A highlight is the little balcony overlooking the vineyard, reminding us we are in wine country!
Besides outdoor venues, common areas include a ballroom and convention center, private dining rooms and this relaxing room with a fireplace.
Dining at Allegretto
Our first taste of Allegretto's cuisine comes with our afternoon wine tasting ($15 for resort guests) in the piazza. We order a beautiful charcuterie platter to accompany our sampling of some of Pablo Robles' finest wines, including the award-winning 2015 Cab from Willow Creek, a winery owned by Allegretto. There's also an indoor tasting room.
Cello Ristorante and Bar serves breakfast, lunch and dinner daily in a room reminiscent of an Italian bistro. The food is mostly local, and the dishes innovative. The dinner menu offers Italian fare, including pizza and a Risotto del Giorno, as well as oak-pit grilled meats and an unusual Vegan zucchini spaghettini, which is quite tasty. It features fresh herbs and greens from the chef's outdoor garden boxes.
Breakfast is a treat! When we see waffles topped with berries specific to the region, Olallieberries, we have to try them. Delicious! A variety of egg dishes and lighter fare are optional choices.
Pool and Spa at Allegretto
In keeping with the calming atmosphere throughout the resort, the pool and spa offer a serene experience for adults since children are not allowed in the pool without an adult, and kids younger than 18 can't be in the spa. Cabanas lining one side of the pool surrounded by gardens are mini refuges away from the world. The boutique spa offers body and face treatments in five lovely rooms. In addition, there's a sauna, Jacuzzi, fitness center outdoor, lounge patio, and. . . a bocce ball court!
Other Wineries in Paso Robles
Paso Robles has become an emergent wine region due to its temperature swing from day to night, its distinct microclimates and diverse soils, plus a long growing season. There are more than 200 wineries in Paso Robles wine country! A few we visited are:
Vina Robles — A winery with European roots and a gorgeous tasting room. It even has a large ampitheatre for a concert series that runs April through November.
Robert Hall Winery— Four different estate vineyards make up this winery with sustainable farming practices. You can play lawn games while sipping award-winning wines or take a tour of the cavern.
DAOU Vineyards & Winery— Two brothers and one high mountain (the highest winery in the county) produce an amazing Cabernet Sauvignon that you can sample in their Mediterranean-style open-air tasting room with a view.
Wines of the West— This small wine tasting collective of four brands include small-lot canned wines.
You might want to schedule your visit around these wine events: Vintage Paso in March, Wine Festival in May, and Harvest Wine Weekend in October.
For a complete list, visit www.pasowine.com and travelpaso.com.
Allegretto Vineyard Resort Paso Robles, 2700 Buena Vista Drive, Paso Robles, California 93446; 805-369-2500; allegrettovineyardresort.com
Claudia Carbone is an award-winning travel writer based in Denver. Read about other hotels she's visited in Sleepin' Around.