Altitude sickness had slithered alongside as an unwanted companion after flying from Lima, Peru at sea level to Cuzco at an elevation of 11,000 feet.
Descending to a lower height remained the only cure for the symptoms of soroche − screaming headaches, nausea, exhaustion and shortness of breath. During the next 15 days of our vacation in Peru, we would be headed in one direction − up.
Walter, our guide, urged us to consume coca often or spend our trip lying in bed, struggling to breathe and looking green.
Travel in Peru
A plastic bag filled with dried green leaves made the rounds among the five travelers in the van. Walter instructed us to crumple a few sprigs into a small ball, place the wad between our back molars and bite down hard.
Adding a piece of lime to the bundle hastened the release of active ingredients, including alkaloids containing cocaine.
A pungent, tangy fluid oozed from the clump, numbing the inside of my cheek. I remembered that mellow feeling from chewing coca leaves during my last trip to the Andean Highlands.
Novices to this mastication ritual struggled to manipulate a mouthful of foliage, their cheeks bulging on one side.
They preferred drinking hot, steeped mate de coca tea from thermos jugs as an easier way to stimulate their oxygen starved bodies.
"Well, keep the leaves and tea coming," we gasped, "lots of it."
I noticed a subtle tolerance of each other's quirks as elevations rose and drinking and chewing increased. We weren't exactly 'high' but 'higher' in intellectual alertness.
We blossomed into a fascinating bunch and boasted about our newly found, albeit bogus, bravado. With physiological effects similar to tobacco, we developed a strange affinity for this bitter stuff.
It gave us energy, eased the pounding headaches, curbed our appetites and made us coo.
Benefits of Coca Leaves
With only 0.3-1.5% cocaine in fresh leaves, chewing coca or drinking the tea doesn't cause the euphoria of the concentrated drug, but it does regulate carbohydrate metabolism, aids gastrointestinal disorders and eases side-effects of high altitudes.
Cocaine shows up in the bloodstream as a false positive after consuming just one cup of tea; Ah, the joys of being retired without fear of work-related random drug tests.
The coca plant, which grows 7-10 feet tall on the eastern slopes of the Andes, has played a traditional role in Andean culture for thousands of years.
Communal chewing of coca leaves by Peruvian, Bolivian and Ecuadorian highlanders dates back 8,000 years. Following the invasion by conquistador, Francisco Pizzaro, King Phillip II of Spain demanded that all Andean captives chew coca leaves several times per day.
He expected the Incas could double their labor output while tolerating imposed starvation. Shamans read coca leaves to tell fortunes and make ceremonial coca offerings to the mountains (opus), the sun (inti) and the earth (Pachamama).
Climbing to Copa Maya
By day three, a slight acclimatization evaporated into thinner air when Eber, our driver, stopped the van at the base of an almost vertical slope near the Bolivian border.
With gentle encouragement, Walter convinced us to climb to the 12,000-ft. summit, where family members of an Aymara Village, Copa Maya, waited.
I gazed in disbelief as the foot path that zigzagged up the mountainside vanished into the clouds.
Surveying our group of 60 somethings, I wondered who would rescue me when I dropped to the ground.
We puffed, panted, paused for pounding hearts and begged Pachamama to push our limp legs upward.
I saw round, sun-leathered faces, black braided pigtails topped with porkpie felt hats and rainbow-colored skirts and blouses peering over the rim and watching our ascent.
Warm hands extended to pull each one of us up over the last pile of rocks.
We assembled on rough-hewn plank benches while the villagers sat on patches of cold hard earth.
Lyrical high-pitched notes from Andean flutes mixed with the dull thud of a goat-skin drum drifted from the sinewy lips and hands of the impromptu band.
Women tended an underground oven where, our lunch of plump rounded potatoes sizzled on red-hot coals.
We gifted the residents with bags of coca leaves that Walter had purchased at the market a thousand feet below.
The coca plant cannot grow at this elevation, but the people must have it to thrive. Daily consumption measures about two ounces of coca per person, from infant to elder.
Broad smiles revealed their worn-down teeth as the chewing began. Tribe leaders encouraged us to join in and passed the bag of leaves around.
The cultural immersion into a day in the life of Andean villagers created the best high. Friendly hugs for these sun-kissed people ended our visit and sliding down the mountain proved to be a delightful escapade.
Our energized laughter echoed in the rarefied air.
Back in the van, I observed Eber's face in the rear-view mirror. Something was amiss.
Showing signs of distress, with narrowed eyes, pursed lips and beads of sweat forming at his temples, he intently surveyed the landscape. I guessed that he was lost.
Nevado Veronica, the highest, snow-capped peak at 19,100 feet in the Cordillera Urubamba range of the Andes jutted out as the only visible landmark in this desolate Peruvian altiplano.
She served as a stationary marker, no longer towering above us, but now just slightly taller, like an older sister.
Eber continued on the unfamiliar rutted dirt way for an hour, while everyone's internal organs shifted from the jarring. Abruptly, the brakes squealed. Boulders placed across the gritty path signaled an impasse ahead.
A far less traveled, alternate route marked by furrowed tire tracks wandered off to the right.
A Traveling 'Chicha Distributor'
With a mixture of fear and excitement, Eber ventured further into unknown territory. After a few kilometers, two figures emerged from the dust−a lad walking his burro.
A colorful woven Inca blanket provided a cushion for a double basket filled with bulging skins flung over the mule's back. Walter jumped from the van.
This young stranger, deprived of human interaction on his lonely route, soaked up every syllable as Walter spoke to him in Quechua and handed the muchacho a handful of Peruvian soles.
The teen unlaced one tied-up goat skin and ladled a frothy liquid into a leather sack.
Walter encouraged us to stretch our legs and meet Manco, a traveling 'chicha distributor'.
Andean highlanders have few sources of potable water, so many families, including the children, drink this 2% alcohol-fermented corn mash as their only fluid intake.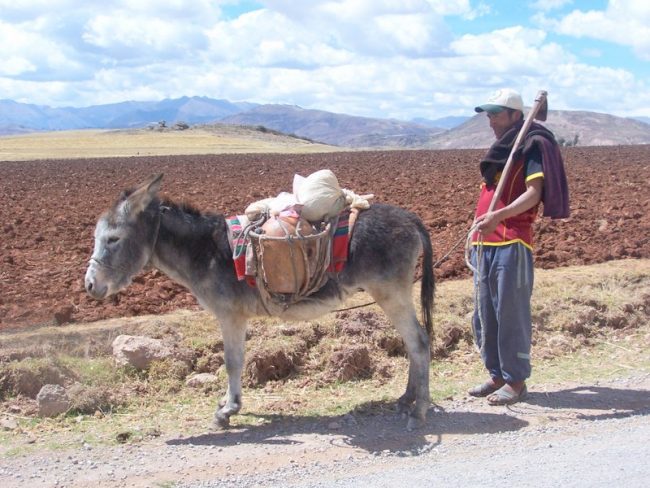 Manco had wandered these desolate highlands, offering relief to thirsty farmers, their parched families and now, American travelers already sated with coca.
Walter poured generous portions of this sour, amber colored, yeasty smelling beer into plastic cups he obtained from the van.
At 12,000 feet this corn mash can pack a 10-15% alcohol wallop to anyone not accustomed to this altitude.
We downed several cups of the bubbly libation while visiting with 'the chicha kid.' His sparkling eyes and broad smile suggested that he didn't want this lively interaction to end.
With daylight waning, we had to leave. While Eber got directions to the main road, the 'gang of five' zigzagged back to the van. Now, the higher we went, the higher we got.
In my corn mash and mate de coca stupor, I reflected on the day in the life of an Andean beer peddler.
As we pulled away, I felt like we were abandoning man and beast, leaving them stranded in isolation. For Manco, 'es la vida.'
Cuzco Travel
After many days, we reached our peak in both mental derangement and elevation at Lake Titicaca's 14,000 feet.
Relief beckoned as the van turned southward, downward toward Cuzco, which would feel like sea level after two weeks in the clouds.
A 'Walter' surprise waited for us at the largest indigenous market in Cuzco, Central Mercado de San Pedro.
Weaving through the crowded aisles, we brushed past rows of severed horse, donkey and cow heads complete with remaining teeth.
Piles of round, frisbee-like loaves of freshly baked bread rose precariously toward the ceiling.
Vendors shouted greetings to Walter as he rushed toward two women stirring steaming caldrons of green tinted soup.
His mother and older sister have had this same stall in the market for twenty years.
"I grew up here. I played here, while my mother worked," Walter said with tender affection. Mom scooped bowls of her special soup for her son's flock.
I felt honored to observe a day in the life of a market vendor who was also Walter's mama.
We passed a stand selling coca leaves and boxes of prepared mate de coca teabags. Walter advised that US citizens could not buy the teabags to take home.
Coca leaves became illegal outside of South America after recognition of cocaine addiction in 1859.
At the 1961 UN Single Convention, no distinctions between the coca leaf and cocaine were made, so worldwide eradication of coca leaf chewing or drinking mate de coca was ordered.
The United States classified the coca leaf as a Schedule II, banned narcotic drug. Realizing the benefit to the well-being of their people, the governments of High Andean countries later legalized its use.
But wait, I reside in Mexico and my adopted country couldn't have such a silly law. I developed a fondness for my daily pick-me-up and I live at 5600 feet and need it, right? So, I bought 100 tea bags. On the overnight flight home from Lima to Mexico City, the announcement interrupted my fitful sleep: "All baggage on flights originating in South America is subject to canine inspection."
OMG. Would drug sniffing doggies detect my coveted tea bags? I packed them in my husband's luggage. Should I tell him or wait until the federales drag him away to a Mexico City carcel?
With a 6AM pallor, we waited at the baggage carousel. Suitcases that had successfully passed by sensitive snouts dribbled onto the circular path. My duffel showed-up alone.
After a half hour, we were the only two desperate looking passengers left. I started composing 'Confessions of a 65-Year Old Tea Smuggler' in my mind. The mouth of the baggage flap opened and spit out the last piece. My husband's yellow and black bumblebee duffel looked like it had barely survived a scrappy encounter with an unhappy German shepherd.
We grabbed it and headed for the final obstacle, the customs official and that dreaded Mexican baggage search game, 'Red Light, Green Light'. Red, we're dead, Green, me and my tea would be home free. I closed my eyes, said a prayer and with my anxiety drenched palm, pushed the button.
Author's Bio: After a life-long profession of treating the mentally ill at a PA psychiatric hospital for 33 years and also serving as its Director of Admissions, Carol retired to Lake Chapala, Mexico in 2006 with her husband, to pursue more positive passions. Her family thought that she, too, had 'gone mad.' She's been teaching English to Mexican adults for ten years, in a program operated by volunteer expatriates and writing for local on-line and print publications. Using her adventures experienced during visits to over 80 countries to capture a niche in travel writing, Carol also dabbles in 'memoir.' A frequent contributor to Lake Chapala English magazine, "El Ojo del Lago," she's won several literary awards from that publication, including Best Feature in 2010 and Best Fiction in 2014. She also netted a story regarding her psychiatric field work in the published anthology, "Tales from the Couch."