As we roller-coastered our way West, past bucolic farms and idyllic pastures on a weathered 2-lane highway, it was difficult to believe that we were still in Illinois as the ubiquitous flat prairie farm-lands had given way to the rolling hills of the northwestern corner of the state.
The Ice Age glaciers that had ground through the state's hills and valleys, leaving them table-top smooth, had somehow missed Jo Daviess County, resulting in a remarkable landscape of undulating hills and rugged cliffs along the Mississippi Valley.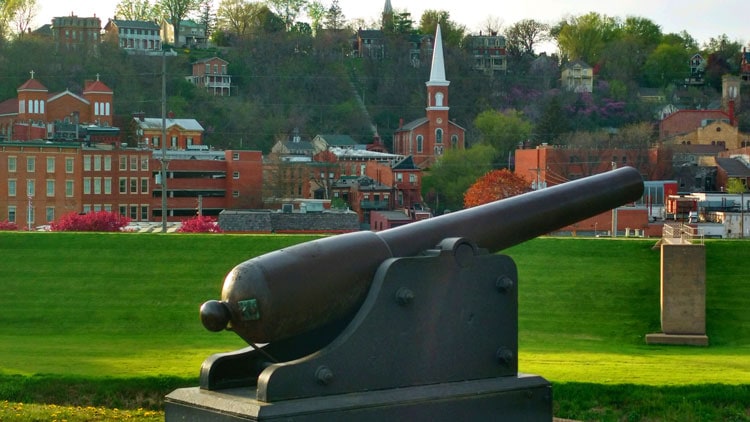 Galena Settlers
Anchored to the north by the Wisconsin border and about 12 miles east of the Mississippi River and Iowa, Galena is a delightful escape to a bygone time. First settled in the 1820's, miners flocked to Galena with the discovery of lead. 
The small village, named in Latin for lead, soon grew into the busiest river port north of New Orleans; paddle-wheelers hauled its ore down the Galena River onto the Mississippi and ports throughout the Midwest. By the 1830s, Galena's population was briefly greater than Chicago's. 
Best Tips & Tools to Plan Your Trip
Steeped in historical distinction, its grand nineteenth-century architecture is frozen in time. With more than 85 percent of the town on the National Register of Historic Places, it presents its well-worn but charming facades proudly.
The red brick and colorful awning-clad buildings once occupied by steely-eyed merchants and saloon-keepers serving a hard-working and hard-drinking clientele are now home to food-centric restaurants and an eclectic array of delightful shops catering to weekend visitors seeking anything but hard work.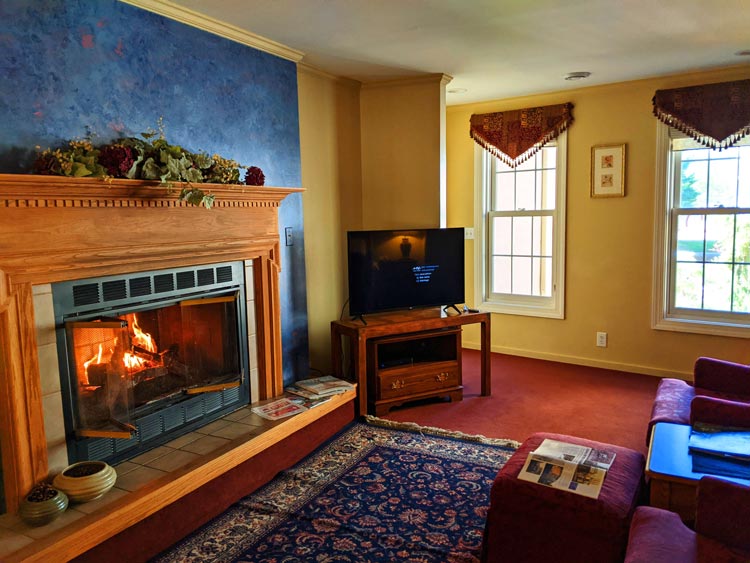 The Goldmoor Inn
My wife, Kathy, and I settled into The Goldmoor Inn, our chosen residence for the weekend, whose looks appear as though it was plucked right off of a Downton Abbey episode.
A unique bed-and-breakfast perched on a bluff above the Mississippi River approximately 8 miles outside of town, this 23-acre homage to old-world luxury caters to the romantic in all of us.
All rooms have a king-sized bed, two-person whirlpool tub, fireplace and enough amenities, such as a towel warmer, to keep the wife gushing the entire stay. Breakfast was served in our room, including muffins, yogurt and plates of a wonderful peach-top French toast.
After a leisurely breakfast, we headed downtown. Passing over the Galena River (named initially as the Fever River until city fathers thought better of it), we turned left onto Main Street and passed through 20-foot-tall floodgates that protect the architectural treasures from once-in-a-lifetime floods that seem to occur every few years, the gates being closed as recently as 2018.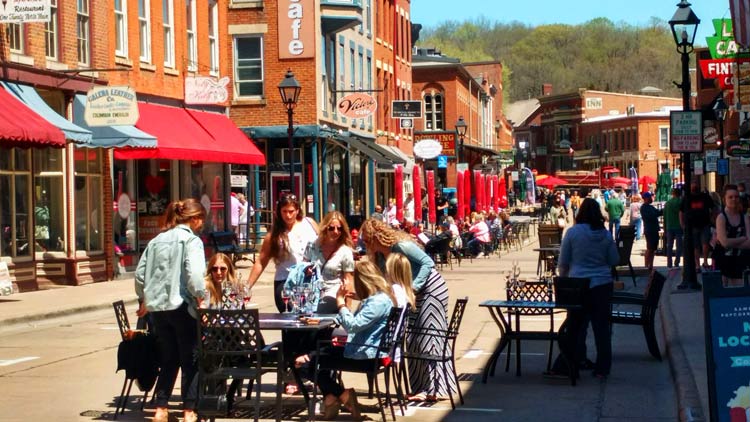 Exploring Galena
After quickly getting off the main drag, we located a parking place. A portion of Main Street is actually closed off to auto traffic, creating a pedestrian-friendly zone and making parking spaces a sought-after commodity.
It soon became apparent that the warm early spring day had brought out a throng of like-minded adventurers looking for a respite from a long winter and seeking an escape. Outdoor dining venues were well populated and the local establishments were filled with shoppers.
There are nearly a hundred shops, eateries and taverns on Main Street. As we strolled the streets, we discovered shops such as Galena Canning Company which offers a dizzying array of hot sauces, rubs, salsas, jams and all manner of tasty spreads.
Galena Cellars Vineyard and Winery is a downtown gift shop, patio and tasting room with outdoor tables in full swing. Poopsie's is a fun, funky shop with a horde of interesting and unique items to entertain the young in us all. The Spice & Tea Merchants of Galena provides a vast collection of teas and spices. 
Just around the corner from the Spice & Tea Merchants, we explored the Dowling House, Galena's oldest building, built in 1826 of native limestone. Originally established as a trading post, it's furnished with primitives and provides insight into life on the "frontier."
For a brief respite, we stepped into the Green Street Tavern for a cold libation. The tavern is located in the DeSoto House Hotel, which opened on April 9, 1855, and was billed as the "Largest Hotel in the West."
Historic Treasures of Galena
Its history is extensive, having hosted Abraham Lincoln and Stephen Douglas at different times for campaign speeches. Ulysses Grant chose the hotel as his presidential campaign headquarters.
You cannot speak of Galena without mentioning of U. S. Grant. Not a native son of Galena, he has nonetheless been embraced by its citizenry.
The West Point graduate who became the most significant Union general of the Civil War and a two-term president was down on his luck when he first moved to Galena. A reversal in fortunes had sent him to here in 1860 to work as a clerk in his father's leather goods store.
When war ensued, Grant quickly organized and trained local recruits. With the support of Galena native Congressman Elihu B. Washburne, he rose to the rank of General, eventually leading all of the Union forces.
After the war, Grant returned to Galena, whose grateful residents presented him with a new, fully furnished home as a token of thanks. Today, Grant's little house still stands, its brick walls, emerald-green shutters and white trim virtually unchanged from that day so long ago. Guided tours are offered daily.
The City of Steps
Admiring and exploring Galena's homes, several of which are available for tours, is a past-time in of itself. The city is laid out in a compact, very walkable manner, albeit somewhat strenuous at times. Carved into the side of a hill, the city has been referred to lovingly or condescendingly, depending on your point of view, as the "City of Steps."
There are a dozen different sets of steps connecting the city's streets. One set of steps, rising from Main Street at the Desoto House to Bench Street and eventually Prospect, encompasses 192 heart-testing steps but provides spectacular views of the surrounding city and Grant's Park across the river.
As you climb, midway between Main & Prospect on Bench Street, you'll find the Galena & U.S. Grant Museum. This wonderful museum is located in an 1858 Italianate mansion built as a private residence by Galena merchant Daniel Barrows. The Museum features exhibits on Grant, the Civil War, lead mining (including a look into a real mine) and the history of the area.
If you need a few moments of quiet, slip across the river to Grant Park. With over 3 acres, Grant Park is a wonderful vista. A Gazebo and an abundance of towering trees provide a quiet, shaded escape from the bustle of Main Street.
The park honors its namesake with a bronze statue and several Civil War cannons. We found it to be a delightful place for a picnic and to simply view Galena's allure from a park bench.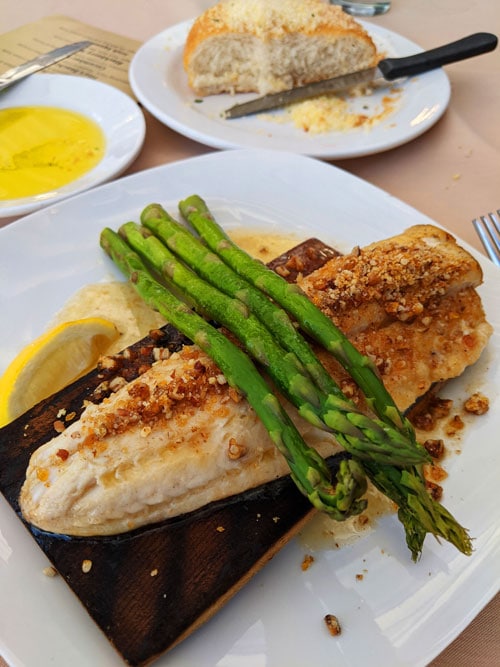 Galena Shops
The dining scene in Galena is full of delights also. Galena Brewing Company is right on Main Street. Beer lovers will enjoy all the choices they have. Their Farmer's Blonde Ale went down easily on a warm afternoon. The menu is a good selection of pub grub, but the one lb. pretzel really got our attention.
Located in the building that housed the Grant family's leather shop, Fried Green Tomatoes was our choice for dinner. My wife loved the cedar-planked walleye and I dove into the comfort of homemade meatloaf served atop of a slice of thick cornbread and topped by a mound of garlic mashed with a honey-based sauce. Comfort food, indeed.
Our final evening found us seated in Adirondack chairs on the lawn of the Goldmoor, looking over the bluff as a colorful sun set across the Mississippi River. Galena is full of appeal and we had barely scratched the surface. We watched the sun dip into the river and planned our return.
If you go:
Galena is roughly a two-and-a-half hour drive from Chicago.
Author Bio: Frank Hosek revels in traveling with his wife, Kathy.  He enjoys discovering new experiences, meeting the people that make those experiences enjoyable, and sharing their adventures. He is a freelance writer for newspapers and travel websites.