Orlando is one of the famous vacation destinations in the United States. Along with more than a dozen theme parks, Universal Orlando, shopping malls, golf courses, and amazing nightlife, the city offers something incredible for everyone.
However, to wander around the city, you might want to find a cheap car rental in Orlando. A rental car with affordable pricing offers you the best way to explore the city and make your time memorable with your loved ones. Here are some tips to make your trip smoother.
Top 7 Tips and Tricks for Finding Cheap Rentals
1. Book Ahead of Time
Orlando is a very famous destination in the States. That's why the demand for rental cars is usually very high. As the demand is up most of the time, you should consider booking your rental well before time, instead of when you must travel. The earlier you book, the better the rates you get. Along with good rates, it will also provide you with a good selection of cars.
2. Choose the Right Rental Car
Being an international visitor, you may know that most cars are bigger in the USA than in the rest of the world. These cars offer you lots of space for your luggage but remember that bigger cars are more expensive than usual.
So it would be better to opt for a smaller car, especially if you are 2 to 3 people, as it helps you save money on your rental. In addition, smaller cars are often cheaper to rent and use less gas so you can save money in the long run.
3. Go for Off-Airport Locations
Most visitors will arrive via Orlando International Airport (MCO), one of the USA's busiest airports. However, renting a car directly from that busy airport could be expensive, so you can consider renting a car from an off-airport location.
Such locations are often cheaper than renting from an on-airport location. Moreover, you can also look for car rentals MCO Orlando Florida outside the airport grounds and check if they offer shuttle service to and from the airport. 
4. Shop Around
You may find plenty of car rental comparison sites out there. Avis, Economy bookings, Enterprise, Budget, Hertz, and Budget, are the most famous and largest car rental companies in the USA. All of them offer you different packages at varying prices.
When booking ahead, check out which extras are included in the price: airport fees, local surcharges, unlimited mileage, and third-party insurance. In addition, you can also use several comparison sites to compare the price of different companies.
5. Decline the Insurance of Your Rental Car
Before accepting the rental company's insurance coverage, do your homework. Because many credit cards ultimately include the required insurance coverage for the rental car when you use that card. So check your credit card well before to see what they offer.
However, if you are traveling in your country, the car insurance you may carry for your car may extend to rental cars, too, so it is recommended to double-check that.
6. Look for Online Discounts and Coupons
Some rental companies offer great discounts and coupon codes for cheap car rentals. You can make use of these discounts on your rental by checking different discount codes and coupons online.
You can also find them on the websites of these companies or any other third-party coupon sites.
7. Rent for a Longer Period
Renting a car for a longer time will be cheaper than renting a day or two per day. If you are a visitor and have to stay in Orlando for a week, two weeks, or even a month, go for renting a car for your entire stay duration.
It will make your trip easy as you have your convenience on your doorstep to go around the city at cheaper rates. Be sure to check different offers by rental companies for a week, weekend, or month.
8. Think before Renting a GPS
Many car rental companies will offer you to rent a GPS along with your car, for which you must pay an extra daily fee. However, buying a cheap GPS is more cost-effective for you. You can also check whether your phone network covers you for roaming in the USA.
Renting a GPS is only recommended if you have a lot of days for trips and have to cover some serious miles. Otherwise, do not rent a GPS and do your research beforehand.
9. Buy Your Child's Seat
When hiring a car in Florida, you may have to pay an extra daily fee if you get a child seat along with your rental car. This price may add up to an extra expenditure of a week or two-week vacation, so it would be a better option to check in your own child seat.
Then, you can collect the seat at the airport before you have to go, get your car, pop it in, and you are all set to enjoy your holidays in Orlando.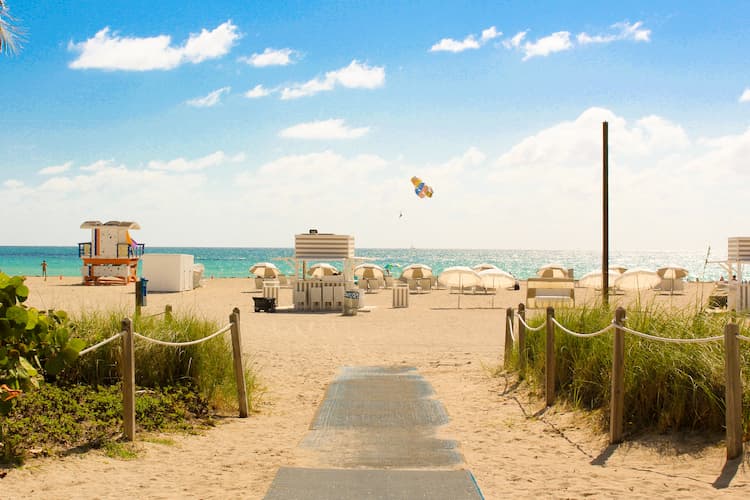 The Bottom Line
Following all these tips will help you get the best and cheapest rental car in Orlando and ensure a smooth and hassle-free rental experience. Be sure to read the fine print of the agreement and rental terms carefully before getting the car to avoid any issues.
If you are looking for cheap car rentals in Orlando for your next vacation or business trip, check out the various packages, offers, and discounts rental companies offer. It may be a tedious task but worth it in the long run. So, explore your rental options to grab the best deal and enjoy a smooth ride.
Inspire your next adventure with our articles below: