"Visiting sites after hours, especially sites that are largely outdoors. We can arrange for private visits before or after opening hours so that clients can take in the wonders and enjoy the fresh air in complete comfort." -Virginia Irurita, founder, Made for Spain and Portugal
When was the last time you packed a bag? Booked a plane ticket? Checked the date on your Passport? If you love to travel, it will feel great to do these previously perfunctory pursuits. It is therapeutic to think now about where you're going to go and even secure and schedule an itinerary.
Pent-up demand will mean popular places will be busy…but will they be prepared? The following experienced travel professionals are putting out the welcome mat and telling the world why their countries – Italy, Spain, Portugal, Slovenia, and Turkey – should be atop your "Wander list," as the Virtuoso Travel Network calls it.
Italy
The first country outside China to experience the virus may be the primo place to re-experience la dolce vita, according to Andrea Grisdale and her team of travel consultants and expert guides at IC (Italian Connection) Bellagio, based on Lake Como.
"People are booking longer stays now. In addition to a trip of seven to ten days they are adding on an extra week in smart villas equipped for remote working with the intention to have extra time in Italy," explained Grisdale.
Long before the pandemic, she understood that vacationers in Italy sought opportunities to "live like a local." Now, with more professional flexibility, they have even more of an excuse to do so.
This can be most authentically done during what might be called "off-season" periods such as Autumn at Lake Como, which is usually left to the locals. Many of the rental properties are adding amenities as extra incentives.
Air Italia and Delta Airlines have stressed safety while opening air corridors to Rome. And Grisdale pointed out Italy's healthcare system consistently ranks among the highest in the world according to reports by the World Health Organization and Bloomberg. Health-minded travelers can choose to experience off-the-beaten-path regions in Italy in an eco-friendly way via hiking and biking tours.
Even some of the more popular attractions, galleries and museums will seem "off the beaten path" due to crowd limitations and permanent pandemic procedures.
"First-timers who would like to visit the major towns will have the opportunity to enter some of the most beautiful museums in the world, such as the Uffizi and the Vatican Museums, with no crowds.
They will be able to take wonderful pictures of iconic sites such as Rialto Bridge in Venice to be posted on Instagram with no crowds," said Grisdale. "Limitations to the number of people that can access the sites and museums guarantee social distancing and give our clients the chance to visit without the crowds."
Some rays of sunlight shining on Italy include news that Andrea Bocelli, who sang to a spellbound online world from Duomo di Milano on Easter 2020 is, in fact, scheduled to perform a postponed concert live at the Baths of Caracalla in Rome on June 21, 2021.
Grisdale also points toward new, high-profile hotel openings in Sicily, where Four Seasons has renovated the celebrated San Domenico Palace in Taormina; and in Palermo Rocco Forte Hotels is restoring the seafront Villa Igiea palazzo.
To the north, the Grand Hotel Victoria in Menaggio at Lake Como is part of Hyatt Hotel's Small Luxury Hotel collection.
And while 2020 will be a year most wish to leave behind, the 2020 harvest will be sipped and celebrated in glasses as a vintage harvest year for Italy's wine regions including Tuscany, Piedmont, Abruzzo, and wine producers of Barbera and Nebbiolo.
Spain and Portugal
The year-round mild weather Sunny Spain enjoys allows for the open-air touring and activities travelers will choose in order to spread out safely. Hiking, biking, canoeing, and birdwatching, for instance, allow visitors to connect with nature and stimulate their senses after months spent at home.
"Spain and Portugal are both cultural, historical and gastronomic powerhouses packed into small countries making them the perfect, easy-to-visit places to visit, according to Virginia Irurita, founder of the award-winning travel company Made for Spain and Portugal.
"We create itineraries with accommodations that combine outdoor activities with a picnic of fabulous local products in places such as Andalucía (Doñana, Sierra de Cazorla, or Sierra de Ronda, for example); or the Alentejo and Algarve in Portugal. "Our clients can still see both top monuments as well as off-the-beaten-path sites and plenty of nature."
Irurita's said her travel company takes care of all pandemic-related logistics by creating alternative itineraries that allow visitors to travel in a safe, sustainable, and enriching way.
"We can arrange visits to sites after hours — especially sites that are largely outdoors such as the Alhambra in Granada; Hospital Sant Pau in Barcelona; or even Palacio da Pena in Sintra. Our clients can take in the wonders and enjoy the fresh air in complete comfort."
Made for Spain and Portugal's travel advisors and guides are highly experienced and offer what Irurita describes as "socially-distanced hand-holding" to make the return to travel seamless. She's Madrid-based but has plenty of fresh ideas for Spain's remote locations.
"Yachting or sailing excursions in the Balearic Islands and in Madeira and the Azores allow clients to spend days taking in the stunning scenery and waters from the privacy of their own vessel," she explained. "They can enjoy fun activities on the water like snorkeling and jet-skiing with, of course, sophisticated food and wonderful wine."
She and her team have secured boutique accommodations within natural paradises – hotels like Douro 41 in the southwestern part of Portugal's Douro region, and Vila Monte in the Eastern Algarve.
"They offer spaced out and very private accommodations away from the hustle and bustle of nearby hotspots," Irurita said.
Slovenia
Slovenia being overlooked in the past can be an advantage to travelers in the post-pandemic era according to Matej Knific, co-founder of Luxury Slovenia, the country's top luxury travel planner. Knific and his partner Mattej Valencic suggest that visiting Slovenia is like experiencing five European countries at one time combining hints of the Alps, Mediterranean, Pannonian Basin, and rocky Karst for a great value right next to Venice.
"Slovenia is a small country in the heart of Europe with a lot of wide-open spaces and no crowds," Knific explained. Think you've already seen it all in Europe? "Slovenia is the perfect spot for well-traveled guests who are looking for something new."
A new focus on tourism has made Slovenia a sustainable and growing gastronomic region with storybook scenery for selfies such as Lake Bled.
Two million people live in a country more than 60-percent covered by woods and they build up an appetite to participate in land-based outdoor activities such as hiking in virgin forests and cycling in White Carniola by the Kolpa River plus utilizing the lakes and rivers recreationally.
"Chef Janez Bratovz leads food tours beginning with a tasting at Ljubljana food market and a cooking class at JB Restaurant where you'll prepare your lunch with him," Knific explained. Truffles, homemade ravioli filled with cottage cheese, pistachio, meat and cream sauce, licorice, and foie gras may get you started, for instance.
Knific's Luxury Slovenia can arrange a picnic lunch during a private tour of the Lipica Stud Farm where the white stallions and picturesque pastures are jaw-dropping in their majesty.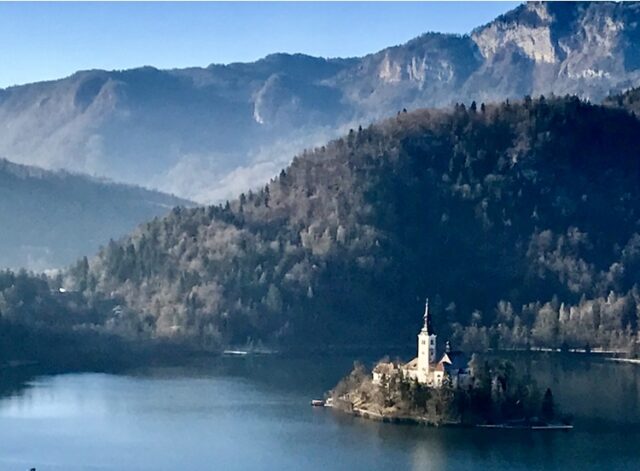 Turkey
The Turkish people are very welcoming and proud to show off their beautiful country, according to Karen Fedorko Sefer, founder of Sea Song Tours. Her company creates experiences – including cruises – for travelers to Turkey, which she describes as a treasure trove of history.
"The visible history and architecture of the monuments throughout the Hellenistic, Roman, Byzantine, and Ottoman Empires are all present in Turkey along with the most important spots in Biblical history," said Fedorko Sefer.
Walking throughout Istanbul – which, divided by the Bosphorus River putting half of it in Europe and half in Asia – is like strolling through an exotic museum. An itinerary to see, even from the outside, the Blue Mosque, St. Sophia, Underground Cistern, Topkapi Palace, Spice Market and Grand Bazar, will provoke an appetite. Fedorko Sefer insists you'll eat well.
"There is incredibly diversified cuisine throughout the country. Authentic, real, farm-to-table dining and wonderful specialties are made by the local village woman in the countryside and the major chefs developing the scene in Istanbul.
Food is a big part of the culture," she said. "Local cuisine in Northern Aegean region is olive oil-based; Southeast Turkey is known for spicy kebabs; the Black Sea area is famous for fish, such as anchovies; and Istanbul is a melting pot of the country."
Read more of Michael Patrick's work at The Travel Tattler, or contact him at [email protected]