Picture bustling, busy streets with bright yellow taxis squeezing through. Think of quiet, sinuous lanes with cats curled up fast asleep. Imagine majestic mosques framed in grand gardens.
Smell the aromatic flavours of the many restaurants and stalls, and feast on the mouth-watering grilled foods or treat yourself to a cup of freshly brewed Turkish coffee. With all these and more, Istanbul has something for everyone. Below you'll find a list of ideas to get you started.
Best Tips & Tools to Plan Your Trip
1. Sultanahmet Camii (Blue Mosque)
Known as the 'Blue Mosque' because of the beautiful blue tiles which adorn the interior wall, this mosque is renowned for its stunning architecture and rich history.
Looking up at the domed ceiling, natural light passes through the stained glass and immediately draws your attention to the intricate patterns lining the windows and walls. I especially loved the peaceful and quiet atmosphere inside; it really allows you to fully soak up the beauty of the mosque.
2. Hagia Sophia
The Hagia Sophia Grand Mosque lies just opposite the Blue Mosque and boasts similarly spectacular architecture. The dome interior is especially impressive, with magnificent chandeliers hanging from its lofty ceiling and illuminating the rich gold tiles.
The mosaics are also definitely worth looking at, along with the numerous ornamental patterns, calligraphy and embellishments decorating the walls. Make sure to visit the tombs tucked just behind the Hagia Sophia and learn more about the Ottoman Sultans and the history of the mosque.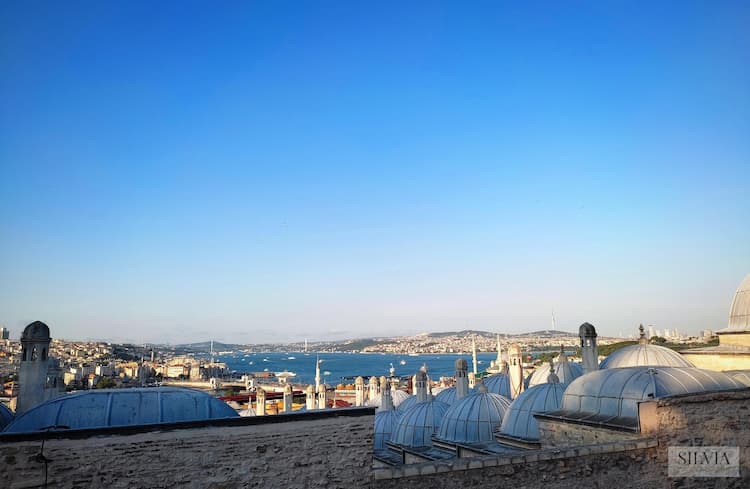 3. Panoramic Views from the Süleymaniye Mosque
Situated on the Third Hill of Istanbul, the grandeur of the Süleymaniye Mosque is visible from afar. The inside is just as impressive, with a bright, open courtyard leading to the expansive interior of the mosque. Surrounding the mosque are lush green grounds, with trees and flowers lining the sides.
Its location also means that it overlooks the Bosphorus and provides some breathtaking scenery with features like the Galata tower visible along the skyline. This amazing view certainly makes the steep hike worth it.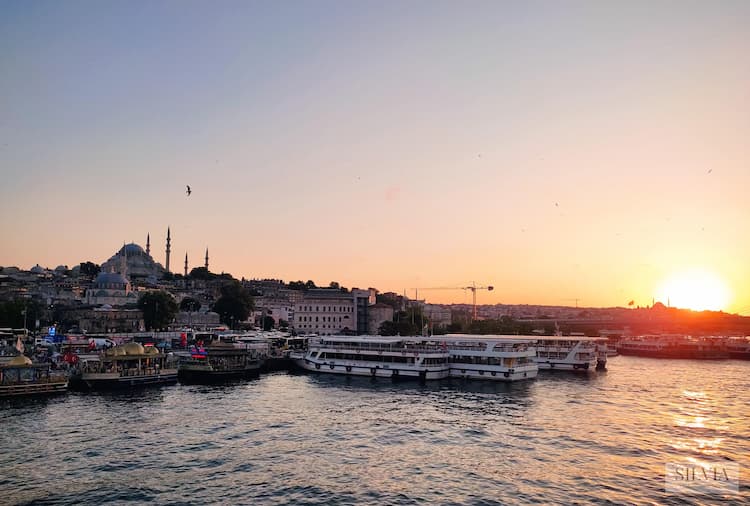 4. Sunset over the Golden Horn
Although unplanned, this proved to be one of my favourite moments during the trip. Standing on the Galata Köprüsü (the Galata Bridge), the setting sun cast an orange glow over the Golden Horn, and there were seagulls soaring back and forth over the boats and cruises.
As above, it's a perfect spot to take photos and enjoy the beautiful surroundings. Here you'll also find many fishers and people crossing between Karaköy and Eminönü.
5. Spice Bazaar and Grand Bazaar
Within walking distance of each other, these bazaars are bustling with activity. Here, you'll find vendors selling a large variety of items, from sweets, spices, coffee and teas, to textiles and ceramics.
A personal highlight was taking a break under a shaded tree, trying some baklava and halka tatlisi (Turkish churros) both of which are perfect if you have a sweet tooth. The surrounding outdoor areas are incredibly busy and crowded, so keep a close watch on your belongings and stick together with those you're travelling with.
If you're looking for some souvenirs or just want to do some shopping, there will most definitely be something for you.
6. Balat and Fener
With Balat as the old Jewish quarter and Fener as the former Greek district, these neighbourhoods have a rich cultural history.
Balat is especially known for its narrow cobbled streets, brightly coloured buildings and cafés, while Fener has these and other well-known attractions like the Church of St Mary of the Mongols and the red-brick Phanar Greek Orthodox College.
These areas are perfect if you're looking for a quieter day out with some pretty side streets and unique shops to explore. You can also look out for lots of cute cats sleeping or strolling around the back lanes.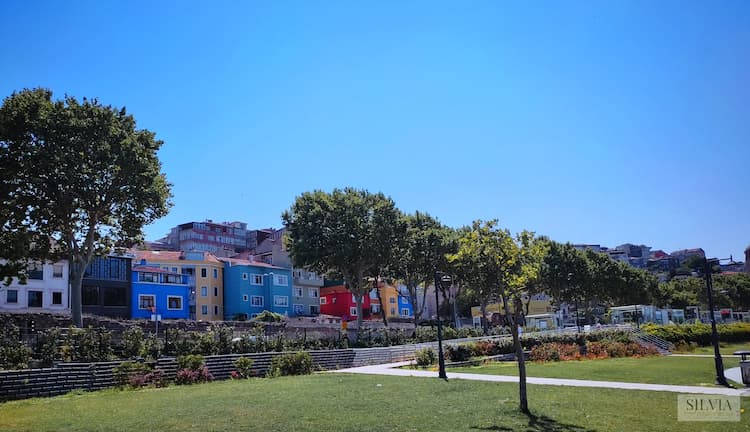 7. Istiklal Caddesi
This lively avenue and its connecting streets are lined with countless eateries and shops, and the area is busy both day and night. Here you'll see the iconic red and white tram passing through and several churches with stunning architecture situated among popular stores and restaurants.
At night there are street performances of dancing and singing and shops are open till quite late so you can enjoy shopping and eating for longer. I definitely spent more than one evening trying different foods along this avenue. If you see a long queue, the food there will definitely be good!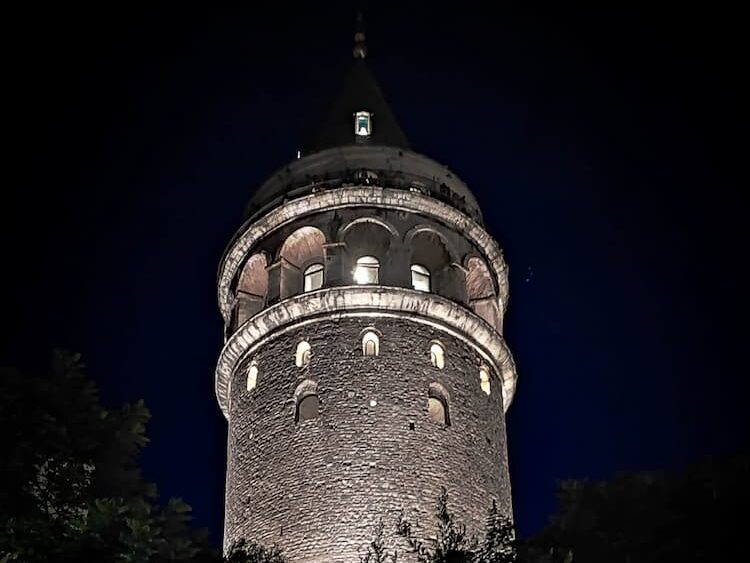 8. Galata Tower
Within walking distance from Istiklal Avenue is the distinctive landmark of the Galata Tower. It is nestled among more restaurants and shops which offer plenty of choice in souvenirs and gifts (I bought most of my souvenirs in this area).
The watchtower itself is open to visit for a fee but it is just as special to look at from the outside, especially at night when it is brilliantly lit up.
A fifteen-minute walk from here takes you to Galataport, where you can stroll along the promenade or dine right beside the clear Bosphorus and shop in the many boutiques there.
9. Taksim Square
This square lies connected to the Taksim Mosque, major thoroughfares, hotels and shops, and bears immense cultural and historical significance.
When the blazing summer sun gets too much, the small, shaded Taksim Gezi Park provides a space to sit and refresh. If you enjoy relaxing and taking a walk in the park, Gülhane Park next to the Topaki Palace is also a lovely place to visit, with its beautiful flowers and trees framing the main paths.
10. Turkish Breakfast
This list would not be complete without including Turkish food. With so much variety (at amazing prices), from Turkish delight and ice cream (this is often accompanied with a tricks performance) to grilled meats, doner kebabs, salads and pides, it is no surprise that the Turkish breakfast comes with plenty of choice.
In the breakfast I had, there were no fewer than sixteen plates in front of me, with jams, honey, cheese, salad, eggs and of course freshly baked bread to eat these with. A cup of Turkish coffee or tea (chai) is the perfect accompaniment to this breakfast or a glass of freshly squeezed fruit juice if you'd prefer.
The whole meal is definitely the best way to start the day.
If you go:
https://istanbul-tourist-information.com/en/
Inspire your next adventure with our articles below:
Author Bio: Cristina is based in the UK and a new travel-writing enthusiast. In her spare time, she loves learning languages, going on day trips and practicing photography.