A Memorable Encounter with Fly Fishing
I finally hooked a big one! A six-foot, five-inch, 220 pounder! No, it wasn't a fish, unfortunately, but rather my fly fishing guide, Aiden. Embarrassing to say the least, as my fly landed right in his chin. Thankfully, after some very dexterous "surgery," he was able to remove it. And he graciously told me it wasn't the first time.
I had never tried fly fishing prior to this attempt, but had always admired those I had seen participating in the sport. It looked like a beautifully, choreographed dance that somehow in my deluded mind, appeared easy. Ha!
As I practiced casting, first while standing on terra firma, and then in a boat on a lake, I realized quickly that the motions involved were much more challenging than I imagined. My experience, albeit mortifying and humbling, gave me a newfound appreciation and respect for fly fisherman and woman, who devote themselves to this art.
Best Tips & Tools to Plan Your Trip
Discover a Natural Wonderland at Vermejo
Fly fishing was one of several activities I participated in at Vermejo, a Ted Turner Reserve. Located in northern New Mexico and southern Colorado, Vermejo consists of over 550,000 picturesque acres with vast forests, mountains, prairies, nineteen lakes and 137 miles of rivers and streams.
Larger than most national parks, it's one of the most dramatic, natural destinations in the country and a jewel in the Land of Enchantment, a home where the bison roam and the deer and the antelope play.
Vermejo is regarded as a leader in "regenerative" tourism, offering luxury digs and impeccable service, as well as bespoke experiences, allowing guests to connect with nature, while being inspired to conserve it. The place is so spectacular and unique it has been named the Travel + Leisure 2023 World's Best Resort Hotel in the West.
Vermejo History
The property has a lengthy and colorful history, dating back to the 1841 Maxwell Land Grant, one of the largest contiguous private landholdings in the history of the U.S. Flash forward to 1902 when William H. Bartlett bought 205,000 acres of the grant and built three residences on the land, including Casa Grande and Turner House, both of which remain today. He expanded the property to 300,000 acres and reintroduced elk to the land.
After Bartlett's death in 1918, the property was bought by L.A. Times magnate Harry Chandler. Chandler started the Vermejo Park Club, with members that included some of Hollywood's silent picture stars like Will Rogers, Douglas Fairbanks, Cecil B. DeMille and others. The club was a sporting getaway until the Great Depression.
In 1945, W.J. Gourley, a Texas tycoon, bought the place and expanded it to 480,000 acres and started cattle ranching. During this time, a fire destroyed the middle guest house. The stables were then renovated to become a social center for the property and what is presently the Main Lodge.
Ted Turner Era Begins
Pennzoil took ownership of the property in 1973 after Gourley's death and further increased the size of it to 588,000 acres, continuing cattle ranching, while adding more guest accommodations.
The company's tenure ended in 1996 when Ted Turner bought Vermejo with the intention of focusing on conservation efforts and wildlife management. He transitioned the cattle ranching operation to bison and directed efforts to return the land to a healthy, "rewilded" state.
Bring Back the Bison
You might wonder why Turner chose bison. Story has it that when Ted was ten years old, he read about the plight of the imperiled bison in a National Geographic Magazine issue. He asked his father to buy one of the animals to help save the species.
His father told him that he, Ted, should work hard and make money for this endeavor. And that is what Turner proceeded to do, becoming a noted entrepreneur, television producer, media proprietor and philanthropist, all to save the bison from extinction.
Today, thanks to Turner, there are over 1,200 bison at Vermejo. He is a true savior of the species. It's not only the bison, but also the endangered Rio Grande cutthroat trout that have been successfully brought back to the streams and rivers at Vermejo.
Additionally, due to a collaboration with the New Mexico Cooperative Fish and Wildlife Research Unit, Vermejo has performed habitat improvement projects on the property to help the mule deer population rebound. And efforts are continuously directed towards managing the elk herd by studying causes of calf mortality. 
Ecological Goals Also Take Centerstage at Vermejo
Improving the stream and riparian health of the Vermejo River watershed has been another major goal. Through a series of exclosures or fences to keep out the grazers, flora is flourishing, trout habitats have been enhanced and beavers are at work making their dams.
Other programs have been aimed at the ecological restoration of ponderosa pine and aspen, control of invasive species and inventory of plant species. To date, over 1,000 plant species have been documented on the property.
Curated Experiences Are a Main Draw for Guests
You can learn all about these efforts on a conservation tour, just one of the many activities available at Vermejo. The menu of curated experiences is extensive. All can be tailored to your interests, skills and ability levels and are led by guides well-versed in the history, land and wildlife of the property.
You can hike, go horseback riding, mountain biking and fish, take tours with an emphasis on conservation, history, wildlife and more. Or you can head up to the high country on a UTV and explore the lakes area, all while keeping an eye out for creatures. There are also archery and shooting sports, disc golf, a via ferrata, fitness classes, yoga, and the list goes on.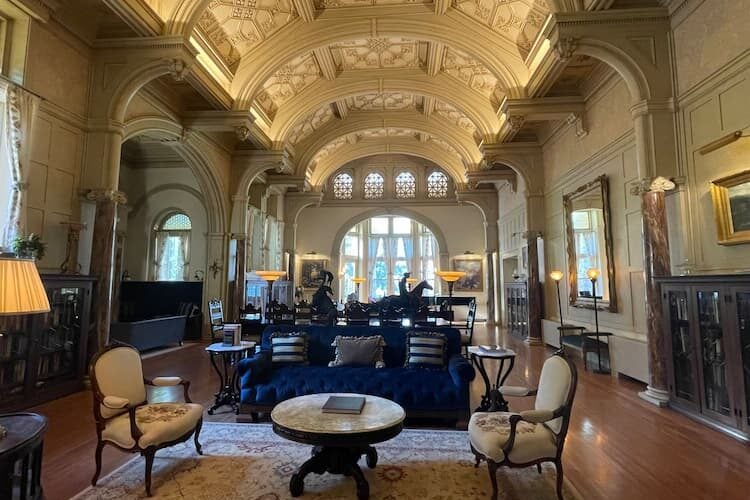 Learn About All Things Bison on a Focused Expedition
Of particular interest to me was the bison expedition, where you can have an up close and personal view of a herd, though from the confines of a vehicle for obvious safety reasons. I could have observed these animals for hours, as their behavior fascinates me.
And I learned so much about them, courtesy of my guide. I had been using bison and buffalo interchangeably until he clarified the distinction between the two. Bison are a native North American species, while buffalo are native to Africa and Asia.
The Turner Enterprises Castle Rock herd, which we saw, gets its name from the unique geologic feature at Castle Rock Park on Vermejo. This area was "home" to these animals since the 1920s. The herd has Yellowstone origins and pure bison genetics.
Bison are impressive and intelligent mammals. They are the original farmers, as with their high hooves, they turn over the soil for new seeds to grow. They know not to graze down to the last root and understand the need to circulate their grazing pastures.
Though they drink from the rivers, they don't hang out on the banks, as they intrinsically comprehend they will ruin their water source with this behavior.
Females, or cows, set the lead in the herd and are super protective. When they start moving, the herd follows. Cows typically weigh around 700 pounds. The males, or bulls, basically eat, drink and pass their genetics on to as many females as they can. They can weigh up to 1,300 pounds. Bison have been clocked at over 35 miles per hour and can jump over a seven foot obstacle.
We witnessed numerous cows with their calves, or red dogs as they are often called. The calves stayed close to their mamas, who knew exactly where their babes were at all times.
Visit the Historic Catskill Kilns
Another tour I particularly liked was to the famous Catskill Kilns. These kilns date back to 1892 and are listed on the National Register of Historic Places. Located near what was once the Catskill townsite, they were used to transform over 3,000 logs a day into charcoal during the boom years. The red brick ovens are shaped like a beehive and massive in size.
There are 25 of them in two groups, separated by a few miles. Each is about 28 feet tall, with arched openings and fifteen-inch-thick walls. You can walk inside them and they still emit a charcoal odor, similar to the remains of a campfire. And in some, swallows have used the interior walls to build their nests.
Catskill was a bustling community of about 2,500 homesteaders who settled here over a hundred years ago. It was a lumber and sawmill town with a reputation as a fun loving place. Residents took pride in having a church, recreation hall, dance pavilion with 22-piece band, ballpark and even a racecourse. And unlike other towns in the 1890s, it wasn't a violent place.
Life was good until 1902 when timber around the area became scarce and the sawmills began closing down. Then the tracks of the railway were removed, virtually cutting off the town's lifeline. A pair of floods devastated the town and all that remains today, other than the kilns, are a few foundations.
Head to the High Country
The UTV tour to the high country was also a treat. This part of the property is exceptionally beautiful, with small scenic lakes, mirroring the surrounding landscape. We hiked around one of them, discovering a set of old, bleached elk bones that we attempted to use our anatomy knowledge to identify.
On our way back to the lodge, we detoured to see Castle Rock, a ginormous geological feature. Rising out of a vast mountain prairie, it's a Vermejo landmark. While taking in this scene, we spied several pronghorn.
Of course once they noticed our presence, they quickly took off with speed and grace, living up to their reputation as the fastest land mammal in the Western Hemisphere.
Fuel Up with Delicious Food
With all this activity, sustenance is required. And as with everything else at Vermejo, the kitchen is a shining star, too. Guest receive three gourmet meals each day, included with their stay.
Executive Chef Giovanni Lanzante and his staff prepare dishes using locally sourced, seasonal ingredients with a Southwestern flair. Many of the greens and veggies are grown in the onsite greenhouse and gardens, providing another opportunity to connect with nature.
You'll find ranch-raised bison, fresh trout, salmon, quail, pastas and more tantalizing entrees, along with a range of appetizers from hot and cold soups and unique salads to potstickers and ceviche. Accompany your meal with craft cocktails, local beers and wines from the Vermejo's extensive wine cellar.
Make Sure You Make an "Elevated" S'more!
Definitely save room for dessert, like the berry crisp ala mode or mini chocolate cream pie. The "elevated" smores, however, took top billing for me. These are not your usual campfire treats.
Think homemade marshmallows with an array of toppings such as hot caramel and chocolate sauces, berries, sprinkles, chocolates, candy bar pieces, etc. Trying to squish all your condiments in between two graham crackers with a gooey, toasted marshmallow is a challenge, but oh, what a tasty reward!
You'll find most folks out on the deck, relaxing with a cold one in hand before dinner. Those still feeling energetic can play a game of cornhole or practice casting on the lawn. You might even have the chance to make ice cream – without a churn. Using those arm muscles, you'll shake, then shake some more, until the ingredients in your bag solidify. Add assorted toppings for a homemade sundae.
Enjoy Dining Amid the Sublime Landscape
Opportunities to dine al fresco abound, whether on the lodge's deck with to-die-for-views, amid the soothing landscape for a mid-day picnic or lakeside for an evening fish fry.
Fuel up for the morning with a cowboy breakfast, cooked over a fire in cast-iron pots atop a hill overlooking the mesmerizing scenery. There are also cooking classes, wine tastings, high tea and more to choose from among the list of Culinary Adventures.
You'll Have Your Choice of Accommodations
As for the accommodations, there are a number of options, depending on your party size and preferences. I stayed at the ten-room Turner House, conveniently located next to the Main Lodge. With its elegant décor, you'll feel the old-world ambiance. Kick back in the cozy common areas and enjoy the coffee and beverage bars on each of the two levels. And for the ultimate relaxation, head to the onsite Vermejo Spa for a massage.
You can also stay in Casa Grande, a 25,000-square-foot stone mansion that was once Ted Turner's private quarters. The estate is the true grand dame of Vermejo and literally takes your breath away upon first glance as you drive through the main gates.
Inside are seven guest rooms, a billiards room, chef's kitchen, conservatory and stunning main living area. Even if you don't stay here, you're welcome to stroll through the marble column hallways and ooh and aah, as you're transported to turn-of-the-century opulence.
Tucked away on a mountain in high country, at 10,000 feet in elevation, you'll find Costilla Fishing Lodge, a wonderfully secluded retreat about 45 minutes from the Main Lodge. With eight guest rooms and a dedicated chef, it's the ideal haven for a group of friends or family. From here, you have direct access to the wilderness and lakes rife with fish.
Just know wherever you choose to stay, you're guaranteed to sleep well, bellies full and dreaming of your next fun adventure.
www.tedturnerreserves.com/vermejo/
Inspire your next adventure with our articles below:
Author Bio: Debbie Stone is an established travel writer and columnist, who crosses the globe in search of unique destinations and experiences to share with her readers and listeners. She's an avid explorer who welcomes new opportunities to increase awareness and enthusiasm for places, culture, food, history, nature, outdoor adventure, wellness and more. Her travels have taken her to nearly 100 countries spanning all seven continents, and her stories appear in numerous print and digital publications.
Latest posts by Go World Travel Magazine
(see all)