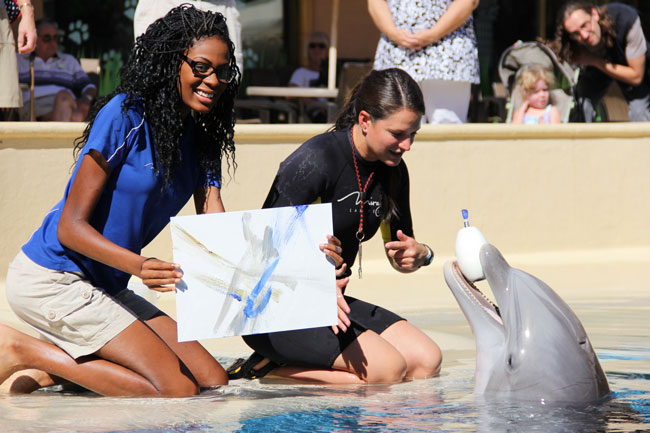 After slipping into tight-fitting wetsuits, Tom and Debbie Armstrong enjoy swimming alongside several dolphins whose home is an unlikely desert setting.
Another water-related activity enthralls Joanne and Roger Taylor. They glide along a canal as a Venetian gondolier entertains them with love songs, then gives them a lesson in piloting the gondola themselves.
A much more exhilarating ride speeds Betty and Sam Thompson on a white-knuckle 180-degree twisting, diving roller coaster.
As if these pursuits weren't so unusual, where they take place adds to their appeal. They're housed in hotels in a city that's known primarily for round-the-clock gambling and world-class entertainment.
Unusual Hotels with the Most Unusual Attractions
Hotels in Las Vegas, and elsewhere, offer a surprising array of facilities and amenities. Whatever your interest, you're likely to find a place to stay that caters to it.
The Armstrongs chose the Mirage because of its Dolphin Habitat. They participated in the 'Trainer for a Day' program, which provides personal interaction with those permanent residents. Another treat for animal lovers is a mini-zoo inhabited by white tigers, lions, and leopards.
Gondola rides are available at the aptly named Venetian Las Vegas Hotel. Passengers glide under bridges and pass Venetian streetscapes as they traverse the realistic setting.
That gentle mini-river ride contrasts with the screams of folks brave enough to hop aboard the Big Apple Roller Coaster at the New York New York resort. Among its attractions are mini-replicas of the Brooklyn Bridge and Statue of Liberty. The Collection can be arranged upon request.
While some hotels attract travelers with such unique features, others do so with a new take on not-so-new facilities and services. For example, fitness buffs at some Westin properties may join a manager on a run through the surrounding neighborhood, past local landmarks and highlights. Westin's portfolio also includes concierges who are expert hikers, golfers and tennis players.
Best Art Hotels in America
Fine art rather than fitness takes top billing at the at the 21c Museum Hotel in Louisville, Kentucky. Works by both emerging and internationally acclaimed artists are displayed in multiple galleries and each guest room.
The Alfond Inn is an extension of the Fine Arts Museum at nearby Rollins College in Florida, and maintains a rotating display of works from that collection. It includes paintings, sculptures, photographs and mixed-media. Those seeking more information may take an audio or guided tour.
Glass art is featured at the Hotel Murano in Tacoma, Washington. It's named for the island in Venice, Italy, where glassblowing has been practiced for centuries. The property's museum-quality collection represents work of artists from around the world.
Those who prefer beauty created by Mother Nature may find it at the Miramonte Indian Wells Resort & Spa in California. It's surrounded by palm trees and desert mountains, which are enhanced by 11 acres of Mediterranean-inspired plantings of olive trees, citrus groves and rose, herb and vegetable gardens.
The scene is different, yet equally magnificent at the Gaylord Opryland Resort in Nashville. Acres of lavish gardens transform the hotel into a year-round tropical paradise. Guest may stroll through soaring atriums which house some 50,000 plants. Those who opt for a different way to view the gardens may clamber aboard a boat for a 20-minute cruise through one of the glass-covered enclosures.
Some accommodations are geared toward people who like to combine travel with touches of the past. Guests at the Liberty Hotel in Boston may dine in remnants of jail cells, relax in a lounge located on a walkway that guards once patrolled and experience other reminders of being in a prison. What now is the Liberty Hotel was built in 1851 as the Charles Street Jail and parts of the original structure have been incorporated into the converted building.
Three years after the Boston jail was constructed, a sprawling coffee warehouse was built in New Orleans. Later it housed a chandlery that sold goods to ships in the port. That's part of why the current building is named Old No. 77 Hotel & Chandlery.
Another reason for its unusual name is that before addresses in the city were renumbered in the 1890s, the building was identified as 77 Tchoupitoulas (chop-a-TWO-liss) Street. That colorful word was derived from the language of a Choctaw Native American tribe and is said to have meant "those who live at the river."
Unique Hotels in the USA for Kids
Not surprisingly, many hotels that reach out to youngsters are located in Florida, and not just at Walt Disney World. Kids at a Holiday Inn, Orlando property are immersed in a mini-world inhabited by SpongeBob SquarePants, Dora the Explorer and other popular Nickelodeon characters. What kid wouldn't enjoy watching his parents get pied?
Or love staying in a bungalow that resembles a larger-than-life LEGO set? Other fun features at the LEGOLAND Beach Resort in Winter Haven include a giant LEGO lighthouse with a rotating beacon and a building station where young guests add their creations to a castle.
Overnight in a Castle in ND
Yes, it's true. You can sleep like royalty at the Enchanted Castle in Regent, North Dakota. Dining in the s Medieval Tavern is like stepping back in time. Each of the castle's 19 rooms have include a four-person hot tube. There is also a fitness center, two multi-person hot tubs and a full-court gym.
Southern Mansion, Cape May, New Jersey
If castles aren't your thing, perhaps you'd prefer an overnight stay in a mansion. This classic home in Cape May, New Jersey has authentic vintage furnishings. It's especially festive during the Christmas season when you can visit a local Christmas craft fair and the Dickens Victorian Christmas Extravaganza.
Adventure Suites
Adults seeking a more grown-up experience also have an intriguing choice of alternatives. At the Adventure Suites in the Mount Washington Valley of New Hampshire that includes a deserted island room with a giant oyster shell-shaped bed and a jungle hut complete with thatch roof, chairs that resemble animals and a waterfall. A more romantic getaway awaits in the Cupid's Corner suite, which features a canopy, heart-shaped king size bed and a two-person Jacuzzi.
An even wider choice of theme rooms greets guests at the Madonna Inn located in San Luis Obispo, California. Its 108 guest rooms include settings ranging from Ireland to Switzerland and the Rocky Mountains to desert sands. One of the more popular accommodations is the Caveman Suite which includes a rock ceiling and waterfall shower.
Even travelers accompanied by their four-legged friends are not overlooked, as an increasing number of hotels welcome pets on the go. At the Betsy in Miami Beach, "couples massage" takes on a whole new meaning. As adults enjoy a rub-down at the outdoor oceanside spa their pup is treated to a gentle massage and serving of a healthy snack.
Perhaps the epitome of pet-friendly properties is the eight Provenance Hotels, where over-the-top indulgence extends to animal acupuncture and psychology. Rooms are equipped with a plush dog toy and specially designed bed, and the pet room service menu includes a choice of human-grade meals for dogs and cats.
Best Hotels in the USA for Pets
At Provenance's Hotel deluxe in Portland, Oregon, dogs and cats may join their owners enjoying a traditional afternoon English tea service. Human guests have a choice of custom-blended teas, scones and other customary treats while their furry friends lap up liquids with flavor options like bacon and salmon accompanied by baked goodies.
From animals to art, dolphins to dogs, roller coasters to romance numerous hotels and resorts offer more – much more – than just a place to sleep. They can become a highlight of visiting a destination.
Author Bio: After gallivanting throughout the United States and to more than 75 other countries around the world, and writing about what he sees, does and learns, Victor Block retains the travel bug. He firmly believes that travel is the best possible education, and claims he still has a lot to learn. He loves to explore new destinations and cultures, and his stories about them have won a number of writing awards.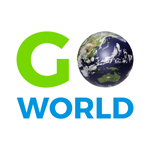 Latest posts by Go World Travel Magazine
(see all)