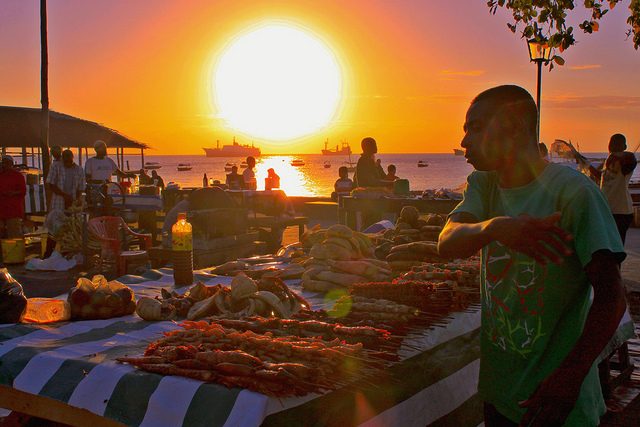 Zanzibar. For me the very name stirs feelings of adventure and mystery and conjures up visions of waterfront palaces of Sultans and the labyrinth of narrow lanes weaving through Stone Town filled with exotic sights, smells and sounds.
I was not disappointed when I finally arrived on this small island in the Indian Ocean.
Officially part of Tanzania, Zanzibar lies only 20 miles off mainland Africa but is a world apart in atmosphere. Here, African, Indian and Arabian cultures come together in Stone Town, a maze of narrow streets that has been named a UNESCO World Heritage Site because of its architecture which reflects centuries of sea trade between Africa and Asia. Once known as Spice Island for its export of cloves, many travel to Zanzibar today for its natural beauty and unique culture.
The City Market in Zanzibar
The Indo-Arabian architecture of the old Stone Town building housing the City Market is the perfect exotic backdrop for huge mounds of luscious fruit, fish caught only moments earlier squirming across the stone floor, while men sit playing bao, a traditional board game, and women in their bui bui, Islamic coveralls, shop and pause to chat.
The sights, smells and sounds are intoxicating and I could have spent the entire morning wandering through the market, bargaining for fresh fruit and sampling cooked on the spot shrimp, but the mystery of Stone Town drew me out into its narrow streets.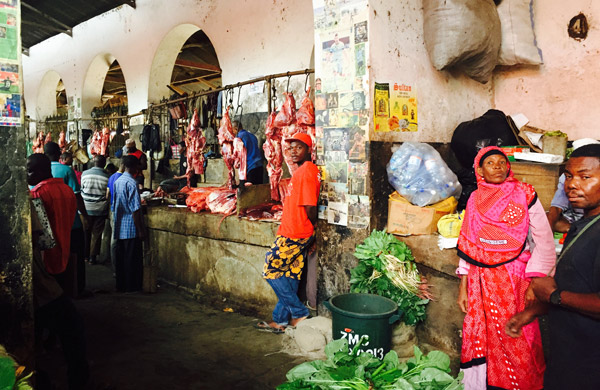 Passing large carved doorways concealing opulent courtyards – browsing through shops and stalls selling local crafts, African jewelry and ebony carvings representing shetani, spirits that take on animal or human forms in Zanzibari witchcraft (Zanzibar is a renowned center of voodoo) – I made my way to the site of the Great Slave Market.
Continued on next page