When you're paying upwards of $1,250 per night for even the most basic room at one of Paris' iconic palace hotels, you do get a lot of perks. Aside from deeply personal service and sumptuous accommodations, it's common for a five-star luxury hotel to have an array of little gifts waiting for guests on arrival. These would be in addition to wine, Champagne and maybe a fruit and cheese platter that is also nice to arrive to.
Hotel Le Meurice
My favorite hotel in Paris is the Hotel Le Meurice, which sits proudly on the Rue de Rivoli, across from the Tuileries Gardens, right near the Louvre. While the great green park creates some beautiful scenery for the hotel's luxurious rooms and suites, when the hotel opened at its current location in 1835, that park was a palace. In fact it wasn't a park at all, it was the Tuileries Palace, a neighbor to the Louvre, which was also a palace at that time. Le Meurice was specifically opened to house visiting foreign royalty who were in Paris to pay a call at the palaces. They needed luxurious accommodations and attentive service in Paris to replicate their own royal lifestyles at home.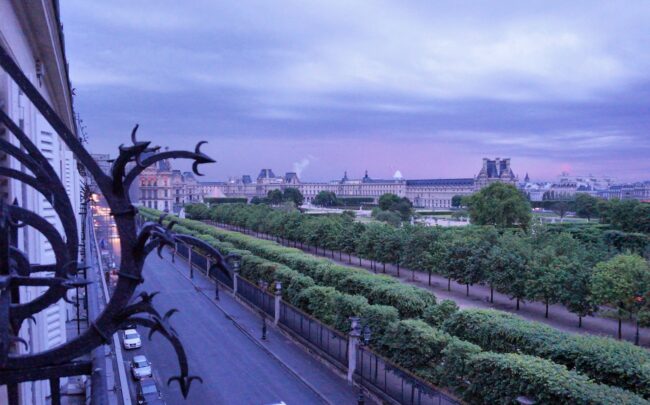 Hotel Le Meurice, consistently chosen by celebrities and taste-makers as their home in Paris, now boasts 160 mostly newly-renovated rooms and suites. Foodies love it as its the home to the two-Michelin-star rated Restaurant Le Meurice Alain Ducasse as well as the more casual Le Dali (named for one of the hotel's most famous guests).
The Gifts
When I last stayed at Le Meurice, I arrived to a wonderful array of carefully wrapped gifts, my own French Christmas in May. First, the care and detail of the wrapping was amazing, it used the hotel's famous silvery green logo color and I was reluctant to tear them apart.
There were three gifts, all wonderfully hand-crafted, black leather. First was a business card case, second was a large luggage tag and last and best was a leather pen holder, which came with a Le Meurice pen and pencil set. I collect Montblanc pens and love to travel with them, so this was truly an ideal gift.
Yummy Things from Alain Ducasse
Aside from the gifts, I received two Alain Ducasse-related gifts as well. The great chef has a close associate with Dorchester Collection and Le Meurice. First was a bottle of Alain Ducasse Champagne, which we immediately popped open and enjoyed. Then was a sampler box of Alain Ducasse Le Chocolat chocolates. This was especially wonderful to enjoy as I am a big chocolate fan. Writing this article, I am also reminded that at Le Meurice, even the hot chocolate, which I love with breakfast, is made with Alain Ducasse chocolate.
Wonderful Memories
Even today, six years later, I still use the items almost daily and each time I do, I am reminded of that amazing Paris adventure. I think that's the point of a good luxury hotel welcome amenity, to create that connection with the guest as part of their first impression of the experience. Then long after they leave, that gift still connects them to the hotel and reminds them of the wonderful experience they had.
Le Meurice is part of Dorchester Collection. The iconic Plaza Athenee, also part of Dorchester Collection, is a ten-minute drive (or wonderful 30-minute walk) away. You can see a tour of that hotel's Eiffel Suite here.
Read more of Freddy Sherman's take on travel on his Go World Travel Blog. You can also follow more of his adventures on his YouTube channel, his @luxuryfred Instagram or his luxuryfred.com blog.
Latest posts by Freddy Sherman
(see all)