"I think we should do something a bit mad with the Bavaria," said Tony over a gin and tonic at the hotel bar of Banyan Tree Phuket in southern Thailand. "We've been cruising round Phang Nga Bay for a month now, on and off, which has been great, but it's all so safe here. I need more of a challenge."
"You're not serious, are you, boss?" I complained. "What could possibly be better than island-hopping round here with our better halves decorating the yacht? It's the best tropical scenery on the planet."
"I've made my mind up. I'm going down to the Philippines during the cyclone season to test the boat against some real winds. We never get any serious wind or waves anywhere near Phuket, only the occasional squall. Boring."
Tony is used to getting what he wants and this case was no exception. He promised we would stay out of the way of any cyclones. He also managed to convince me that the boat, the Bavaria, was up to the challenge of riding out a major storm and he knew how to handle her.
Several months later we headed to the Philippines to find some decent storms while dodging the cyclones. The crew consisted of Tony, Tony's nephew James, who claimed extensive nautical knowledge, and me.
After a bit of detox and rejuvenation at Boracay's exquisite Tirta Spa resort, we sailed away under calm and clear moonlit skies, the implausibly long beach eventually dwindling to nothingness behind us as a profoundly peaceful sense of serenity settled over the boat and its occupants.
Tony told us to get some rest, so James and I turned in. Unfortunately for James, he decided to get undressed first, whereas I just lay down on a bunk. This meant that, several hours later when we woke up to heavy seas with the boat throwing us violently around the cabin, he was at a distinct disadvantage, as he was stark naked and unable to get dressed.
Not that I felt so lucky at the time – I have never been so sick in my life. I must have thrown up a good 10 times or so until it felt as though my insides would permanently part company with me at any moment. The Bavaria was being hurled around like a cork in a dishwasher. Up and down she went like a supercharged elevator.
The glasses I'd neglected to stow the night before were hurled across the galley and smashed, worsening James's problem, as he was barefoot and confined to his cabin by broken glass all over the galley floor.
Tony let himself into the cabin, followed by a lot of seawater. He looked in a bad way, drenched and with blood on his hands (from, he later told me, rope-burn). He went to the Japanese GPS, swore, hit it with his fist, then swore again.
"I think we're running directly toward an island chain," he yelled, with a scared look I'd never seen on his face before, "but I'm not sure – the GPS is broken. We need to tack hard to starboard for more sea room and you need to help me do it. Come on, out on deck with you, now," he shouted, disappearing back up on deck.
I pondered my job spec. Representing him at meetings, organizing his schedule and helping him avoid his ex-wife is work that I mostly enjoy and I feel within my abilities. Going above-deck on a yacht that was being hurled around in what was obviously a humungous storm was most definitely not part of my deal.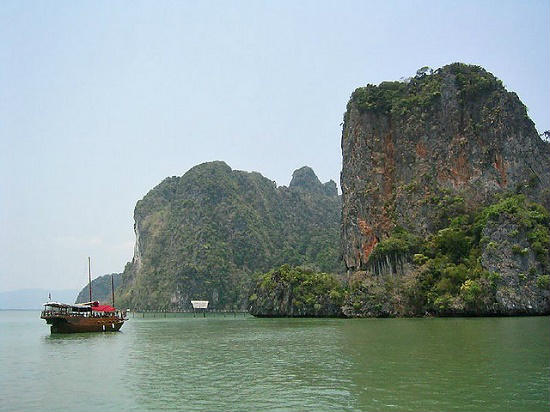 I do a bit of scuba diving for my thrills and feel pretty safe at it, but this was another thing entirely. I had just managed to self-justify this cowardice when a particularly violent wave smashed into the yacht and heeled her way over to port, so far that I felt she must surely capsize.
The Bavaria seemed to spend an eon deciding whether to sink or swim before finally clawing her way back out of the water's grip and righting herself. Once I stopped screaming at the top of my voice at the pure terror of this experience, I thanked God for German engineers, then realized that maybe Tony really did need someone to help him up above.
On balance, I realized I was more likely to survive the night by dragging my petrified backside up top, so I opened the salon doors and emerged into the most dramatic sight I have ever seen, before or since. The raw fury of this boiling, savage water made the summit of Nepal's Island Peak in a storm seem tame by comparison.
Gigantic waves were hitting us from the starboard beam, one after another of the monsters swamping the cockpit. At each deluge I had to hold on for dear life (I wasn't tied on) and hold my breath until the water subsided. Tony gave me a rope and told me to pull, which I did, quickly tying off the rope before each wave hit so I could hang on.
After a while, we were running from the storm toward open sea and I realized we were going to survive the experience. The waves, though they swamped us, didn't threaten to capsize us as they previously had.
It was then that a huge wave of, not water, but euphoria swept over me – what a stunning place to be, what an experience to have, what a story to tell. The feeling of having just survived what had plainly been a touch-and-go situation added to the high.
This feeling went on until the storm passed over us and the seas began to calm. Several hours later the storm abated enough for us to hear moans and groans emanating from the cabin. Tony and I looked at each other, both realizing we had completely forgotten about James down below. I went down to find him black and blue all over his naked body and completely covered in vomit.
I cleaned him up a bit, then, after we realized he was basically all right, Tony and I reminded him of his boasts the previous evening about his sailing prowess. I'm not sure what was most painful for James – his bruised body or his injured pride.
If You Go
Adventure Sports
www.andamanadventures.com
Thailand Liveaboard
www.liveaboardthailand.com
Simon Ramsden edits and publishes Adrenaline magazine and runs Andaman Sky Co., Ltd, a Thai-based travel company specializing in island-hopping, climbing, diving and fishing trips to the destinations Ao Nang, Railay/Tonsai, Koh Yao Noi, Koh Phi Phi, Koh Lao Liang and the Similans.