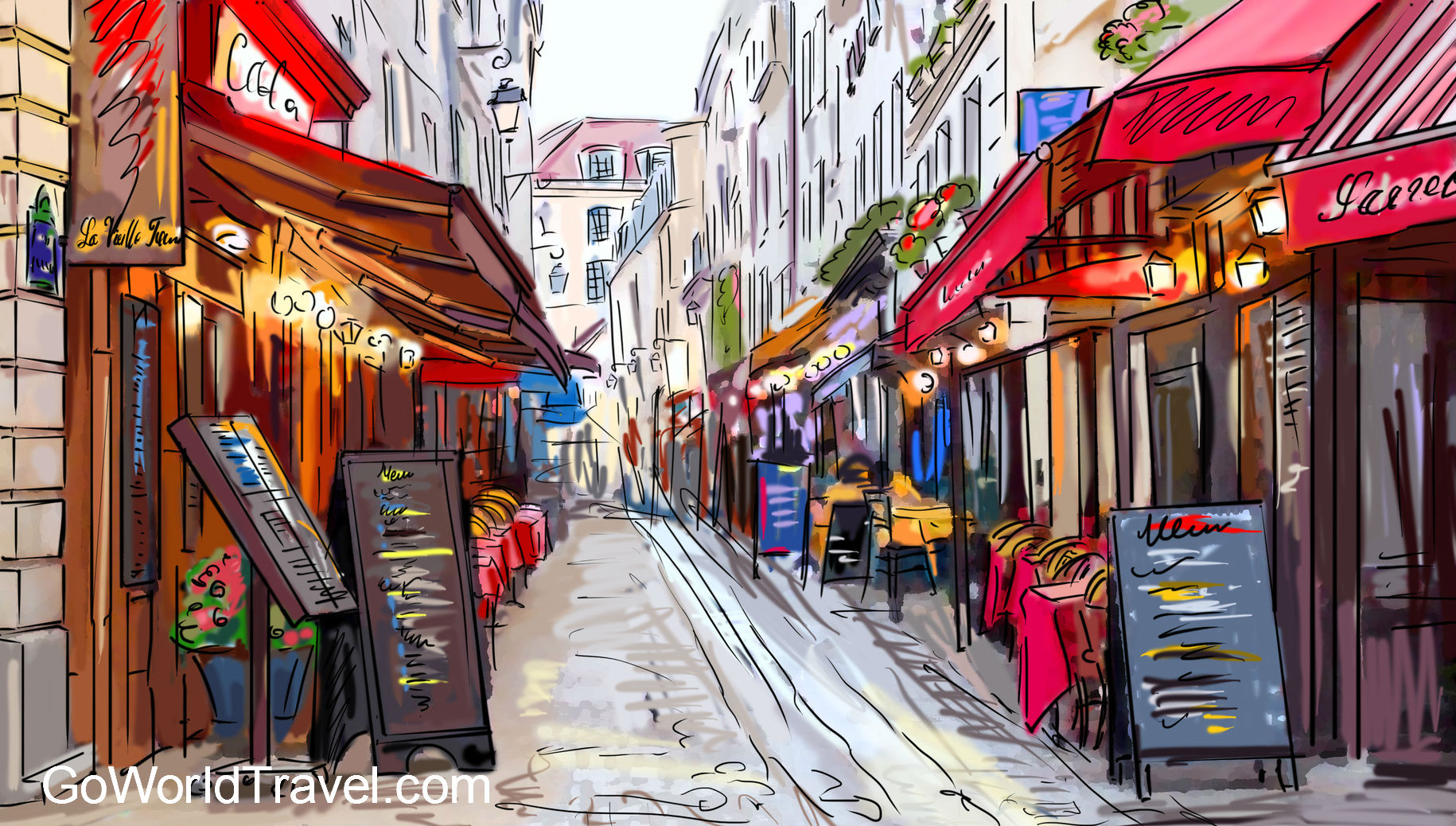 Dear Readers: Our travel shop contains products selected from trusted partners. If you make a purchase, we may receive a small commission. All opinions are our own and we only share things we recommend.
As an author, I find inspiration everywhere, but when I walk the streets of Paris, I am flooded with ideas. The City of Lights has inspired many artists, authors and painters over the centuries – and it continues to inspire today. Whether you're a full-time writer or testing your artistic talents for the first time, here are five places in Paris that inspire creativity.
The View from the Top of Notre Dame
Unless you arrive early, you'll probably wait an hour in line, then climb countless narrow, spiral stone stairs before you reach the top of the cathedral, but it's worth every moment when you get to the top. To say the view is inspiring is a huge understatement. The first time I went up, I stayed over half an hour, taking in the view of the city.
From the stone chimera guarding the top of the cathedral (gargoyles are drain spouts; chimera are statutes), to the Seine River bisecting the city into the right and left banks, the Eiffel Tower in the distance and the hundreds of people below, the view from the top of Notre Dame Cathedral ranks as one of my top favorite views in the world.
Montmartre Market
If you want another view of Paris, the one from Sacre Coeur Basilica is even better than from Notre Dame, but if you're like me, you also find creative inspiration by immersing yourself with other creatives. So head west from the basilica to the Montmartre Market. On any given day, you'll find a wide assortment of artists selling their pieces in the square. Some even create their masterpieces while waiting for customers.
If you have time, wander the side streets and find the hundreds-year-old windmills that inspired painters Renoir and van Gogh.
St. Martin's Canal
If you're looking for a non-touristy place to relax in a city of over two million people then the man-made St. Martin's Canal is the the spot for you. With the picturesque setting and the proximity to many restaurants and bars – and shopping if you stick to the area east of Gare du Nord – you'll find the perfect place to become inspired.
Fontaine Saint-Michel
Somehow I missed this fountain on my first two trips, but once I found it, I made sure to see it twice the third time I visited.
Located in the Latin Quarter, it's surrounded by tourists, but the stop is worth the crowd. Apparently, the central figure has been changed several times, but it currently features the Archangel Michael defeating the devil, an image that might inspire your inner muse to conquer your own demons.
Saint-Étienne-du-Mont Church
While most tourists wait for up to an hour or more to enter Notre Dame Cathedral, you'll find an equally beautiful church only a few blocks south.
Saint-Étienne-du-Mont isn't nearly as old, but the original structure was started around 1492 – when Christopher Columbus was discovering the New World – and it's a beautiful example of French Gothic architecture. It's a cool, quiet place to rest if you're visiting in the hot summer months while you take in the architecture and the elegant statutes.
Where to Stay in France 
Find a Rental Apartment in Europe with TripAdvisor Rentals 
Stay at a Hilton Hotel in Europe
$50 daily credit per nights at Hilton Hotels & Resorts. Use your on-property credit for dining, shopping, relaxing, and more!
Discount Paris hotels on Booking.com
OneTravel – Grab our Special Flight Deal! Save up to $20 with Promo Code OT20.Book Now!
CheapOair.com – Millions of Cheap Flights on 450+ airlines! Save Upto $50, Use promo code AIR50. Book Now and save Time and Money!
Train Travel in France
Eurail – Travel across Europe with one rail pass and discover 28 countries with Eurail
Rail Europe – A Single Stop for European Rail Train tickets, seat reservations and more.
Rental Cars in France
Europcar – Global car rental company in Europe
Rail Europe – A Single Stop for European Rail Travel
Sixt Car Rental – Prepay and Save up to 25%
Other Helpful Travel Planning Sites
Allianz Travel Insurance – Travel The World Knowing You'll Be Taken Care Of. Affordable Plans As Low As $17.
Need Luggage? eBags offers Free Shipping over $49 + Easy Returns
About the Author: Denise Grover Swank is the New York Times and USA Today bestselling author of 27 novels for adults and teens, including ONE PARIS SUMMER (June 7, 2016; HarperCollins/Blink). She frequently speaks on the topics of writing, publishing, and building a career as an author. While she's written in multiple genres, ONE PARIS SUMMER is her first contemporary Young Adult novel. Denise resides in Lee's Summit, MO with her children. Connect with Denise at www.denisegroverswank.com.